Caffeine is Reader Supported, If you do buy through links on our website, we may earn a commission at no extra cost to you. Read the full disclaimer here
There are a number of ways to be more productive when it comes to time management. One way is to use a calendar to keep track of your commitments, events, and tasks. When you know what you have coming up, you can plan your day accordingly and be more productive.
There are a number of different types of calendars that you can use, depending on your needs. A paper calendar is a good option if you need to take it with you everywhere, while an electronic calendar is great for keeping track of appointments and events online.
Apps that integrate with your calendar to help you plan your workday have existed for a long time (like Sunsama) but none of the apps have integrated AI features like Motion.
TL;DR
Motion is a first of its kind, not many apps have AI built-in to manage your whole day, and while using it.
During my testing, I felt like Motion improved my productivity, and the AI features are unmatched by anything else on the market. If you are usually overwhelmed by tasks and don't know how to get through them all, then Motion might be the answer for you.
You can also use the deal below to get a free 7-day trial.
What is Motion?
Motion is an AI Calendar app. This app can be used to manage your entire life. It can keep track of your schedule, recurring tasks, and meetings.
The AI capabilities will automatically plan your day based on variables like deadlines, work hours, and length of tasks, and it will book your meetings depending on your calendar.
Motion is able to learn about the user and their preferences. It is also able to understand the user's schedule and help them to manage it better.
Getting Started With Motion
The Motion app is very simple. When you first start, you are prompted to connect your calendar of choice (Google or Microsoft are the only ones available at this time)
You will also set your work hours in this step, which is the timeframe that motion will add work-related tasks. You will also add your recurring time blocks and tasks, like lunch, replying to emails, and weekly team meetings.
I'd suggest getting comfortable with the UI and going through the settings to perfectly tailor the app for your needs, before adding all of your tasks.
Motion Features
Motion has 3 main features, which are Tasks, Calendars, and the Booking system. all of the tasks and meetings you book will be added to your calendar, and sorted by the app.
Motion is available as a Web app, mobile app, and chrome extension. to really get the most of Motion, you need the extension to use shortcuts
Motion Task Management
After integrating your calendar accounts and getting comfortable with the app, you should start adding your tasks, which motion will automatically plan in your calendar. Tasks are planned around many factors, which are:
Priority (ASAP, Hard Deadline, Soft Deadline)
Deadline Date
Start Date
When you can work on the task (Work Hours, Whole Day, Nights, Mornings, and any other schedule you create)
Using the Variables mentioned above, the app can help you prioritize tasks efficiently, and make sure everything is done before their respective deadlines.
You can also sort tasks into projects, to better understand where your time goes. To create a new task, use the Ctrl (Cmd) + space shortcut from any webpage if you have the extension.
Motion Calendar
as you add more and more tasks to the app, you will start to notice your calendar filling up, however, you may notice your tasks and events are color-coded within the app.
Gray blocks are tasks created within the Motion app, and there are two types of tasks, which are differentiated by their borders. Dotted borders indicate a "free" task, which means that there are other timeframes where the task can be completed before reaching the deadline.
If a task has a full border, that means that it's a locked task that should be completed at the specified time to be ahead of the deadline. Different colored tasks are tasks that have been imported from your integrated calendars.
If you would like to change the timeframe of a task, simply drag the task block in the calendar to your desired time, however, this locks the task in time, which means the app won't be able to change its placement on the calendar.
You can view your calendar from anywhere using the chrome extension by pressing Alt + C on your keyboard.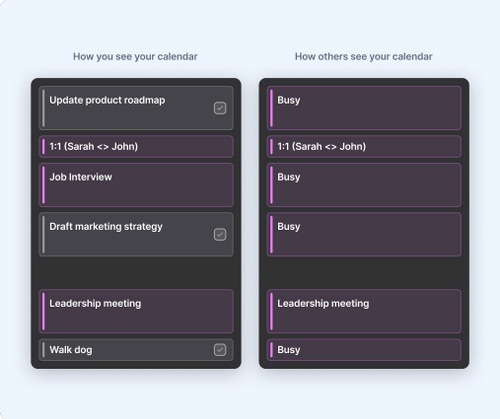 and when it comes to privacy, Motion won't disclose the name of a task on your personal calendar to other team members, unless you change it in the settings.
Meeting Assistant
If your industry requires you to book a lot of meetings, then this feature should be useful. You can create booking pages (like Calendly, but with fewer features) and the time booked will automatically be added to your Motion calendar.
Within The Scheduler tab in Motion, you can create click and drag on your calendar to create time blocks that you want to keep free for meetings.
Finding a shared free time where you can have a meeting can be very challenging, especially if you live in another time zone, using the template maker in Motion can be a lifesaver if you are ever in this situation.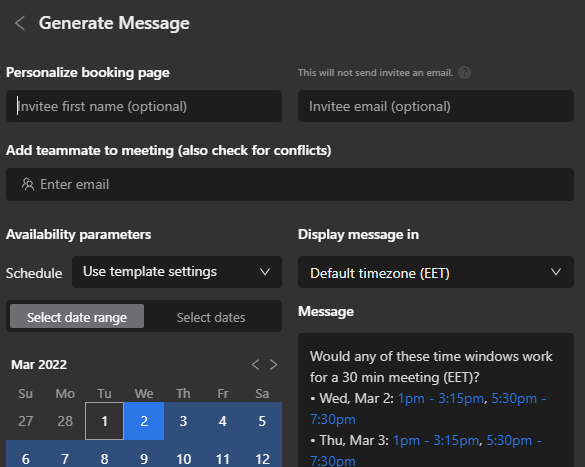 The Meeting Assistant works as follows, you pick times when you are available and ready to host a meeting, and using the Alt (Option) + A command, you can create a message pre-filled with the available timeframe that you can send to a client and the booking page link.
Motion Apps
Between the Web app, Chrome Extension, and the mobile version, all the functionality needed is available without the need for a desktop app.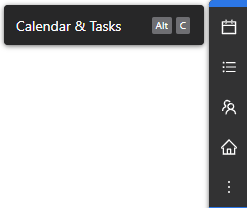 The chrome extension adds a small widget to the side of your web browser where you can view your calendar, tasks, add a task, share your available times, go to the web app, and contact support.
The Chrome Extension also enables keyboard shortcuts that will make your workflow undeniably faster when adding tasks, and viewing existing ones.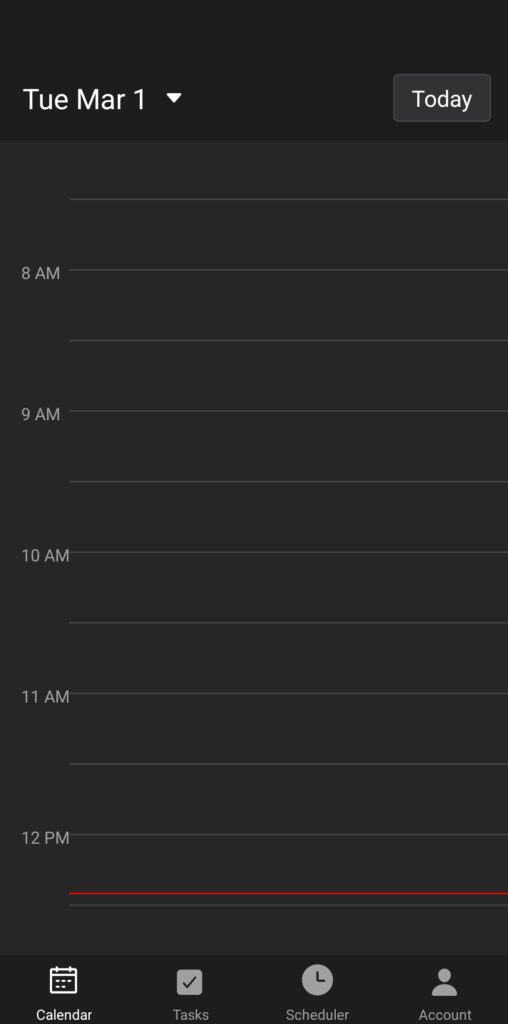 The mobile app is a pretty basic way to view all of your tasks and calendars, however, the web app is much more versatile in the way you can use it, but the mobile app is nice for checking your calendar when you are not at a computer.
Motion Cons
at first glance, I really liked the tool, but the more I used it, the more I noticed features missing that are a staple of most productivity apps in this age. small things like color-coding tasks created from the app are not available.
Importing tasks from other apps like ClickUp would be nice without having to go through google calendar.
The motion app is still in development, and you can certainly see that when navigating the tool, but I wish it would've been able to function as a standalone calendar, not just an extension to Google or Outlook.
Motion for teams
I also want to quickly cover Motion for Teams, which is a project management system that uses Motions AI and has most of the same features as the personal Motion app.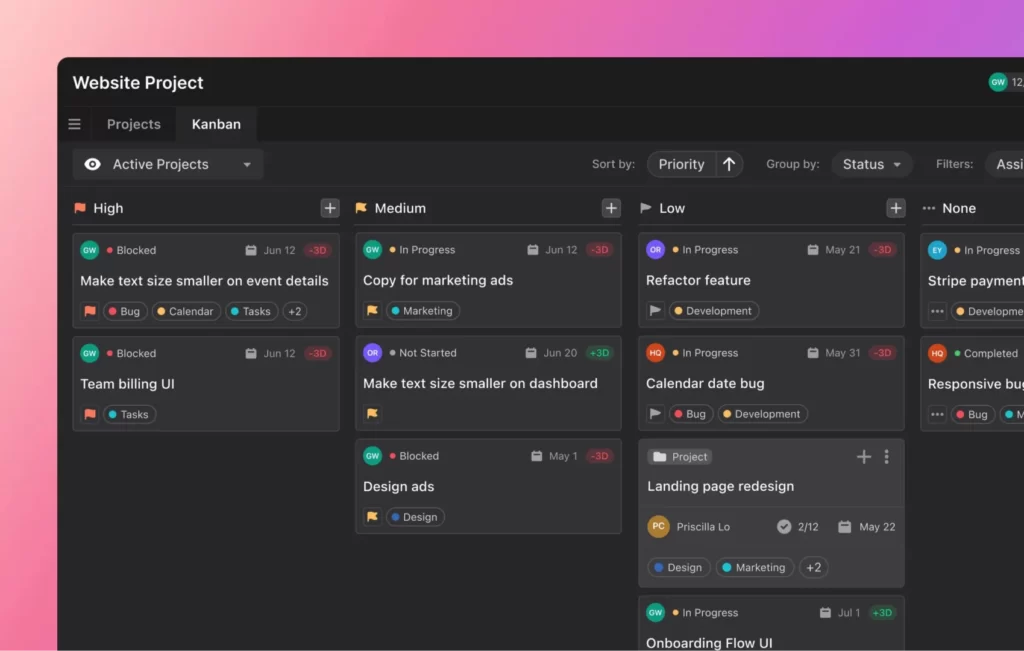 The project manager has a kanban board where you can create all of your tasks and change their priorities and assign team members to each task. You can also create tasks in specific projects and add multiple team members to each task, so the AI can assign the task to a timeframe when both team members aren't busy.
Team Managers can also create full task lists for each team member, so that your whole team can get started right away, without wasting time planning out their day.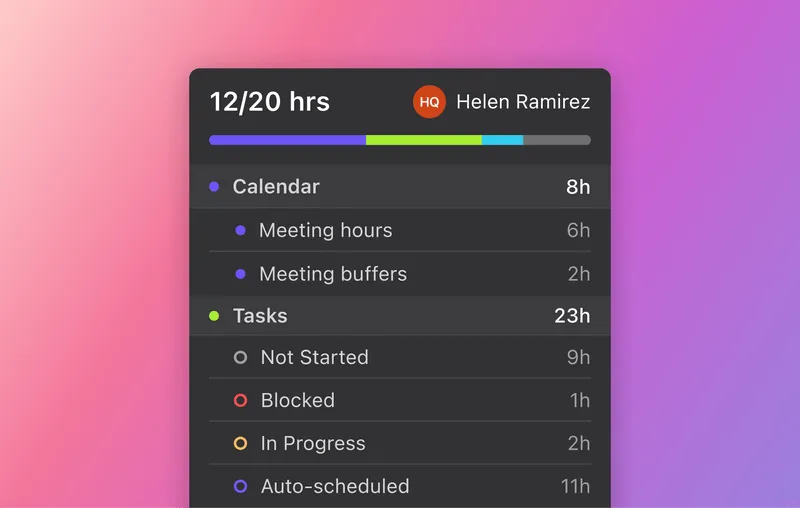 Motion also has great reporting for team members, you can see everything your team members have done, how much time they spent working on each task, and their meeting hours.
Motion Pricing
The price for Motion is $19/month if billed annually, which isn't that expensive, however the price goes up to $34/month if you decide to go with the monthly billing plan. You can try the app for 7 days for free as well through here.
is Motion Worth it?
given the pricing of the app, I really can't say if you would benefit from Motion. They claim to aid the user in getting 25% more tasks done, but in my experience, I didn't get close to that number, but it did do what it is supposed to do, which is help me get more done.
Given that the app has a free trial, I'd suggest seeing how the app works for you and then signing up for the annual plan since the yearly savings are quite good.
At the end of the day, it depends on how much you value your time, if it helps you save an extra 30 minutes per day, then the 63 cents you spend on the tool every day will be worth it.
The Review
Motion
At the end of the day, it depends on how much you value your time, if it helps you save an extra 30 minutes per day, then the 63 cents you spend on the tool every day will be worth it.
PROS
Meeting Assistant
Task Manager
Chrome Extension
Review Breakdown
Ease Of Use

Cost

Meeting Assistant

Ai Features