Anker is known for innovating in the charging space, but they are now expanding beyond their Eufy Smart Home, Nebula Projectors, and SoundCore Audio into the 3D Printer Market by launching their first 3D printer, the AnkerMake M5
3D printing is a great hobby since you print anything using filament (as long as you can design it) but the printers can get expensive quickly for consumers depending on the size and features of the printer.
The AnkerMake may be the next market disruptor in the 3D printing field since Anker claims its features are way ahead of the competition.
Stuff like a Built-in webcam that offers live viewing and time-lapse recording. The Printer can also automatically pause the print if a critical failure occurs, as well as alert the user.
The Main Feature, however, is way more interesting than the rest; The Printer claims that it can print up to 5 times faster than others on the market, straight out of the box at a 250mm/s printing rate.
AnkerMake M5 Assembly
The Printer is also easier to assemble than other competitors; it comes with all the tools you need, a power cable, and 2 parts that you connect together, and you can start printing!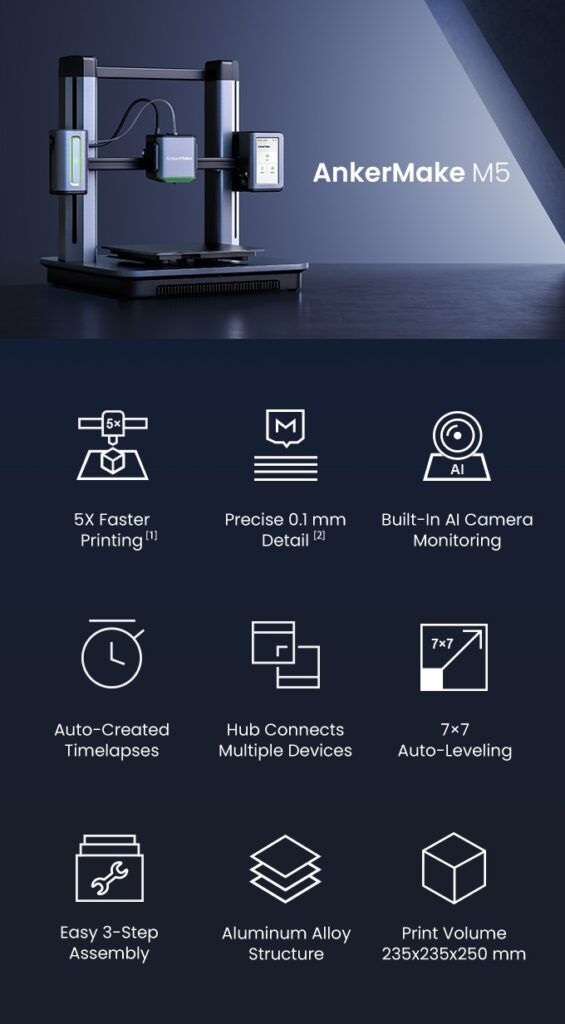 The Printer has a touchscreen, Wifi, Controller App, and integrations with Smart Speakers like Alexa or Google Assistant, the camera also has an infrared vision.
The AnkerMake M5 is now on Kickstarter for a price of $499 and plans to start shipping in August of this year, The price will go up after from there.