Caffeine is Reader Supported, If you do buy through links on our website, we may earn a commission at no extra cost to you. Read the full disclaimer here
A lot of Productivity Apps have a lot of ways you can use them and extra features that the normal user doesn't utilize efficiently, and only real power users are able to adapt their workflows to the app and continue using it effectively.
Some users don't want an app with a lot of features, instead, they want a simple app where they can manage their tasks, and assign certain items to their calendar, and now these users can use Akiflow.
TL;DR
Akiflow is a simple app that lets you plan out your way with no distractions, and with less options to tinker with, so you can get on with your day, and not waste time getting ready to work.
What is Akiflow?
Akiflow might seem like another productivity app with no reason to exist, but it actually has some features that are a first in the productivity space, while keeping a simple interface where you can stay focused on planning your day and completing your tasks quickly.
Akiflow stands out since it's simple but perfectly capable of being your task manager to handle multiple calendars and import tasks from multiple apps.
Starting out with Akiflow
Akiflow is very easy and quick to download and start managing your time, just navigate to the Akiflow Website, and download the desktop app. The app is currently only available on Desktop, with no Mobile and Web Versions, however, there is a way to create tasks from mobile, more on that later.
Now you just need to register an account (there's a 14-day trial) and connect your calendar, or multiple to pull in data of pre-planned events. and now you're ready to start planning your tasks.
The Home Interface
You'll now be greeted by a simple interface split into 3 panels a sidebar on the left, an "inbox" in the middle as well as a calendar panel on the left side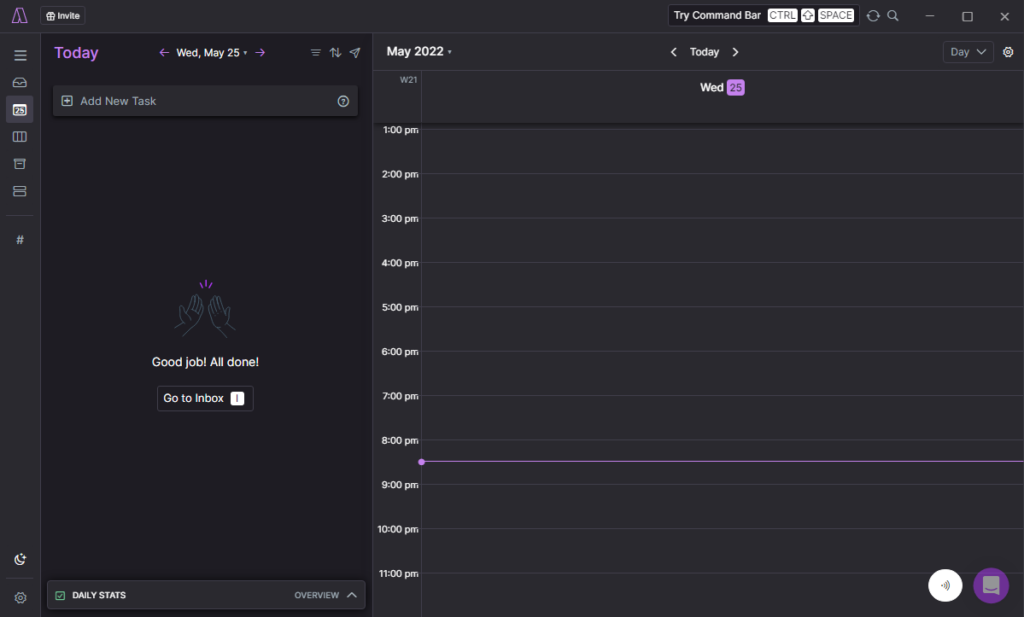 The Homescreen has 4 versions, and you can switch tabs from the sidebar, the Tabs are:
Inbox where you can quickly add tasks to sort later.
Today where you can view tasks planned for today, as well as go through other days, to view tasks planned for those dates as well.
Upcoming this tab shows today, and the next two days to view your planned tasks, and you can drag and drop tasks between days to change their dates.
Someday This list contains tasks marked as Someday by the user, or tasks that don't have a date set for them yet.
You can also create labels so you can sort your tasks and segment them. you can create Labels for Work, Personal, Health, Eating, or anything you want to segment.
Most of your tasks will be in your inbox, and then you can sort them, snooze them, assign them to a specific date, or even discard them. If you don't schedule a task, you will be able to find the Task in the Someday tab.
Clicking on a task in the middle panel will expand it to give you more options like adding a description, changing the label, adding a deadline, snoozing them, making it recurring, changing their priority, adding a link, or marking one as the "goal of the day"

on the calendar view, you can select the number of days you want to see, hide the weekends, add more calendars, share your availability with another person from your team, or lock a task to a specific timeframe in your calendar, doing so will block that time in google calendar, and mark it as Busy, or the name of the task, depending on your choice from the settings.
Akiflow Integrations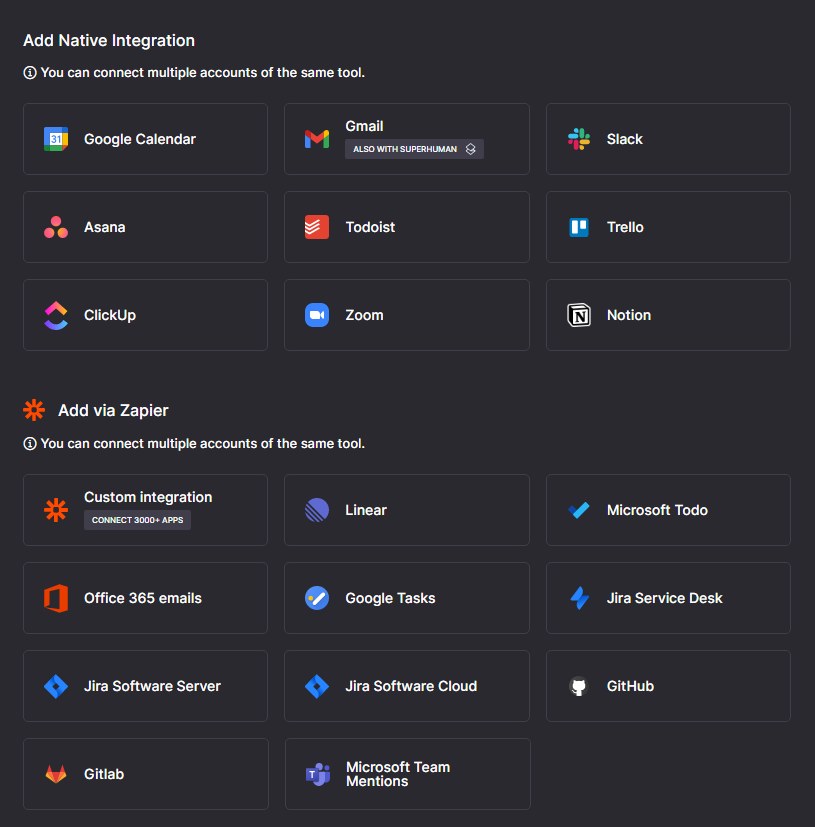 As mentioned above, you can connect one, or multiple calendars to the app, but you can also add tasks from Gmail, or Superhuman by starring an email, and the task will be created automatically, you can also add tasks by saving messages in Slack, and you can also get your tasks automatically pulled from services like Asana, Trello or ClickUp.
If you don't want to use Google Meet for meetings, you can also automatically pull meetings from Zoom.
There are also some apps you don't see everywhere, like Notion but the coolest app is Zapier, which you can use to create all types of automation with most tools easily, some apps they advertise are Linear, Google Tasks, Gitlab, Jira Services, and more!
Since Zapier is available, Akiflow has over 1500 integrations available with their tool, but if you plan on adding multiple apps, you might run into some issues with Zapier's free plan and have to upgrade to a paid plan on Zapier.
The Akiflow development team also rolls out apps every couple of updates, and the app gets improved continuously with every update.
Akiflow Keyboard Shortcuts
Keyboard Shortcuts are said to save about 8 full workdays per year of used effectively, Akiflow is also powerful in terms of keyboard shortcuts, within the app, you can press (T) to go to the Today view, (s) to snooze a task, (E) to mark a task as completed, or (P) to plan more tasks or timeframes, you can also press (ctrl + Space) to open Akiflow instantly, the app runs in the background when you start up your device, so you can pull it up straight after pressing the keyboard shortcuts.
Command Bar
the command bar is one of the features that sets Akiflow apart from other productivity apps, once you press the assigned keyboard shortcut, the command bar will show up, and you can create tasks by typing, You can also create tasks by copying words from a website, and pulling up the command bar, which will prompt you to create a task with the title of the copied text.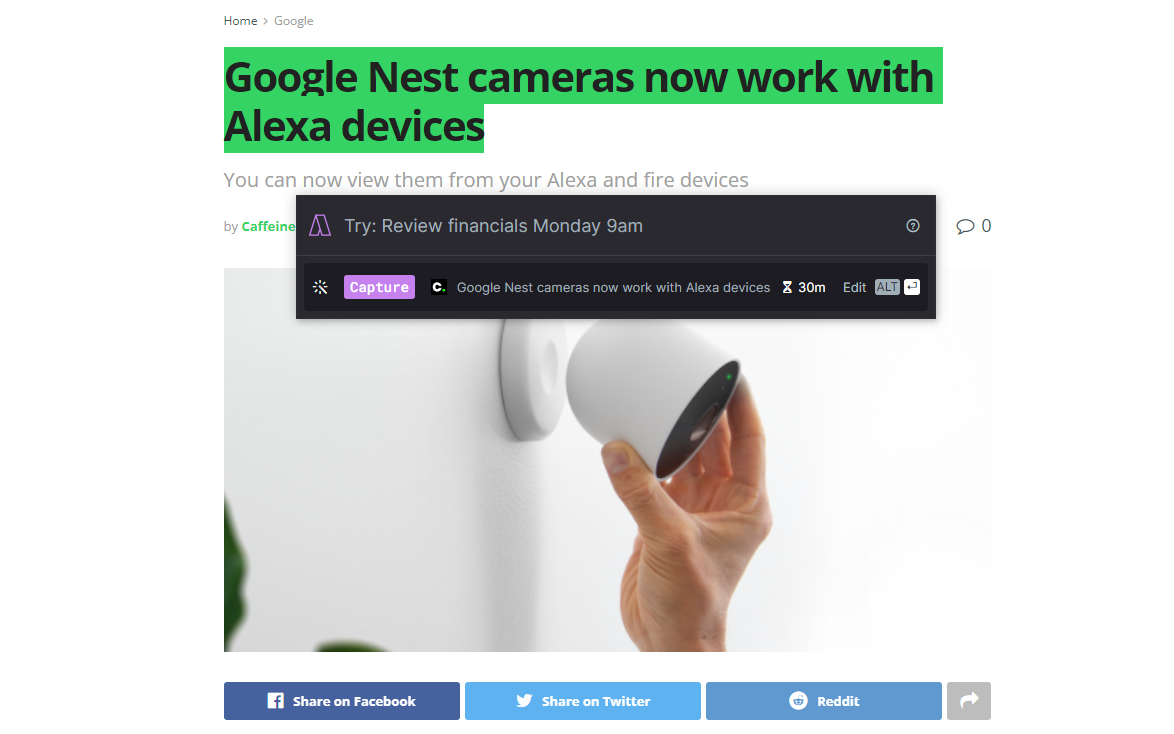 I would've liked not having to copy the text, but instead just selecting it and pulling up the command bar to create the task.
The command bar looks similar to MacOS's Spotlight, or other third-party apps like Alfred.
When quickly adding tasks from the command bar, you can type some strings to change the variables of the task, for example, typing "=2h" a the end of a task will set its duration to 2 hours, and adding "//" will let you type the tasks description, as well as "#" which will let you set the task label.
Akiflow Rituals
Akiflow also has some simple "Rituals" built into the app, you can set a time to be notified on your desktop to start planning your day, once you run the ritual, you'll be asked to reflect on tasks completed yesterday, and there's also another ritual for called "Daily Shutdown" where you reflect on what you've done today.
These rituals seem very similar to the Rituals provided by another productivity app called Sunsama, and the routines you go through while doing these rituals are very similar to Sunsama's.
Akiflow Mobile
Unfortunately, Akiflow doesn't have a Mobile App yet, and while they are working on one, They have also thought of a temporary way to add tasks from your mobile device.
go to capture.akiflow.com (or scan the QR Code in the app) and log in, now you'll be presented with an area to input a task name, so you can add tasks on the fly until the new app gets released, and hopefully, it's coming soon.
Akiflow Pricing
So now onto pricing, Akiflow Costs $15/month or $12.5/month Billed yearly, however they are one of the only apps that do parity pricing, which is changing the price of the app, depending on their country, and the value of the currency, so your mileage may vary.
The Bottom Line
Akiflow
Akiflow is a nice app targeted to a specific niche of productive people, however, the lack of Standout features does make the app seem weak in terms of competitors.
PROS
Keyboard Shortcuts
Simple UI
Zapier Integration
CONS
No Mobile App
No 2-way Sync with most applications
Review Breakdown
Integrations

Features

Price

Useability