Caffeine is Reader Supported, If you do buy through links on our website, we may earn a commission at no extra cost to you. Read the full disclaimer here
No matter the type of computer, it can't function at all without a motherboard. A motherboard is made up of many different pieces that work together to power your PC and everything in it. It houses the CPU, RAM, graphics card, hard drive(s), optical drive(s), sound card, network card, and more. Your motherboard also controls how much power goes to each component.
The first thing you need to think about when buying a new PC is what type of motherboard you want it to have. The type you choose will depend on what kind of performance you want out of your machine and what kind of components you're planning on using in it.
Motherboards also have many connectors on them that allow other devices to be connected to them in order to expand their capabilities. These connectors come in various shapes and sizes depending on what they are used for, such as PCI slots for graphics cards or SATA ports for Hard Drives.
Types of Motherboards
The following are the most common types of motherboards:
ATX: An ATX board is a larger type of motherboard that's typically used in high-end PCs and servers. They usually have more expansion slots than other types of boards, so they're often the best option for gaming PCs.
MicroATX: A MicroATX board is a smaller type of motherboard that's typically used in slim laptops. They're usually not as powerful as ATX boards.
Mini-ITX: A Mini-ITX board is the smallest board available and is typically used in small PCs, such as those built into small cases or used for tight spaces. . It's great for people who want a small, powerful computer without the extra-cost components found on other types of motherboards.
What makes a good Motherboard?
A good board is one that has a lot of features but still manages to be affordable. It should have the most up-to-date technology and offer a range of features. A quality board is one that has everything you need for your computers, such as an integrated sound card and network adapter, as well as having good I/O Ports, which is where you will plug your peripherals into your computer.
A Good motherboard will ultimately depend on your needs and use case since every type of motherboard is made with a specific type of consumer in mind.
How to Pick a good Motherboard
the selection criteria is important because the motherboard is responsible for connecting all the other components, such as the CPU, RAM, and graphics card. You'll also need to choose a good motherboard if you want to overclock your system for better performance down the line.
When considering what motherboard to buy, there are a few things you should keep in mind: what type of processor do you have? What type of RAM do you have? What kind of graphics card do you have? How much power will your system require? Will it be overclocked? How many hard drives and optical drives will you need to plug into your motherboard?
The more specific your needs are, the easier it will be to find a good match for them.
Motherboards are also not a "one-size-fits-all" type, since processors are different between manufacturer and generation of processor, so you should always check for compatibility between your motherboard and other PC parts.
You should also consider the upgrade path of the board, you should always pick motherboards that work with newer standards, so you can always upgrade other components while using the same motherboard.
Gigabyte VS Asus Motherboards
Before comparing the Motherboards, let's take a deeper look at the type of motherboards manufacturers make. Most Motherboard manufacturers produce motherboards under multiple sub-brands to help the consumer understand what this motherboard is made for.
Gigabyte has 3 sub-brands that separate motherboards types:
Gigabyte Gaming: these are mid-range motherboards for gaming that are great for starting out with PC gaming without blowing your budget, you might see some cut corners, like a weak I/O, or a lack of support for higher RAM speeds.
Aorus: this line of motherboards is made for extreme performance, these are used prominently for Gaming PCs that need the best performance, these boards are usually overclock-ready, and are equipped with more RGB headers.
Aero: the Gigabyte Aero line is made for creative professionals, and the Aero motherboards aim to be powerful so they can conquer any task you throw at them, these boards usually have powerful I/O ports, powerful thermal design, and support for faster RAM speeds.
as you can see, every sub-brand is aimed at a specific type of consumer, and while all of them are made by the same manufacturer, every motherboard does have a category in which it excels at.
ASUS has 5 sub-brands, which are:
ASUS prime: these motherboards are made to be all-rounders, they should work well at every task, these motherboards are good if you plan on using your computer for multiple use cases.
Workstation: ASUS workstation boards are made for creatives working in AI or Deep Learning, these aren't really aimed at the average consumer, more so aimed at creative studios and offices.
ProArt: once again, these motherboards are aimed at creative professionals, these are made to provide performance for creatives in 3d design and modeling, you shouldn't have any problem rendering your latest work project on this.
ASUS TUF: ASUS TUF are made with extreme durability in mind, you can imagine these motherboards as a good step for entry gaming, and uninterrupted performance.
Republic of Gamers: ASUS ROG motherboards are made for extreme overclocking and gaming performance, you should expect this motherboard to work at the highest level as well as not drop frames while gaming.
Sub-brands shouldn't be a BIG part of your choice, but it's good to know the types of motherboards made.
we should also note that both manufacturers also make business and server-grade motherboards for data centers, but since those aren't made for consumers, we won't take them into account
Now let's get to the ACTUAL comparison, we'll compare between 2 of their best-selling boards, these boards are close to the same price, same chipset, and socket.
The Boards we will compare are the GIGABYTE X570 AORUS Elite Wi-Fi and the ASUS TUF Gaming X570-Plus Wi-Fi, both of these boards are some of the best selling motherboards available, so let's see if there is a clear winner.
GIGABYTE X570 AORUS Elite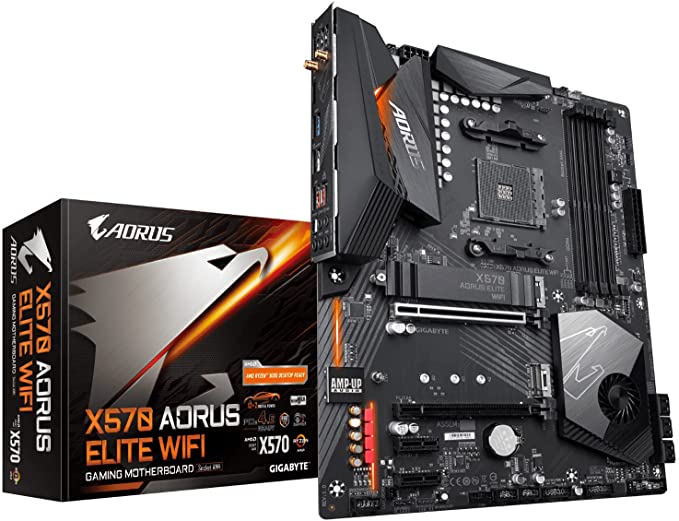 Firstly: let's start with the Gigabyte X570 AORUS Elite, This board is a high-end motherboard that has a lot to offer. It has an 8+4 power phase design and an advanced thermal design that will keep your CPU cool and running at its best. It also has the ALC1220-VB codec, which is a high-quality sound card with an integrated amplifier.
The board is based on the X570 Chipset and works with processors from the Ryzen second-gen all the way to the Ryzen 5000 Series, which means that it'll support most AMD Processors that fit in the AM4 Socket.
it has 3 M.2 slots and 6 SATA connections, 2 PCI Express Slots to add any Graphics cards or expansion cards easily down the line, Gigabit LAN, and some nice I/O Ports, which are:
4 x USB 2.0/1.1 ports
2 x SMA antenna connectors (1T1R)
1 x HDMI port
4 x USB 3.2 Gen 1 ports
2 x USB 3.2 Gen 2 Type-A ports (red)
1 x RJ-45 port
1 x optical S/PDIF Out connector
5 x audio jacks
The Board also has RGB Fusion 2.0 which is Gigabyte's proprietary RGB Control Software, it allows you to customize the colors on your motherboard to match your case and other components on your PC, you can also use it to customize any RGB strips connected to the RGB headers on your motherboard. It also has an Intel® Dual Band Wireless-AC 9560 card which is one of the best wireless cards currently available in the market today for Wi-Fi and Bluetooth.
The features in GIGABYTE X570 AORUS Elite are very nice, especially considering its price of $229.99 but it's usually discounted to $189.99, however, there are some issues with it like the lack of USB-C on the back panel I/O. Now, let's compare it to the other motherboard.
ASUS TUF Gaming X570-Plus Wi-Fi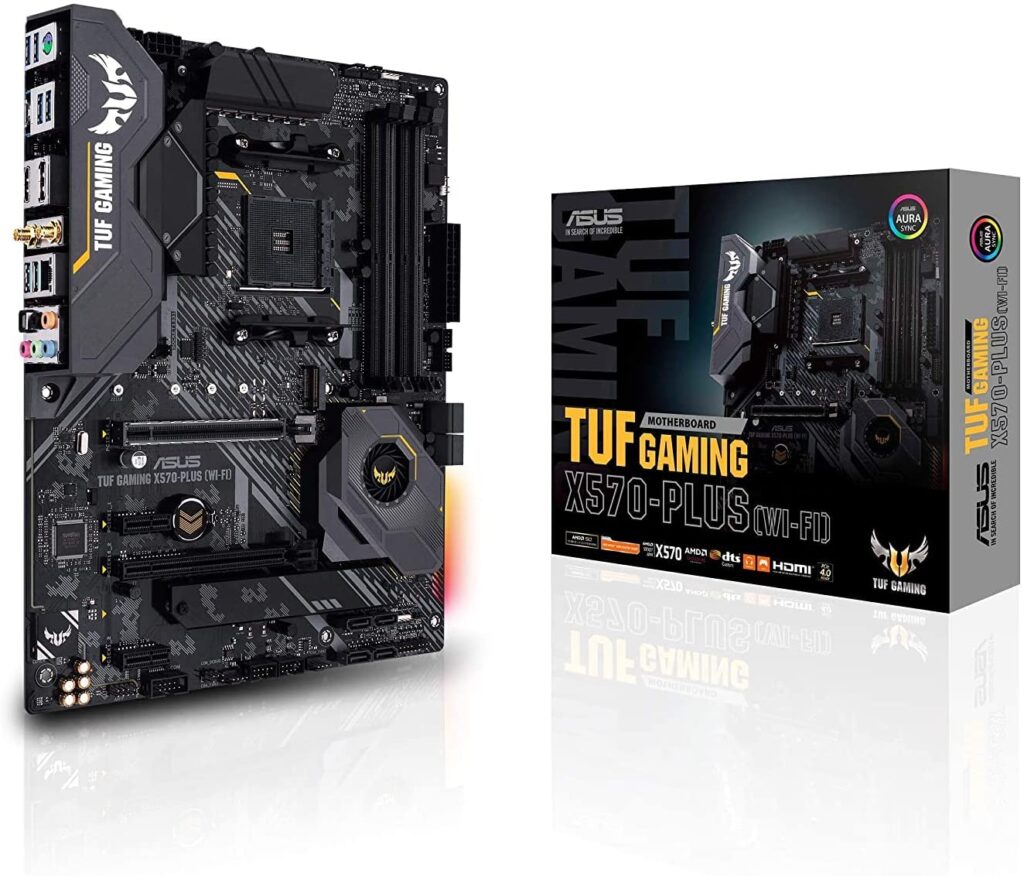 Now let's take a look at the ASUS TUF Gaming X570-Plus, This board is very similar to the previous Gigabyte Board, but there are some differences
The ASUS TUF Gaming X570-Plus Wi-Fi is an ATX form factor motherboard that supports the latest AMD Ryzen 3000 to 5000 processors in AM4 socket format. It has four PCIe slots, two M.2 slots, and two U.2 ports which can be used for storage devices such as SSDs or hard drives respectively.
The board also has a similar I/O configuration to the other Gigabyte Board, which is:
1 x PS/2 keyboard/mouse combo port
1 x DisplayPort
1 x HDMI
1 x LAN RJ45 port
1 x Optical S/PDIF out
5 x Audio jacks
4 x USB 3.2 Gen 1
2 x USB 3.2 Gen 2 Type-A
1 x USB 3.2 Gen 2 Type-C
ASUS Wi-Fi module
This board also has AURA Sync which is Asus's RGB Software, you can use it to Synchronize LED lighting with a vast number of compatible PC gear, including addressable RGB strips and other ASUS peripherals, or any compatible RGB gear plugged into the board's RGB headers,
The ASUS TUF Gaming X570-Plus is one of the best gaming boards out there at $209.99, but it's usually discounted to $199.99, this is one of the only motherboards that offers excellent value for money with its impressive features and specifications list.
something I really like with this board is the USB-C port in the back I/O.
Final Thoughts
As you can see, both boards are very similar in price, features, and specs. so there is no clear winner, but something you should note is this:
ASUS has a much bigger range of boards than Gigabyte, and they also manufacture boards for multiple use-cases and price points, but most of Gigabyte's boards are aimed at Gaming PCs and power users.
Unfortunately, there is no clear answer to this question, because if there was a "Best Motherboard" available, everyone will buy it.
You should also note that we only compared 2 motherboards from the manufacturers, but the reality is that you should always do your own research to pick the most compatible motherboard for your PC.