Keyboards are one of the most customizable products you can buy, from changing your keycaps, chassis, PCB, RGB, and switches, the possibilities are endless when building your own keyboard.
and even though there are a lot of keyboard key layouts and sizes, they are all based on the staggered key layout that originated from typewriters that are available on most keyboards you see these days, however, there is a new keyboard layout that is quickly gaining a user base, which is Ortholinear.
Ortholinear keyboards are laid out in a way that makes every key horizontally and vertically aligned with each other, as opposed to every row being offset from the other, as we are used to in normal keyboards.
The word "Ortho" means Rigid or Straight in greek, and you can easily tell why the keyboard has adopted that name, and the word "Linear" means in line, which is also pretty self-explanatory.
Fun Fact: The word Ortho is also commonly used in the word Orthodontist, which is a specific type of dentist that aligns and straightens teeth.
The Origin of the Staggered Key Layout
to understand why ortholinear keyboards are starting to be adopted by more and more users, we first need to know where we got our staggered key layout.
The staggered layout originated with old-school Typewriters since each key had to physically move a stick for the letter to actually strike the key onto the paper.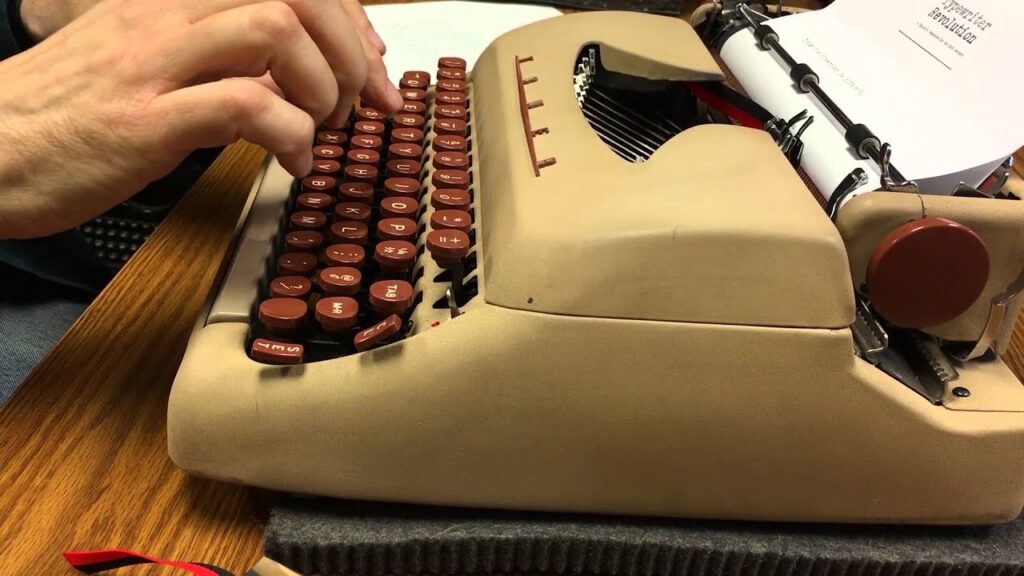 so for manufacturers to place all keys in a compact space without the metal being in the way of each other, they had to stagger the keys on four levels to fit all of the keys, this way, the metal strikers run very close together and save on space.
so why are the keys still staggered even though the days of the physical metal bars are long gone? simply put, it's because it became the norm, so when keyboards were first designed, they tried to emulate the typewriter, since it was what everyone was used to, and they can easily switch over without having to relearn the keyboard layout.
but it doesn't stop there, some designs even featured rubber domes springs below each key to have some resistance that people were familiar with from the Typewriter, which later evolved into the customizable world of mechanical keyboards.
so at the end of the day, there is no real reason the keyboard keys are in this layout, as it is just the norm for keyboards now.
So Why Ortholinear?
Ortholinear keyboards are trying to get users out of the archaic keyboard layout by aligning all of the keys, and while it doesn't use a different key "map" like QWERTY, DVORAK, and Colemak, they are changing the location of the keys so they are more aligned both vertically and horizontally.
however, an issue arises when aligning all of the keys, which is that some keys will either have to receive a design change, location change, or be dropped out of the keyboard entirely like the function keys and side keys.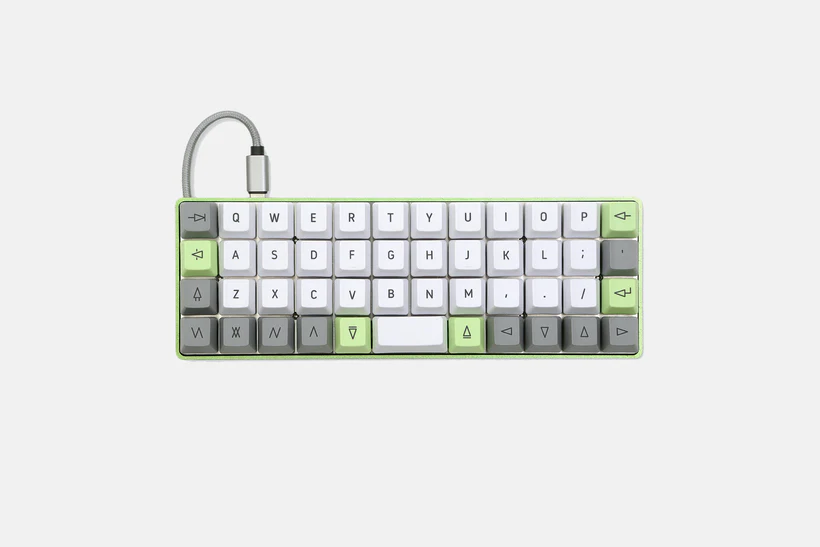 as you can see on this ortholinear keyboard (which is a 40% keyboard), the position of the arrow keys was changed to the bottom row, as well as some removed keys like the side keys, this keyboard functions in layers, by pressing the arrow keys next to the (small) spacebar, you can switch "layers" to access extra key functions.
Are Othrolinear Keyboards Better?
not really, Ortholinear keyboards are just different than other keyboards with no real "advantage" to using them. some users say that their typing became faster by using ortholinear keyboards since the keys are closer together.
another advantage of the Ortholinear Keyboard setup is the sizing, since aligning all of the keys together will clear most, if not all of the blank space seen on a regular staggered keyboard.
The Best Ortholinear Keyboards
Now that you know what an ortholinear keyboard is, you might want to try one, if so then you are in luck since a lot of niche keyboard makers are popping up with their ortholinear keyboards.
There are two types of ortholinear keyboards available, one which you will build yourself, where you'll have to buy the PCB, Chassis, Keycaps, switches, and any extra accessories like stabilizers, there is also a Done-For-You prebuilt, we'll show some of the best in each category.
Ergodox Planck EZ

The Ergodox Planck EZ is usually where everyone uses to get their feet into trying the ortholinear keyboard layout, and that is for a couple of reasons, it's relatively cheap, not very complicated, and customizable, and since its switches are hot-swappable, you can easily change the switches to get a different feel.
The Planck EZ is a 40% layout keyboard, which means it only has 47 keys, so it has all the letters, but lacks the number and functions rows, as well as some side keys like the tab key, the function key, and more.
To access all of the keys, you have to use the two extra arrow keys next to the space bar to be able to move between key "layers" to get to numbers and extra keys. You can buy the Planck EZ from Ergodox
There is also the Planck, which is a version of the Planck Keyboardthat comes as a DIY Kit, where you'll have to supply your own key switches, but it is way cheaper at $110, compared to the $230 for the preassembled version. You can buy the Planck on Drop.com
Work Louder Creator Board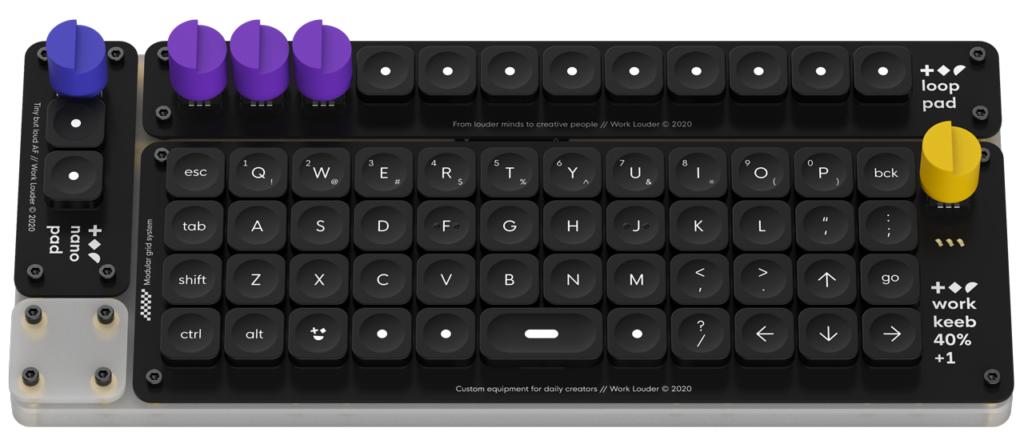 This Ortholinear Keyboard has a lot going on, so it probably shouldn't be your first ortholinear keyboard. The Work Louder Creator Board is a Modular keyboard for creatives, and it is a 60% keyboard, but the actual key part is only 40% like the Planck, but its modularity is what sets it apart.
The Keyboard is composed of 3 primary boards: The Work board, THe Nano pad, and The Loop pad, there is also the base which is kind of like a grid, and you can connect each piece of the keyboard in a different area to make and test multiple configurations to better suit your needs.
The Keyboard features 234 customizable keys across four layers and comes with 5 rotary dials that you can customize for multiple uses. The Creator Board also has a visual configurator which you can use to customize the actions of each keyboard key.
it also comes with some pre-made configurations for Adobe Creative Cloud Apps, DaVinci Resolve, Final Cut Pro X, The Affinity Suite, Blender, Maya, Twitch, OBS, and more.
The keys are custom-made with an indent in each key, you can also purchase more keycaps with different icons. The base comes equipped with RGB Lighting and you can choose from 30 different pre-set lighting effects or set your favorite color for your board.
There is a pretty active discord community where you can chat with other users about custom configurations and learn about any new features getting added by the Work Louder Team.
Conclusion
Ortholinear Keyboards are a very class of mechanical keyboards, so you shouldn't expect to find many versions available to buy, but those that do exist, are very high quality.
it isn't hard to imagine that when ortholinear keyboards get more popular, that bigger companies like ASUS or HP might make some keyboards in ortholinear layout.