Caffeine is Reader Supported, If you do buy through links on our website, we may earn a commission at no extra cost to you. Read the full disclaimer here
Ever Since Logitech was founded in 1981, they have been innovating in Gaming Peripherals and PC gaming as a whole. Logitech is responsible for making some of the best gaming peripherals ever made, with amazing customization features like G Shift or DPI Shift.
One of best selling peripheral series is the Logitech G Series, which is a broad line of Gaming Mice, Keyboards, Headsets, Speakers, and Webcams, and all of these products integrate together to make a coherent ecosystem.
One of the best features of the Logitech G peripherals is the highly customizable settings found within the Logitech G Hub, like the RGB customization or G Shift.
What is Logitech G Shift?
in short, Logitech G Shift is an innovative piece of gaming software in the Logitech Gaming Hub for Logitech peripherals that allows the user to change the button assignments on their mouse, without the need to Alt+Tab out of the game and into a settings menu.
While G shift might seem easy to use, let's take a better look at how to enable it, and how it works in more detail.
G Shift can change the function of the default mouse button, and the extra macro keys found on most gaming mice these days. When G Shift is enabled, the mouse button's default actions may be customized to the keyboard keys or even a series of keyboard keys known as a macro.
You can use G Shift to swap between two sets of button assignments on the macro keys on your mouse, for example, you can have a set of assignments for Shortcuts in Photoshop, and another for After Effects, and you can switch between them easily with a click of a button.
You can also toggle G Shift using a single button click, either on your keyboard (if it is compatible with the Logitech G Hub) or on your mouse. when G Shift is disabled, the mouse buttons will be back to their original functions.
Logitech G Hub
Logitech G Hub, also known as Logitech Gaming Hub, is the software used to control your Logitech peripherals like RGB, Game-specific profiles, and other customizable features such as G Shift.
Logitech G Hub Features
Other than the number of available customizations, G hub automatically recognizes any Logitech G Peripheral and automatically adds it into the software, as well as automatically updates their firmware.
You can also use G hub to assign specific profiles to specific games, and every profile can have custom keybinds, Polling Rate, FPS, and G Shift settings.
If you'd like to learn about all of the features of the Logitech G Hub, you can refer back to its manual.
What Mice are compatible with Logitech Gaming Hub?
any Logitech G peripheral is compatible with the Logitech Gaming Hub, as well as some other products like The Pro and Pro Wireless Gaming Mouse. here is a full list of compatible gaming mice, and newly released products will also be compatible:
G903 LIGHTSPEED Wireless Gaming Mouse
G900 Wireless Gaming Mouse
G703 LIGHTSPEED Wireless Gaming Mouse
G602 Gaming Mouse
G600 Gaming Mouse
G502 RGB Tunable Gaming Mouse
G502 Proteus Core
G502 Hero Gaming Mouse
G403 Wireless Gaming Mouse
G403 Gaming Mouse
G402 Hyperion Fury
G305
G302 Daedalus Prime
Pro Wireless Gaming Mouse
G90 Gaming Mouse
G300/G300s Gaming Mouse
G100s Gaming Mouse
Pro X Superlight Wireless
PRO Gaming Mouse
The Logitech Pro X Superlight Wireless is one of the best (and lightest) gaming mice available, and it's highly recommended for everyone, however, if it is out of your budget, then the G502 Hero is also a good option.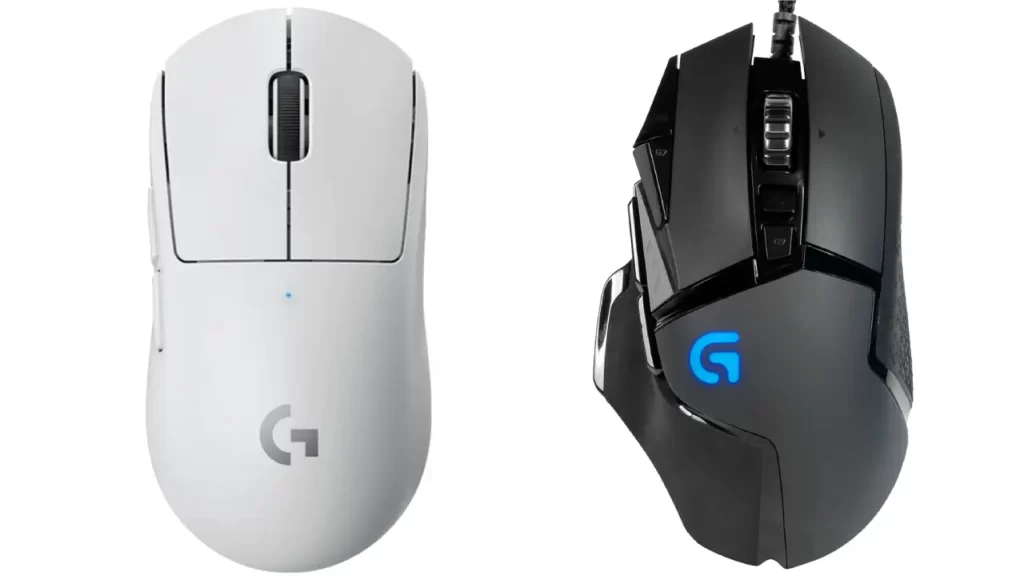 Now that you know how to navigate G Hub, let's now see how to enable and configure G Shift.
How To Configure G Shift
After enabling G Shift, the first thing you need to do is assign a button to G Shift. When you press your assigned button, G Shift will be toggled between the default button configuration and the new customized configuration.
While G Shift only modifies the mouse button assignments, the toggle key itself can either be on the keyboard if you have a Logitech G keyboard or the mouse.
to assign a button, you can head over to the SYSTEM tab in Assignments and drag the G Shift command to a key on your mouse or keyboard, you can now easily swap between the default mode and G Shift mode.
you can now assign other buttons to your G Shift profile just like assigning buttons to the normal profile.
What is DPI Shift?
you might have noticed a setting called DPI Shift on some mice like the G402, so what is it exactly? well, as you can tell from the name, it allows you to switch between 4 DPI profiles, in case you like using a different DPI for tasks other than gaming, so you can switch between them easily.
Frequently Asked Questions:
Are Logitech Mice Good?
This question doesn't have a straightforward answer, since every mouse is made for a specific group of people, and you should only use the mouse that fits you and feels good to use.
Where is G Shift?
G Shift can be found in the assignments tab in the Logitech G Hub, which is the software used to customize Logitech Peripherals.
What Mice Work With The Logitech G Hub?
Mice from the G Series fully work with the Logitech G Hub, as well as some others like the Pro Superlight, and any newly released gaming mice by Logitech.
Conclusion
as with any customization feature, the longer you spend using it, the more you will be able to benefit from it, and G Shift is no different, it's ability to essentially provide you with an extra set of functionality at the press of a button is virtually unmatched by anything available on the market.
However it doesn't stop there, Logitech G peripherals are very customizable and can be tweaked to fit any user, so have a look around the Logitech G Hub, and you may find a setting that will make your experience better.