Caffeine is Reader Supported, If you do buy through links on our website, we may earn a commission at no extra cost to you. Read the full disclaimer here
Smart Lights are among the first additions you would look for to add to your home. Smart Lights come in different shapes and sizes, with some of them even having some groundbreaking features, like ones that enhance your TV experience by mimicking the image displayed on your TV screen, some smart lights also create immersive lighting effects inspired by your music, which is what we are checking out today.
Govee (the makers of this product) is one of the leading smart light makers on the market, with their wide range of products, and innovative features, you can always expect the highest quality products from them, and this one is no different.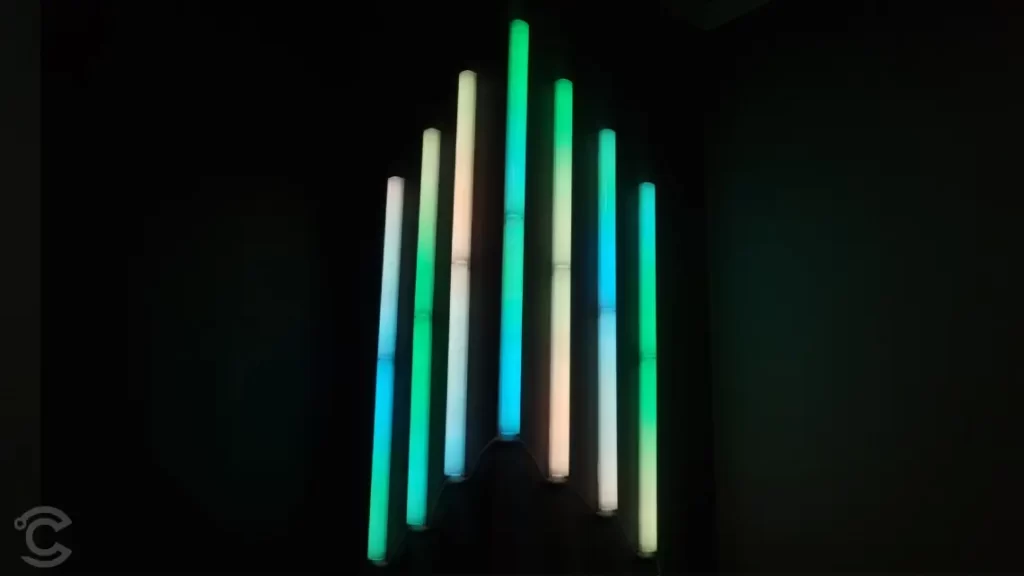 Govee Glide Music Wall Lights
Use Code caffeine10 for 10% off
Why You Can Trust Caffeine
All products reviewed and showcased on our website have been thoroughly tested by our team. We spend time testing every product we showcase and using the product in real-world scenarios. We have never been paid for placements in our articles or for favorable treatment.
Overview
The Govee Glide Music Wall Lights kit comes with 14 light tube segments, a cable with 7 power outputs, a Power Brick as well with an adapter, a control box, extra velcro strips, an alignment paper, a cardboard ruler, and a small level, as well as some wipes to clean the surface before attaching the lights.

The light kit consists of 7 "A" segments, which include both input and output ports, and 7 "B" segments, which include a single output port; by connecting one of each segment, you can form 7 full sections of light bars. The Light Bars are mounted using velcro that sticks to the wall via command strips, so you always have an option of taking the light bars off your wall.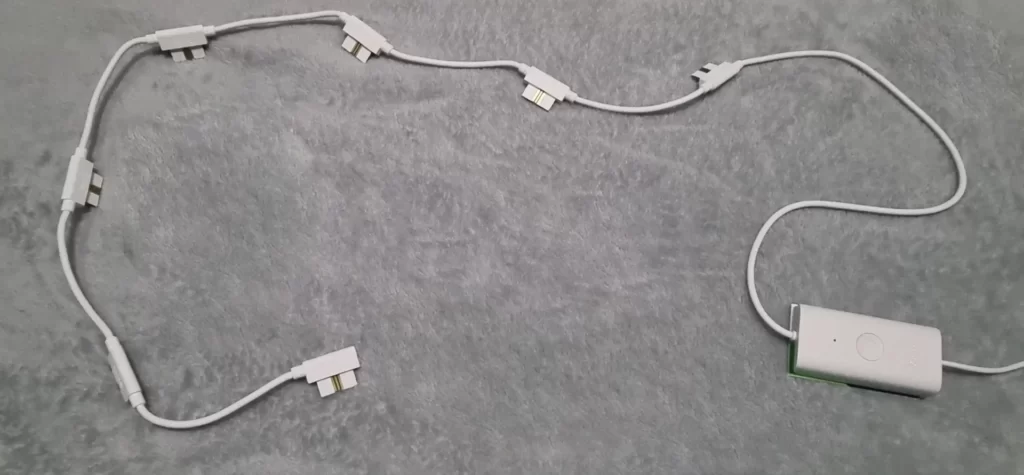 The Light strips are powered by using the provided power cable, which has seven outputs that each plug into a Light Tube. The Power cable is attached to the control box, which you can use to toggle the lights, it also includes the microphone used to sync the lights with your music.
Installation
Now that you know what comes with the Govee Glide Music Wall Light kit, you can now start installing the lights, but first, you'll have to pick the layout for your lights. There are multiple layouts you can create like staggering the light bars, creating a circular pattern, or you can come up with your own layout. I'd suggest trying out all the layouts on a table or the floor before you install the Glide Music Light Bars, to see what layout will best suit your wall.
The included user manual will be your best friend while mounting the lights since it has all the information you'll need to mount the lights, make sure they are level, as well as space them out evenly for the best look, overall, the installation is easy and doesn't require any tools or drilling.
A small thing to keep in mind is that the power brick can be on any side of the lights since you can flip the layout in the app in case your power brick is on the opposite side, however, you will always have to supply the lights with power from the bottom since the power input is on the bottom of each light bar.
Setup
After installing your Light Bars, you should now set them up, which is done intuitively using the Govee Home App. To begin the setup, simply download the app, create an account if you don't already have one, and press the plus icon in the top right corner.
You'll now need to find the type of device you are adding, or you can search for "H610B" and select the device, you'll then connect to the device using Bluetooth, and add your Wi-Fi information for the Lights to connect to your network.
First Impressions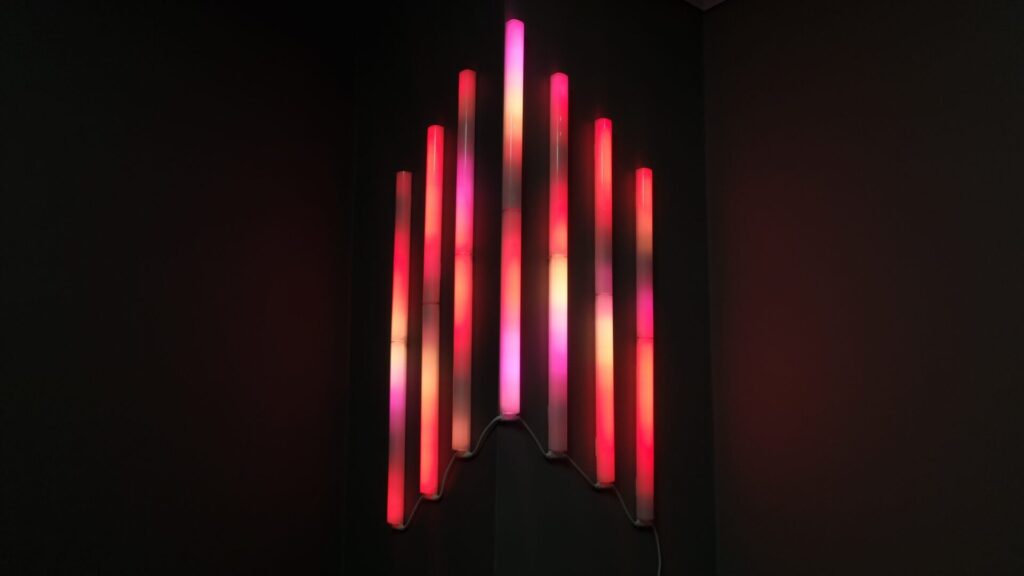 turning on the lights for the first time after installing them is an amazing experience, and since the Govee Glide Music Wall Lights are RGBIC, which means every section in the light bar is individually addressable, you are able to create these colorful light shows, and effects.
The Govee Glide Music Wall Light is surprisingly bright, so much so that it can act as a standalone light source for a small room, or as a great ambient light.
Another small thing I appreciate is the inclusion of a built-in physical switch, which is something you don't see in many smart home products nowadays, and users will end up having to buy scene controllers and smart buttons if they want to physically control their lights, and I'm glad Govee is going in the right direction with the Govee Glide Music Lights.
Features
Before getting into the features of the Light Bars, I also want to mention the Built-in color scheme maker, which you can use to create color layouts and schemes for your light bars, instead of having to make the layouts and gradients manually.
to create custom color schemes, you'll first have to pick a base color and color style as well as a "scene" to base the color scheme on, you'll also have to pick a color matching method, which can be picking similar colors, complementary colors, or even opposite colors.
After you configure your color scheme, you will also be able to cycle through different schemes in case the current one doesn't suit your taste.
I've found myself using this feature almost every time I wanted a static gradient on the lights, or if I was simply playing around with the lights, since the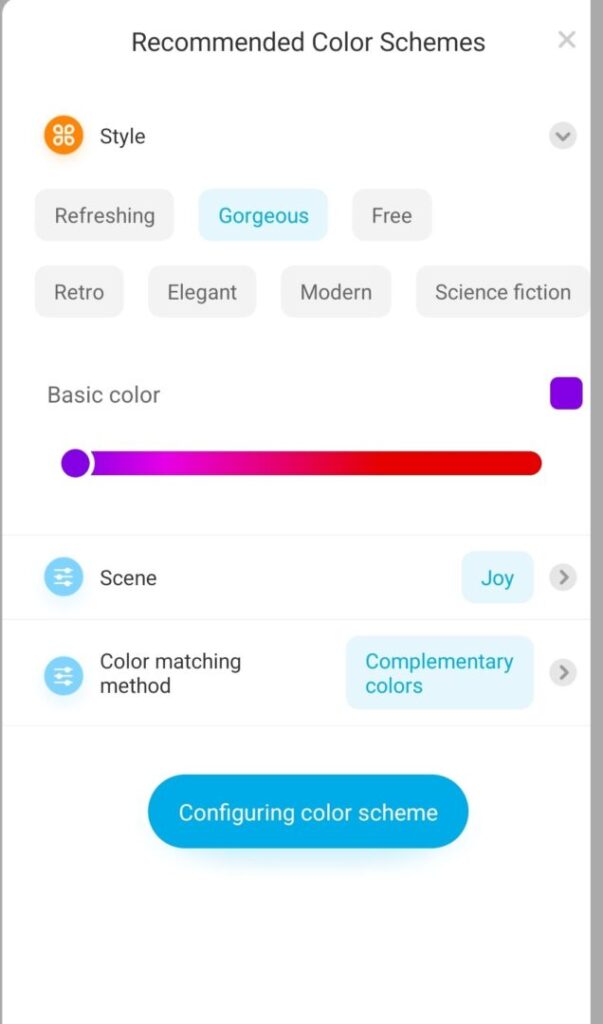 The main feature of the Govee Glide Music Wall Light is obviously the music sync functionality, which has 16 different modes that change how the lights react to your music.
You can virtually customize every part of the Glide Music, like changing the colors of each music effect, using multiple colors, changing the sensitivity of the effect, or even using your device's microphone, instead of the built-in microphone in the Wall Light. You can also use the Color Scheme generator to change the effect's color.
You can also create an alarm within the Govee Home App, you can even use the "wake up" mode to tell the light bars to gradually increase their brightness over a small time period to simulate a sunrise.
The Music modes microphone can also change sensitivity depending on how far the music source is, but I've found that it picks up the music really well even in big rooms, and sometimes I'd even have to turn the microphone down to the lowest setting to see a better light show.
The Govee Glide Music Wall Lights also remember their last state after power loss, which means the lights won't turn on randomly at night if they lose power for a second, unlike other lights which default to 100% brightness before connecting to their hub or Wi-Fi again.
Smart Connectivity
The Govee Glide Music Lights are very strong in terms of their integration with other Smart Home Services, like Alexa or the Google Assistant ecosystems. you could practically use the Alexa app as your main app to control the Govee Glide Music.
You can also use the voice assistants to change the brightness, Color, Effect, and Scene of your light kit, you can also use your lights in Alexa Routines easily.
Govee also recently released a new overhaul to their app, and one of its updates was the ability to apply to generate API Keys, which means you can integrate your lights with more smart home hubs like Home Assistant, or you can develop your own custom integration.
Govee also recently announced an integration with Razer to connect some of their lights to Razer Synapse, so your lights can now sync with your game and Razer gear.
This type of deep integration is what the smart home world needs moving forward, however, I would have liked it if Govee added an integration with Samsung's SmartThings and Apple Homekit.
The Downfalls
After testing the Govee Glide Music Wall Lights for some time now, I've only really noticed a few small issues with the product, most of which can be solved with future software updates.
The biggest issue is one I've already mentioned above, which is the lack of integrations with HomeKit and SmartThings, but this issue is more a software issue, rather than an issue with the actual lights.
While installing the Govee Glide Music Wall Light, I also felt like there weren't many ways I could mount the lights, which came as a pretty big surprise since most of Govees other light kits are pretty modular and let you create tons of shapes, while the Govee Glide Music Wall Lights only has a few variations.
Also, I would've preferred it if I were able to change the colors used in the effects of the light, but right now you are only able to use the effects with their own pre-set colors.
Conclusion
Overall, I'm pretty happy with the quality of the Govee Glide Music Wall Lights, since all of my issues with the device can be fixed with a software update. especially considering their price compared to other alternatives, it is a no-brainer to pick this one up if you are looking for RGBIC wall lights.
The Review
Govee Glide Music Wall Lights
The Govee Glide Music Wall Lights is a good wall light option if you are looking for smart lighting tubes that sync to your music or a great ambient light that will add a pop of color to your place.
PROS
Vibrant Colors
Easy Installation
Many Premade Effects
Accurate Music Mode
CONS
No HomeKit or SmartThings integration
Limited Number of Mounting Setups
Review Breakdown
Installation

0

Brightness and Color

0

Smart Connectivity

0

App

0

Effects

0