If you're like most people, you've probably had to deal with water damage to your phone at some point. Whether it's from sweat, rain, or an accidental drop in the toilet, water and phones don't mix.
One of the most vulnerable parts of your phone when it comes to water damage is the charging port. Because the charging port is exposed, it's easy for water to get inside and cause all sorts of problems.
If you're dealing with water in your charging port, don't panic! In this article, we'll show you how to get the water out and dry out your phone so you can get back to using it as usual.
What Makes Water Get Into the Charging Port?
The charging port is one of the most vulnerable parts of your phone when it comes to water damage. Because the charging port is exposed, it's easy for water to get inside and cause all sorts of problems.
There are a few different ways that water can get into your phone's charging port. The most common way is simply from exposure to the elements. If you use your phone in the rain or in humid conditions, there's a good chance that some water will eventually make its way into the charging port.
Another way that water can get into your phone's charging port is from accidental drops. If you drop your phone in water, it's likely that some of that water will seep into the charging port. And finally, if you use your phone in conditions where it's likely to get wet (like the beach), there's a chance that water will work its way into the charging port and cause problems.
How To Get Water Out Of A Charging Port
In short, the best way to get water out of a charging port is to dry the exterior of your phone and gently shake the device to remove any large water drops, and simply place it down it to air out in a well ventilated area, to let any other moisture evaporate.
This method is very safe and is recommended by both Apple Support and the Samsung Troubleshooting Guide in case you ever get a popup telling you that moisture has been detected in your charging port.
Depending on how much water is in your phone, you might have to wait as little as 10 minutes or up to a couple of hours. You can also leave it overnight if you want to make sure no moisture is still inside.
If your phone has been in contact with salt water, it's important to rinse it off as soon as possible. Saltwater can cause corrosion and damage to your phone if it's not cleaned off right away. To clean salt water out of your phone, simply rinse it off with fresh water and dry it thoroughly.
Common Misconceptions About Getting Water Out Of A Charging Port
Now that you know how to get water out of your phones charging port safely, let's cover some things you should NOT do when drying out your phones charging port:
Don't put your phone in a bag of rice: We've all heard it before, that by placing your phone into a bag of rice, the moisture inside your phone will be absorbed by the rice, and this is partially true, however, it will cause more harm than good since rice may leave small debris that can get inside your phone, and using rice won't be much better than letting your phone air out naturally.
Don't Use Compressed Air: Compressed air might be a good option for cleaning your device, but for drying it, not so much. Compressed air can actually further push the moisture into your device, instead of helping evaporate it. Compressed air can also create more moisture in your device, since it is naturally very cold, and might condense into more moisture.
Don't use a hair dryer: Even though many guides recommend this, using a hair dryer, especially on the hot setting will almost always do more harm than good, since the hot air from the hair dryer might damage fragile parts of your phone, like the battery and the screen, you can also heavily damage the water-proof seal of your device, which will make it easier for more water to seep into your device later.
Don't Use Alcohol: While Alcohol might seem like a good option to get any moisture out of your device and clean it thoroughly, Isopropyl and rubbing alcohol are always diluted with water, which is what you are trying to get out of your device in the first place.
Don't stick small objects into your charging port: Using objects like toothpicks, cotton swabs, toothbrushes, paper towels, cotton balls, and anything else that will fit into the port is always a bad idea. Even though it may absorb the moisture in your phone, it will also almost always leave behind debris, and it may damage the connection traces in the charging port or break your charging port completely.
Many guides on the internet recommend using some or all of the above methods, however, you shouldn't bother with them since they might actually damage your phone rather than help you.
How Can I Know If My Charging Port is Wet?
Most modern smartphones do have moisture sensors built in the charging port that will alert you if they detect moisture when you plug in a charging cable, or a different accessory into the charging port. iPhones made after the iPhone X have a moisture sensor built-in, as well as most Samsung Galaxy Devices.
Apple Moisture Detected Alert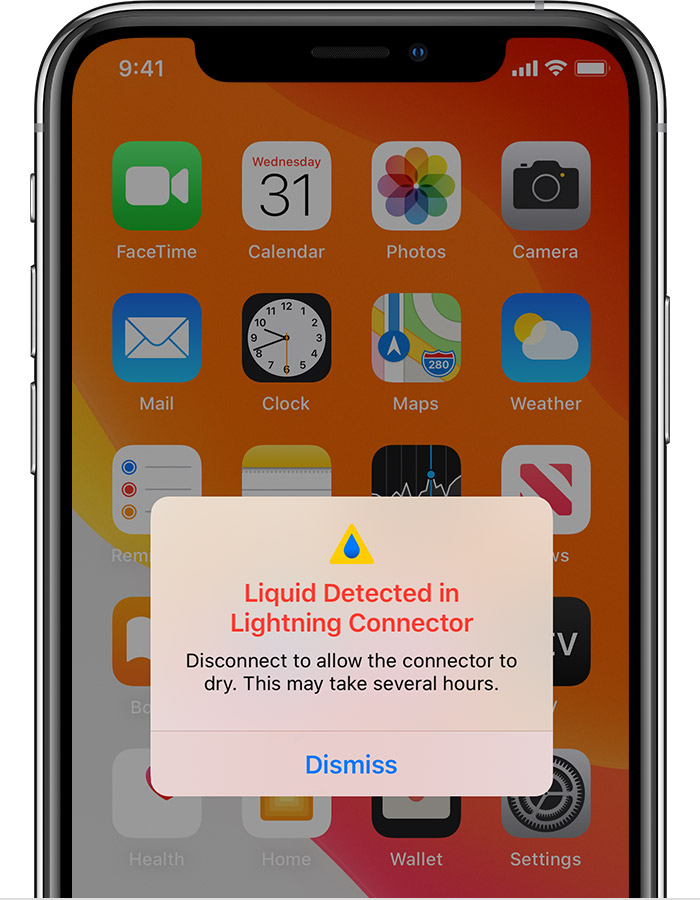 For Apple Devices, you might see a popup that says "Charging Not Available: Liquid has been detected in the Lighting connector. Disconnect to allow the connector to dry. This may take several hours" which only shows up if you connect a charging cable to your apple device. You might also see a different popup that says "Liquid Detected in Lighting Connector: Disconnect to allow the connector to dry. This may take several hours" which will appear if you plug a Lighting accessory into your charging port that doesn't charge your device.
Samsung Moisture Detected Alert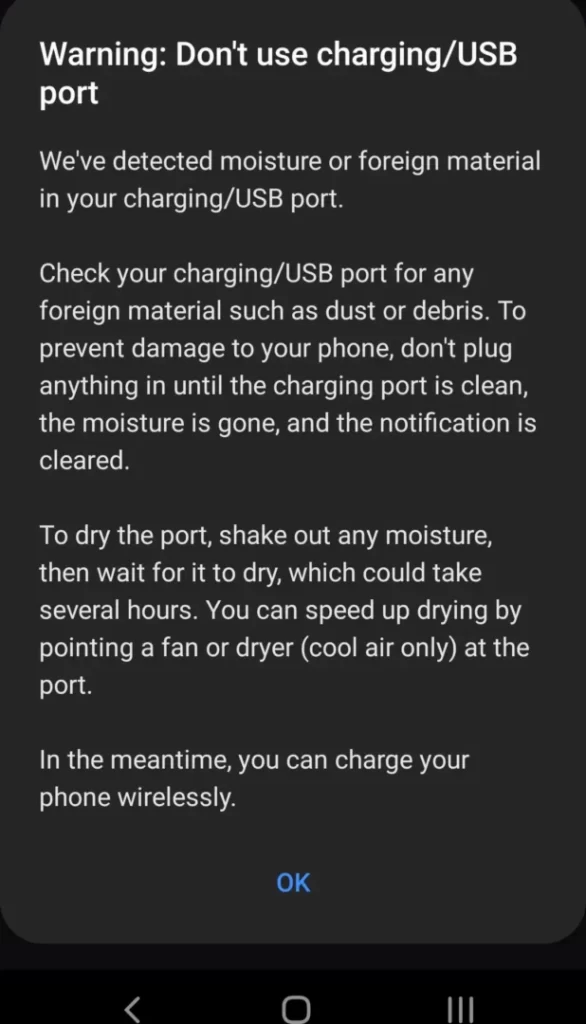 If you have a Samsung Device, You might see a pop similar to the one above, which says "We've detected moisture or foreign material in your charging/USB port." The popup also suggests that you charge your phone wirelessly until the port has dried.
OnePlus USB Port Disabled Alert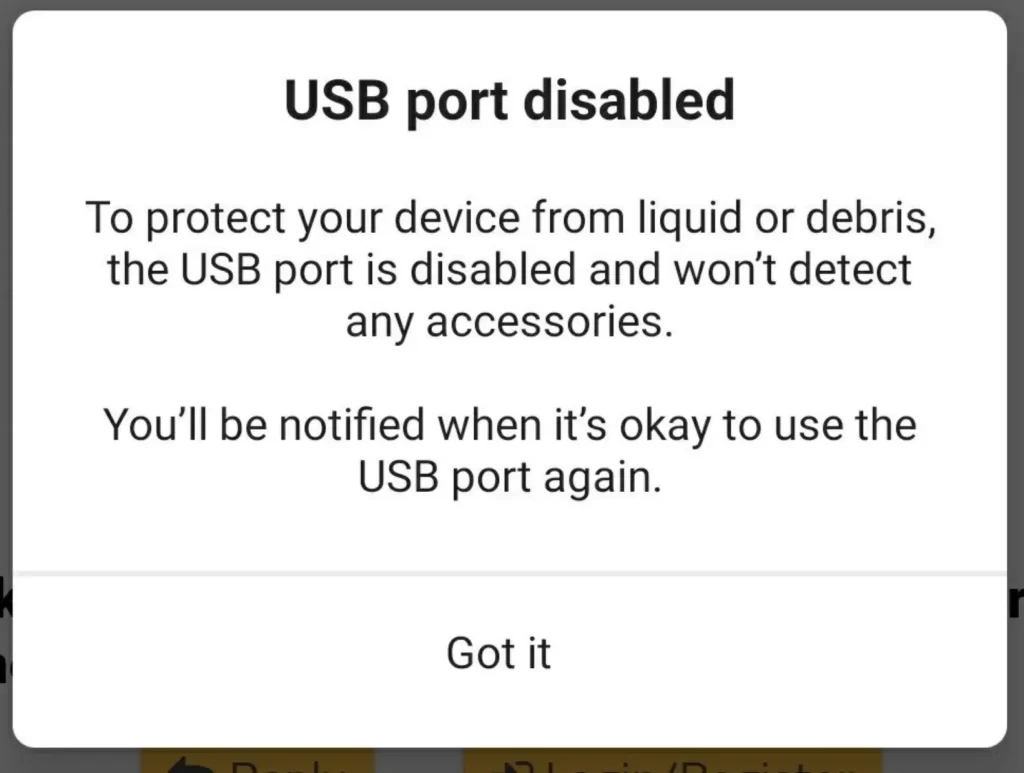 Most OnePlus phones also have moisture detection, and you might see a popup that says "USB port disabled: To protect your device from liquid or debris, the USB port is disabled and won't detect any accessories. You'll be notified when it's okay to use the USB port again" if moisture is detected in your charging port.
Other android phones also have a similar popup, if a moisture sensor is found in the phone.
How Can Moisture Get Into The Charging Port?
There are many ways a phone's charging port can get wet, some of them being more common than others, which are:
Accidental Water Spills: This is the most common way for your device to get wet, and it has probably happened to you before, you are enjoying a drink while working or scrolling through social media, and you accidentally spill it on your phone, this usually doesn't cause any damage if you act quickly and dry your device.
Submersion in Water: This is another common issue. This can happen for a number of reasons, the most common of them being accidentally dropping your phone into a body of water like a pool.
Rain: This is one of the worst ways water can get into your phone since you might not see or feel it happening at all. Rain can get into your device in many ways, from direct exposure, to rain actually seeping into your phone through your jacket pocket.
You might have also heard about a phone's IP rating which stands for Ingress Protection, it is a system made by the International Electrotechnical Commission (IEC) to grade the resistance of an enclosure against the intrusion of dust and liquids. The higher the second number, the more your phone is resistant to water, it is on a scale of 0-9.
Conclusion
as you can see, your phone getting wet isn't a fun experience, so it's very important to actively try not to get any liquids near your phone, and if your device doesn't turn on after it has been submerged in water, then it might have sustained water damage, and you need to take it to a repair shop as soon as possible.