Caffeine is Reader Supported, If you do buy through links on our website, we may earn a commission at no extra cost to you. Read the full disclaimer here
Using Calendar apps to plan your workday isn't anything new, workspaces have been using productivity calendars and task managers for the longest time to keep their teams on track to complete projects in time, however, calendars have always been a one-size-fits-all type of ordeal, so apps like Google Calendar are made for a wide range of consumers, which means it can't really be dialed-in to match your specific needs. There has never been a calendar made for our remote-first world.
While Morgen can seem like another run-of-the-mill Task Manager, it does what it aims to do amazingly well, and it lets you integrate all of the apps you already use in your day-to-day life.
What is Morgen?
Morgen is a Desktop-based Calendar App that is made to help you manage your tasks, and reminders, as well as synchronize all aspects of your life. Morgen was founded by ETH Zurich, a leading university in science and technology that is known for its cutting-edge research and innovation. as a spin-off company.
Unlike other Calendars, Morgen also has Task Management capabilities, as well as meeting scheduling tools. Morgen is also very committed to your privacy.
TL;DR
After spending some time testing the app, I felt like Morgen can easily be one of the best calendar apps available on the market. Morgen would make sense for you are the type that wants a no-fluff app to manage their meeting schedule
There is also a 14-day free trial available. No credit card required
Getting Started With Morgen
To get started with Morgen, you'll first have to download the desktop app, which is nice, since I do prefer desktop apps to web-based ones since they feel more seamlessly integrated with my computer. There is also a Mobile App available.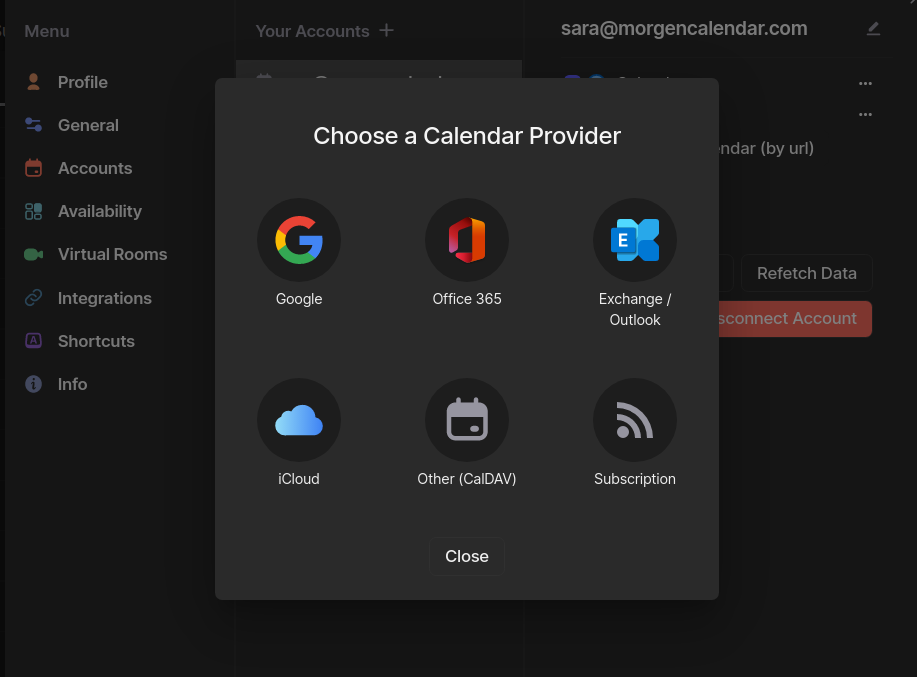 During Setup, you'll be able to add your calendars, and Morgen has many integrations with Calendar Providers like Google, Office 360, iCloud, RSS Calendars, Outlook, and more. You can also your task management apps during this step, so if your organization uses something like Todoist, or Google Tasks, you can easily add it to import tasks.
There is also a Zapier integration, which means you have access to advanced custom integration that you can build using over 5000 apps
You'll also be able to customize the app to suit you further during this step, like changing the app theme, timezone, the day the week starts, and more.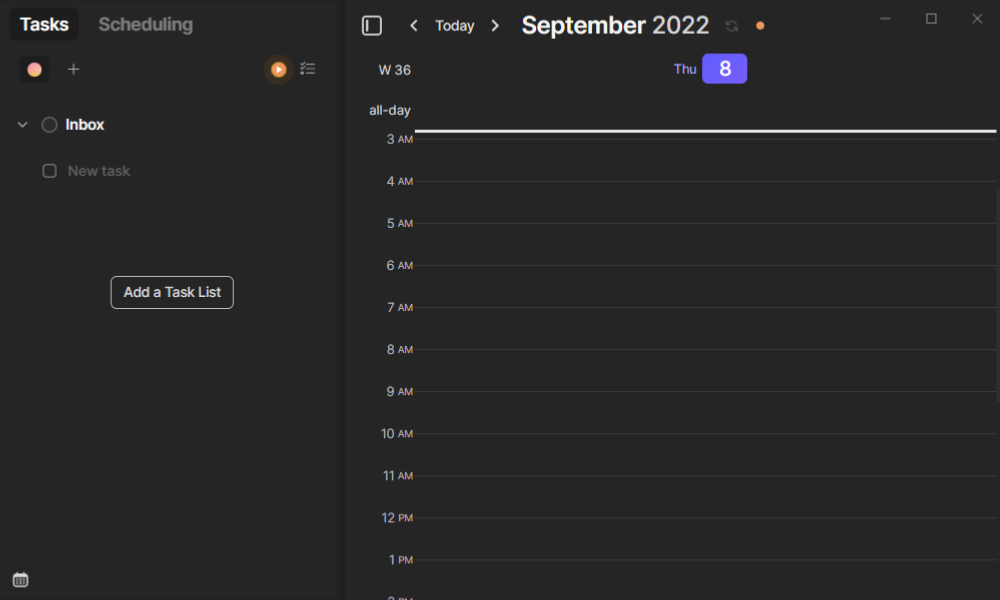 Once you are done with the setup, you'll be taken to a blank dashboard.
The Dashboard is split into two panels, a Calendar section where you can block time, add tasks, and change the duration of events, and a task management section to the left, where you can add tasks, and import tasks from other apps.
The Tasks panel can also be changed into a scheduler panel, which lets you create booking links to book meetings to specific time frames you designate in your calendar. You can collapse the side panel at any time to maximize the middle calendar view.
Morgen Features
Morgen has a couple of main features, which are the Calendar, Task manager, and Meeting scheduler, and every task you add to the app, can be easily sent to the calendar to block out your time.
Morgen is available on virtually every platform. it is available as a desktop app for Mac, Windows, and even Linux. There is also a mobile app available for iOS and Android.
Unified Calendar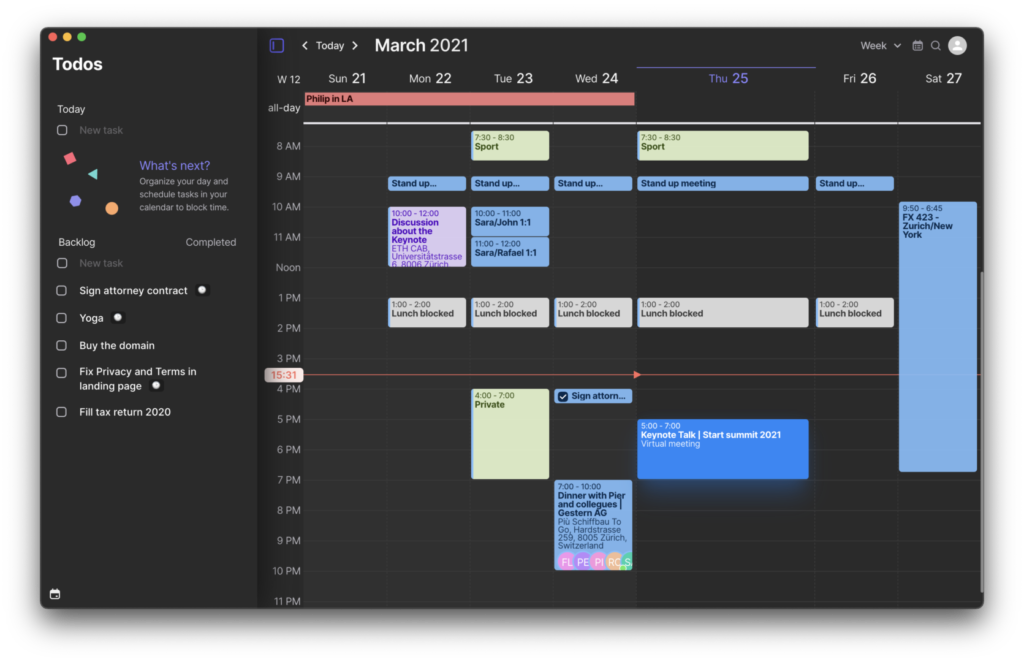 After adding your personal and work calendars to Morgen, you'll quickly see your dashboard fill up with your events, and this is where the unified calendar really shines, where you can see everything you'll need to do today.
Clicking on any calendar event will open up a menu where you can further refine the task where you can add the task to a specific category, add attendees to the task, change the start and end time, and change your availability for the duration of the task, add or generate meeting links, as well as change the task's name for yourself, and you can even add your meeting rooms code.
You can also create the tasks within the Morgen app by clicking and dragging across the timeframe you want your task to be in, you can also select which calendar you want the task to be in, as well as the privacy of the task, which means the event will not reflect on your calendar, and will only show up as busy.
If you have multiple calendars in the same account, you can change their colors in the app, so you can easily tell which calendar added the event.
And finally, if you are the type of person that plans out weeks in advance, you can easily lose your place on your calendar, and need to look for something quickly, which is why you should use Morgen's Universal Search which will look through events in the past and in the future, by participants, keywords, locations to find what you are looking for.
Calendar Sets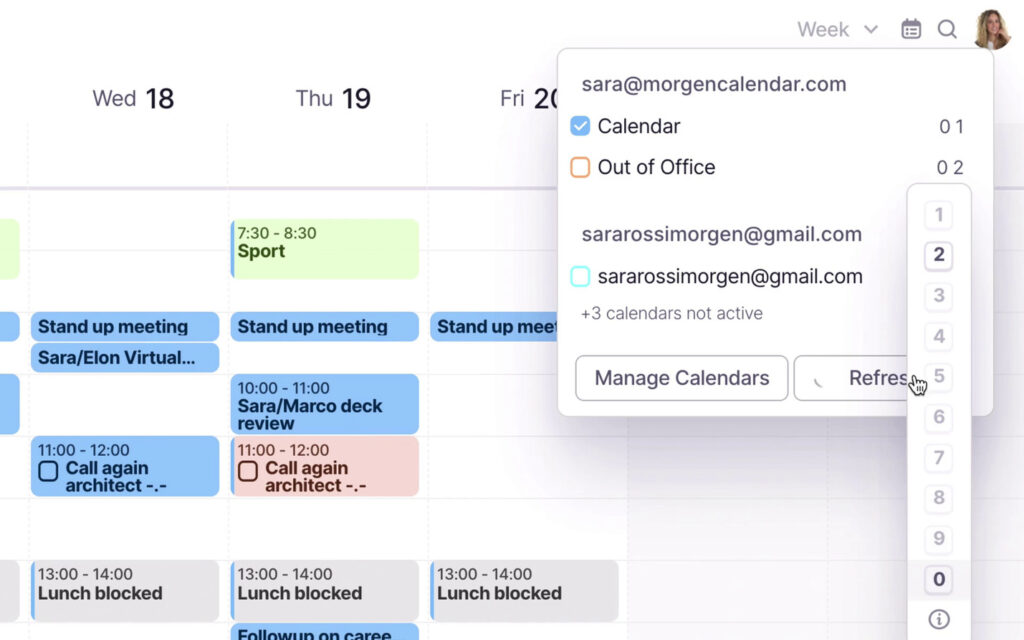 Having many calendars can get hectic quickly, this is why it's important to separate your work, personal, and side-project calendars from each other, and luckily, Morgen makes this very easy.
Using the Calendar Sets feature, you can separate specific calendars from the rest of your calendars, and easily switch between them using keyboard shortcuts.
Task Manager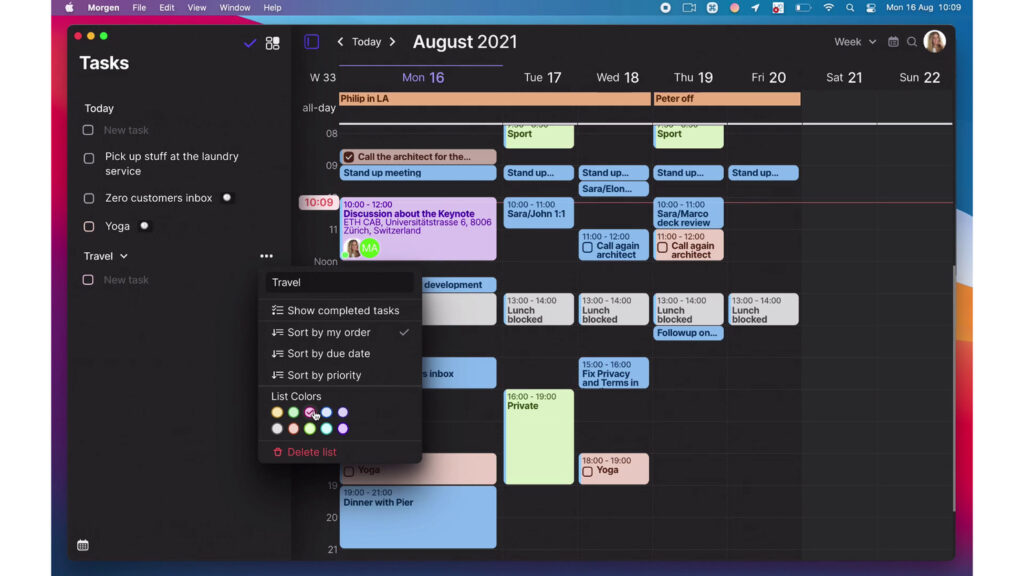 Now let's look at Morgen's Task Management Features. Having your calendar and tasks on the same page will significantly improve your task planning and productivity.
The Tasks panel is very simple, you can create "Task Lists" to separate tasks from each project, or personal and work assignments, you can also assign a color to each list to easily distinguish your tasks in the calendar view.
When creating a Task, you can set the duration, change the priority of the task, as well as add notes to the task.
The Task manager's deep integration with the calendar lets you easily drag tasks across from the task panel on the left to add them to your calendar and plan out your day.
Meeting Scheduler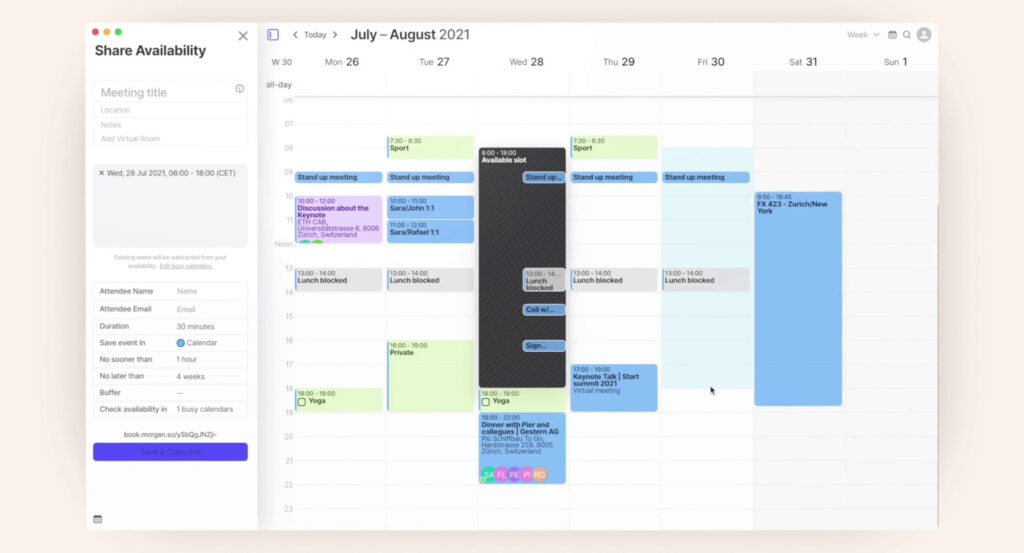 The Morgen Meeting Scheduler is one of my favorite features of this app. After switching the side panel to the Scheduling tab, you'll be able to select timeslots to book meetings.
After selecting your timeframes, you'll be able to copy your available times as plain text, or you can create a smart meeting link.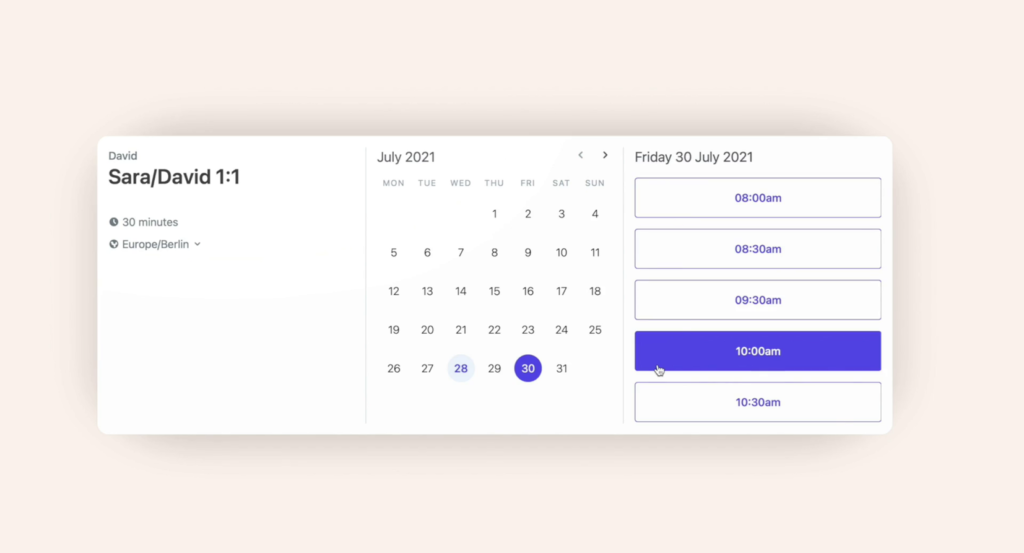 There are two types of smart meeting links; one-time links, and recurring links. One-time links are personalized meeting booking links that let your attendee book a meeting.
on the other hand, Recurring Links are similar to other booking solutions, where you designate time in your week for meetings like 1:1 meetings with teams, calls with customers, or sales calls, you can then share your link with anyone who wants to book a meeting with you.
Both you and your attendee will be able to cancel or reschedule the meeting using the booking link you sent, and Morgen will automatically update your availability.
You can also white-label your booking page using your company logo, and a custom brand color, and if your team uses permanent meeting rooms, then you can add those as well, which lets you easily recall them and add them to tasks.
Keyboard Shortcuts
Morgen is a desktop app, which means the app heavily uses keyboard shortcuts to its advantage. Some shortcuts you can use are:
Switch Calendar view to Daily using D, Weekly using W, Monthly M, 10-Days using X, and Agenda using A.
Toggle between the Dark and Light Theme using \

Minimize the window using CTRL + M, and toggle the window using ALT + C.

Create a new event using C, and edit an event using E.
Switch to the task panel using ALT + A, as well as switch to the scheduling ALT + S
This is just a small amount of the available shortcuts, and if used right, will greatly cut down on your task planning time, and make task management a breeze, however, all of these keyboard shortcuts aren't customizable, which means if you use a different keyboard layout, or just don't like the shortcut layouts, you are going to have a big problem with navigation.
What Makes Morgen Different?
From what I saw while testing, Morgen is one of the only task management and calendar apps that actually focuses on helping you become more productive, instead of bombarding you with features that at the end of the day, are just fluff and aren't actually that helpful.
Even though Morgen is pretty simple, you'll instantly see a huge positive impact on your productivity during the free 14-day trial, however, everyone's workflow is different, which means that the app might have a negative impact on your productivity, so it is always important to test multiple productivity apps.
Conclusion
Overall, I really enjoyed Morgen during my testing period, and it can drastically improve the productivity of many people who regularly book one-off meetings, people who plan out weeks in advance, and entrepreneurs who get lost in the groove of managing a company.
I would suggest giving Morgen a try, and if it doesn't match your productivity style, you could always try apps like Sunsama, or its alternatives.
The Review
Morgen
PROS
Simple User Interface
Meeting Scheduler
Integrated Task Manager
Can Function as a Standalone Calendar and Task Manager
CONS
Non-Customizable Keyboard Shortcuts
Review Breakdown
User Experience

0

Customizability

0

Features

0