Caffeine is Reader Supported, If you do buy through links on our website, we may earn a commission at no extra cost to you. Read the full disclaimer here
Running a successful newsletter is hard, and monetizing one is even more challenging, so having a powerful email marketing tool with strong monetization capabilities is one of the most important pillars of making your newsletter successful.
Many email marketing software and apps exist, however, some of them only focus on specific market segments like Omnisend which primarily aims itself at e-commerce companies, but if you are looking to grow your newsletter efficiently, then you've undoubtedly heard about Beehiiv.
What is Beehiiv?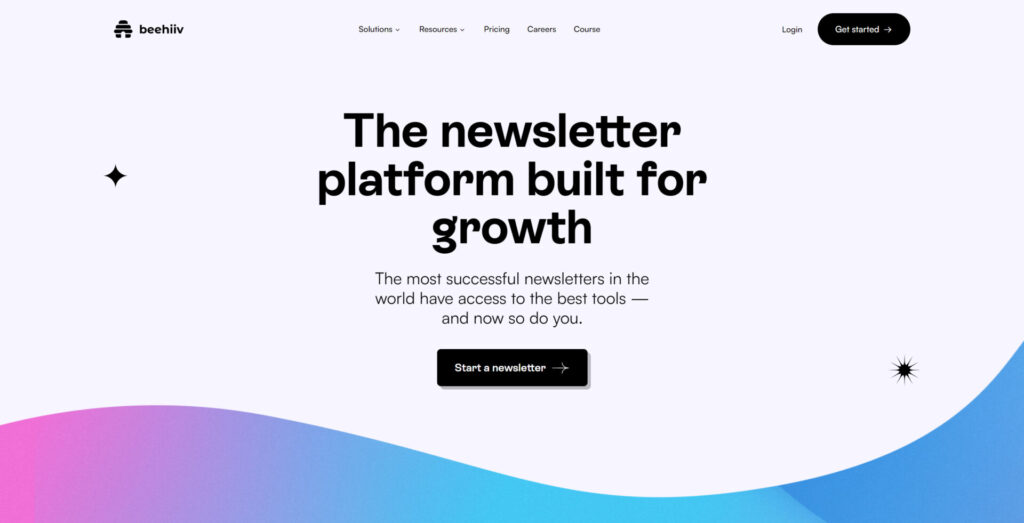 Beehiiv is an Email marketing tool that focuses on helping you publish, scale, and monetize your newsletter efficiently, Beehiiv offers powerful analytics features and a built-in ad network that enables you to work with premium advertisers, they also offer a built-in referral program feature, and premium newsletter subscriptions.
However, you may be running into some issues while using Beehiiv or you might just be shopping around for other email marketing tools, so it's a good idea to see the alternatives to Beehiiv and how they compare.
1. MailerLite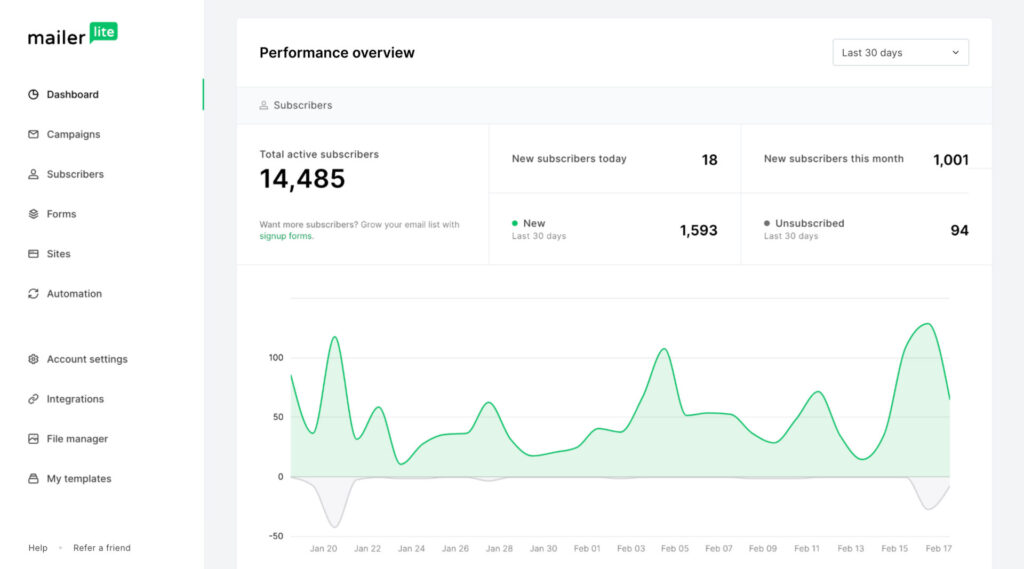 The first app we have today is MailerLite, which is a simple email marketing app that lets you run a newsletter without all of the complicated features you might run into if you use other apps.
MailerLite's email marketing capabilities can let you create beautiful email marketing campaigns and continuously improve your emails, you can also integrate with e-commerce platforms like Shopify, and payment gateways like Stripe so you can sell digital products.
MailerLite also offers automation tools, which significantly cuts down on time and also automate tedious tasks like sending emails when a new post is published on your blog via RSS.
You can also segment your readers by location, open rates, recent subscribers, and more, and deliver specific emails to those segments only.
Mailerlite also offers transactional email services for e-commerce brands, and you can easily create a premium subscription-based newsletter.
Main Features
Drag-and-Drop Email Designer
Landing Page Builder
Powerful Automation
Ecommerce Features
Paid Newsletter Subscription
Great Pricing Options
Mailerlite is undoubtedly a great option for someone looking to start a newsletter and who doesn't want to deal with other more complicated options. Mailerlite is also one of the cheapest email marketing tools, with plans starting at 9$ per month and a generous free plan.
2. Ghost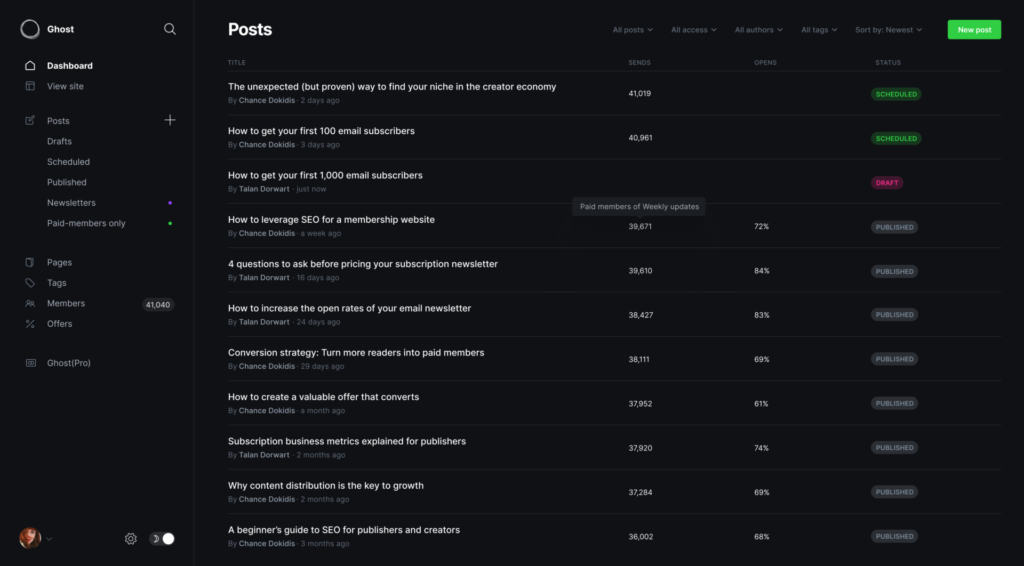 Ghost is an open-source nonprofit newsletter software, which means that it puts 100% of its earnings back into making the tool better.
Ghost is not only a newsletter platform, it is also a fully-fledged CMS that can run a complete blog. Ghost's CMS offers a customizable editor and website editor using themes that you can purchase, or you can build one from scratch.
Ghost also offers a powerful block-based editor that lets you customize your newsletter or blog posts that won't make you feel held back by your CMS, you can use blocks like image galleries, video, audio, products, info boxes, files, and much more.
Ghost also has an account feature that lets your audience create accounts on your website where they can purchase premium subscriptions and monthly subscriptions as well.
having a blog is one of the best ways to grow your newsletter and, Ghost is a great option for someone who is looking to start a newsletter and a blog, or is planning on launching one in the near future.
Main Features
Open Source
Customizable Website Builder
Powerful Editor
Membership Management
Native Analytics
Overall, you can't go wrong with Ghost for running your newsletter, and since it's open source, you can always expect it to have a powerful community that supports it. Ghost starts at $9 per month for the starter plan and $25 per month for the creator plan (if billed yearly.)
3. ConvertKit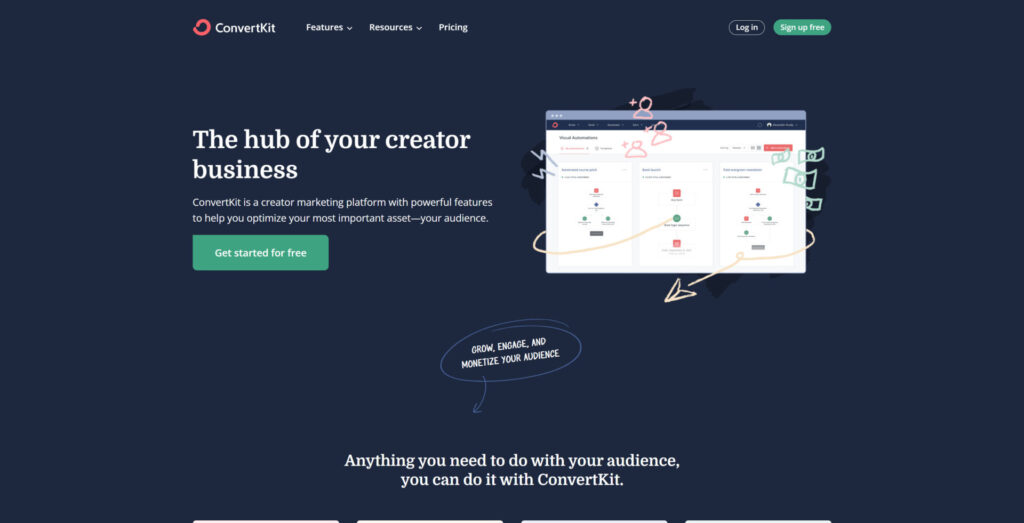 ConvertKit is an email marketing platform built specifically for creators of all sizes and lets you monetize your audience effectively, while also building a stronger relationship with them.
ConvertKit has many ways to grow your newsletter, like the beautiful landing page builder, and form creator, as well as their latest feature, The Creator Network, which lets you easily cross-promote with other creators to grow your reach.
ConvertKit also has an email designer that comes with many free templates so you can get started writing straight away, ConvertKit also has a 98% deliverability rate, and powerful analytics.
ConvertKit also has many integrations available with e-commerce platforms, CRM, analytics, and many more. you can also build Automations with ConvertKit to launch new products and clean your email list, and many more ideas.
ConvertKit will help you also monetize your newsletter using Commerce features like selling digital products, and integrations with Shopify, WooCommerce, and More. There is also a Sponsor network available, which lets is a done-for-you service that lets ConvertKit find sponsors for you, and negotiate your best rates.
Main Features
High Deliverability
Powerful Integrations
Creator Network
Automation Builder
Monetization Features
Sponsor Network
ConvertKit is an amazing tool for creators that can help them grow their platforms tremendously. ConvertKit also starts at $9 per month, but it only caps at 300 subscribers, there is also a plan for $25 per month for also 300 subscribers.
4. Substack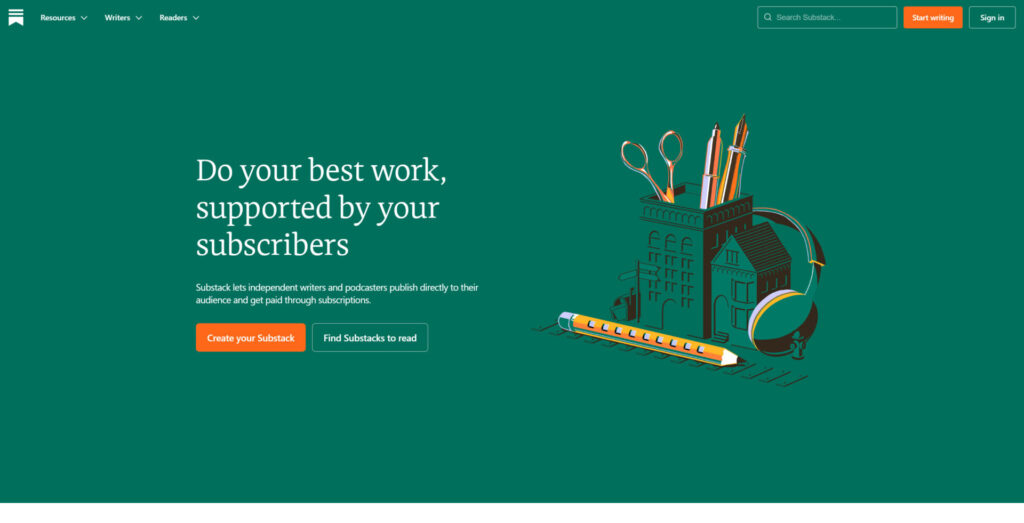 Substack is a platform for running premium newsletters and podcasts. Substack lets you own your data, like your emails, mailing list, and subscriber payments.
Substack combines a blog, newsletter, and payment system while handling all the admin and backend stuff, so you'll only have to focus on creating content. Substack also has a network that advertises your newsletter to readers, which can get you a significant amount of engaged readers.
Substack also has an app that users and shows your Posts, Podcasts, and premium videos to them and makes them easier for your readers to read.
Substack's approach to premium content is unmatched by any platform, and it is also one of the easiest platforms to start using for your email newsletter.
Main Features
Built-in Payment System
Reader App
Premium Content Management
Free Platform
Substack is also completely free for newsletters, however, they do take a cut of 10% of premium subscriptions. but other than that, the platform is completely free for all users.
5. Flodesk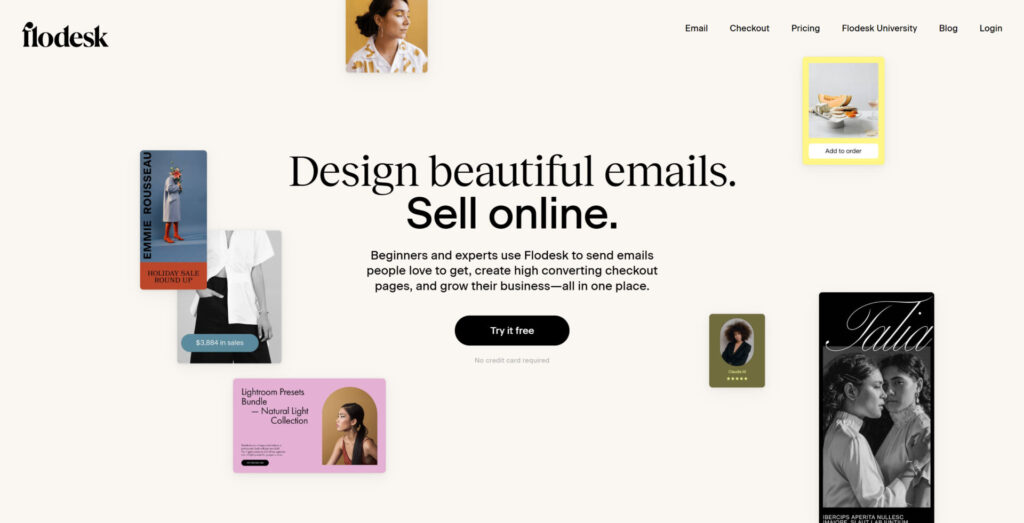 Flodesk is an email tool that wants to help creators sell online to their audience using email. You can use Flodesk to create on-brand emails, opt-in forms, landing pages, checkout pages, and more.
Flodesk helps you Design consistent emails that look great on any device. you can use it to send newsletters, welcome offers, sales announcements, and more.
Flodesk's Checkout page builder is also very good for creators not looking to set up a complete e-commerce website, but still want to sell digital products to their audience. You can accept credit card payments, and automatically send the download to the buyer, you can also build upsell funnels using Flowdesk.
You can also use Flodesk's workflow builder to build a better, relationship with your audience and save time running your email newsletter.
Main Features
Brand Email Designer
Landing Page Builder
Checkout Builder
Workflow Builder
Many beautiful templates
Flowdesk also has a simple pricing structure, it only costs $35 per month for the newsletter function with unlimited subscribers and emails and $35 per month for the checkout function, you can also get an everything plan which combines both plans for $59 per month.
6. ActiveCampaign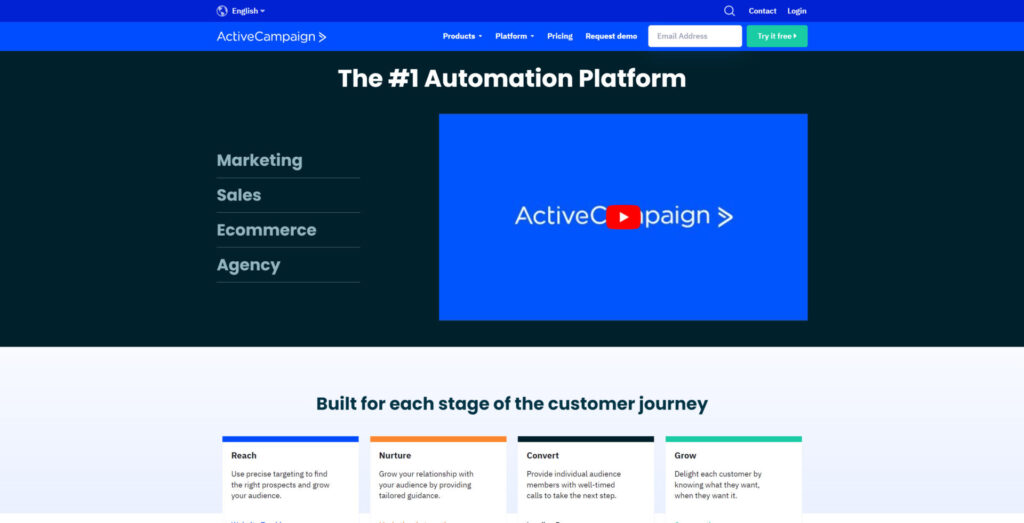 ActiveCampaign is an all-in-one platform for email marketing and newsletter building and automation, The ActiveCampaign platform is one of the most feature-packed platforms there is, which lets you manage your email campaigns from reaching your customers to converting them into repeat buyers.
If you're looking to grow your newsletter campaigns, you can use the ActiveCampaign drag-and-drop builder to build Landing pages and forms that convert on your website. Your newsletter design is also simple using the email builder, which comes with many templates that are easily edited to suit your brand.
ActiveCampaign also has site tracking and follow-up features, which lets you follow up with your subscribers if they showed interest in a product, and didn't complete the purchase, or got distracted and left your website. There are also plugins available for popular CMS platforms like WordPress and Shopify.
The ActiveCampaign e-commerce features are all you need to turn your e-commerce website into a complete brand, by connecting with your customers via email, text, or social media all from ActiveCampaign, you can also use it to send abandoned cart messages, and upsell emails.
ActiveCampaign lets you build a powerful sales funnel by integrating email marketing, CRM, and sales automation that lets you build powerful sales processes that can update deals automatically depending on the stage of the lead. You can also segment your leads depending on how likely they are to become a customer. You can also use the Outlook and Gmail extensions to be able to manage all your email conversations without leaving your inbox.
Overall, ActiveCampaign is as powerful as email marketing gets, and though the platform has many features you probably will never use, it is always good to have them available than not.
Main Features
Automation Marketplace
Landing Page and Form Builder
Marketing Automation
Built-in CRM
Web Tracking
ActiveCampaign has many plans depending on your usecase, but it starts at $29 per month for email marketing, and $19 per month for sales and CRM features, there is also a transcational email plan that costs $15 per 10,000 emails sent.
Conclusion
At the end of the day, the best tool for you will depend on your specific needs and goals. We recommend trying out a few and seeing which one works best for your business. With any of these tools, you'll be well-equipped to create engaging newsletters that satisfies your audience.