Caffeine is Reader Supported, If you do buy through links on our website, we may earn a commission at no extra cost to you. Read the full disclaimer here
Email marketing is a must for ecommerce since without utilizing email marketing, you're practically leaving money on the table. There are many ways to use email marketing to increase your store's revenue, like abandoned cart emails, upsell emails, discounts, back-in-stock notifications, and more.
However, starting with email marketing is very overwhelming and complicated, and it can quickly turn into a full-time job managing your email campaign, so it's important to find a platform that is pretty simple but can provide you with advanced features so it grows with your business, and Omnisend can provide you with just that.
TL;DR
In Short, Omnisend is a powerful email and SMS marketing tool for any e-commerce business, which can serve businesses of any size even if they are still getting started with email marketing, or if they're switching from an existing platform like Klaviyo to take advantage of the $1000 migration offer.
You can also use the link below to sign up for a free plan, to try out the platform and see if it suits your business.
What is Omnisend?
Omnisend is a marketing automation platform and email marketing tool designed for ecommerce businesses of all sizes. It allows businesses to create and send personalized marketing campaigns across multiple channels, including email, SMS, push notifications, social media, and more.
Omnisend is one of the leading email marketing platforms and is used by many of the top brands today, and small businesses as well, so it will suit you in any step of your journey.
Getting Started with Omnisend
After signing up with Omnisend, you will be prompted to pick your brand guidelines, which will make your emails automatically match the branding of your website. After setting up your account, you'll be prompted to connect your store to the app. Omnisend has many store integrations, like Shopify, Woocommerce, BigCommerce, Drupal, Magento, OpenCart, Wix, and even a custom integration platform.
It's also advisable to connect your other apps that work with Omnisend now, Omnisend works with over 100 e-commerce apps and integrations, like Facebook, TIdio Live Chat, Aftership, Yotpo, and more!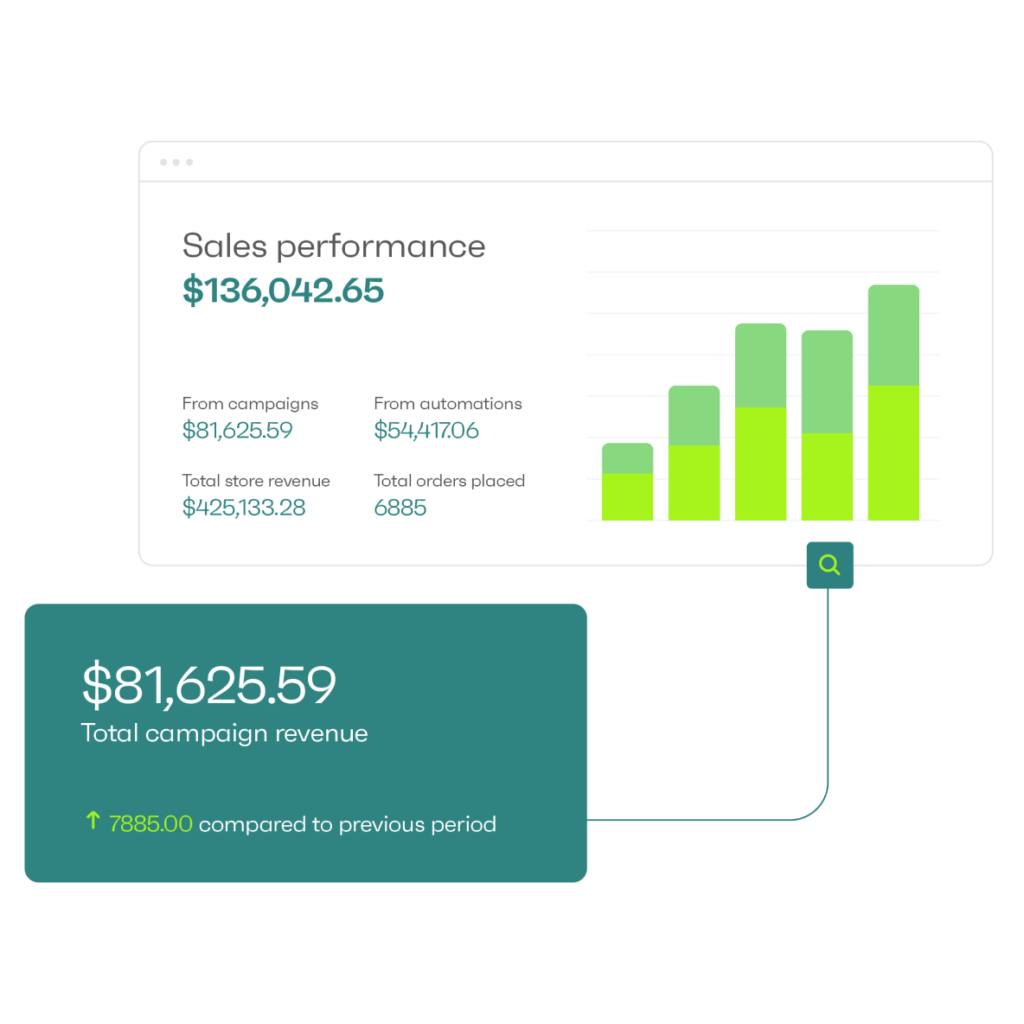 After connecting your store, you'll see your dashboard, which shows you revenue generated by Omnisend campaigns and automations, as well your stores whole revenue. you'll also be able to see detailed reports of every email campaign and automation so you can easily track your emails' ROI, you can also switch to the live tab, which shows you orders as they happen instantly.
Omnisend Features
Now let's cover some features of Omnisend that make it one of the best e-commerce email platforms. Omnisend has 3 main marketing channels, which are Email, SMS, and Web Notifications.
Email Builder
Email Design is one of the most important parts of your campaign, and the email builder is one of the best ones I've tested so far, and it is one of the only platforms that have nice-looking templates that you can use right away without much work or redesigning.
The Email templates available are of high quality and require minimal change to be able to use and suit your branding, and there are also many seasonal templates available so you can build out your holiday campaigns faster.
Omnisend has a drag-and-drop builder with some pretty advanced blocks that can let you create beautiful, functional email campaigns. The builder lets you insert products from your store into your email campaigns with one click, so you won't have to add the images, URLs, and product information manually, which will save tons of time. You can also add a product recommender that recommends products to users based on their behavior.
Email Segmentation
Omnisend's Email Platform also lets you segment subscribers to better manage your email list, and specify which subscriber should receive your latest campaign.
And while most email platforms also have segmentation features, Omnisend is by far the most in-depth one I've tried, since it lets you segment your audience by factors like:
Coupon Usage
Viewed Products
Order Status
Viewed Product
Viewed Product Category
Canceled Order
Zip Code
Omnisend also has some prebuilt segments to help you get started, like High-Potential buyers, Engaged subscribers, Frequent visitors, Viewed a certain product, Received a voucher but didn't redeem it, and more.
Email Reporting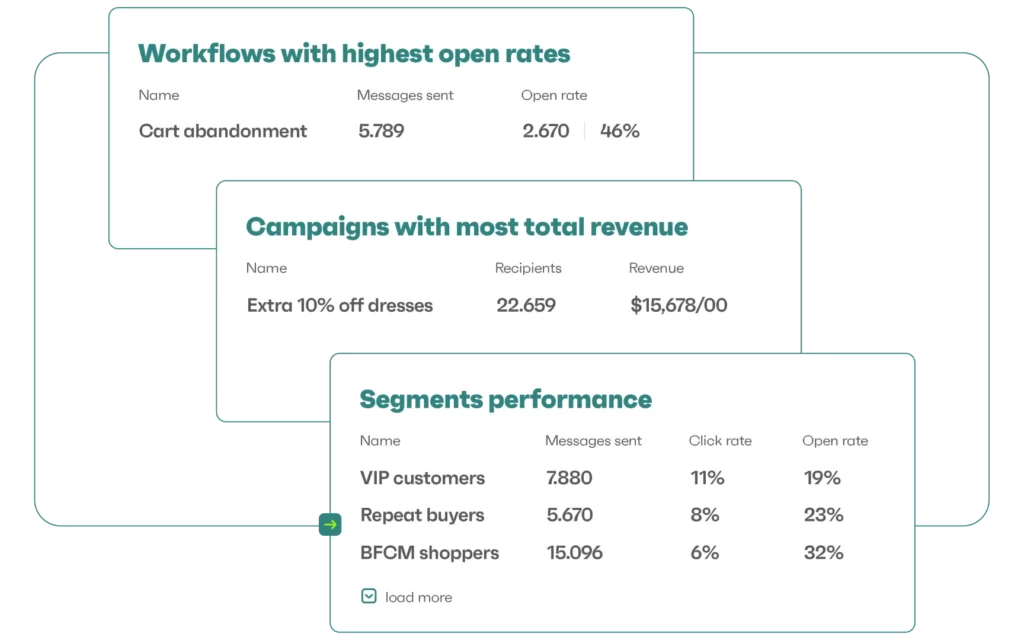 Reporting is an important part of any email campaign, as it let you see if your campaigns are converting and making revenue for your business. Omnisend offers detailed reporting features for your campaigns and your whole email marketing contact list.
Using the Omnisend dashboard, you can see all of your performance metrics in one place like Omnisend revenue, campaign revenue, automation revenue, audience growth, and signup rate. The live view lets you see your store's events as they're happening in real-time.
You can also see the details of each workflow and automated email campaign to see if you need to make any changes, as well as see the best-performing workflows to know what works.
Reports are also available for email collection forms on your website, and reports for each sales channel between Email, SMS, and web notifications. Omnisned also does cookieless tracking for all email campaigns.
Automation Builder
the automation builder lets you build automation for SMS and Email campaigns, which will help you drive sales for your store. Omnisend also comes with pre-built campaigns so you can get started with email marketing in minutes, some of the prebuilt workflows are:
Welcome Series
Product Abandonment
Cart Abandonment
Order Confirmation
Upselling Emails
Shipping Updates
Customer Birthday Emails
You can also create some advanced workflows like a workflow that sends a discount code to users who abandoned their cart if it's above a certain value, as well as any other automation ideas you can think of.
all of this can be done using the drag-and-drop automation builder, and you can use it to fine-tune automation like adding and removing additional channels, cloning messages, as well as other customizations.
Overall, the automation builder is where Omnisend really shines, and it will also help you better run your business by automating tedious campaigns and transactional emails.
Omnisend Integrations
Omnisend has many integrations and can work with over 100 e-commerce apps and plugins. Omnisend works with many of the apps you already use with your store, like:
Tidio Live Chat
Gorgias
Facebook Ads
Loox
Yotpo
Smile
Shipstation
Aftership
POWR
Intercom
Privy
Zipify
and more
Omnisend also integrates with all of the big (and small) e-commerce platforms, so your integrations will always be smooth and won't lead to a headache with integrating the platform.
and last but not least, Omnisend has integrations with Zapier, Make, and other integration platforms. so you can connect to almost every app you can connect with almost any app you can think of.
Omnisend SMS
and the features don't end there either, as they offer a tool for SMS marketing that integrates with its email marketing channel as well. Omnisend SMS lets you combine automated texts with email and push notifications into a single workflow to manage your marketing offers better and not send the same campaign out twice to the same customer.
The SMS platform also comes with some prebuilt automation like SMS in cart abandonment, birthday, order & shipping confirmation, and more.
SMS list-building tools are also available, as well as 2-way SMS with your customers via the Gorgias integration, so you can reply to your customers' messages and increase engagement.
Web Push Notifications
Web Push notifications are the newest marketing channel brands are utilizing, and there is no reason you should as well. Web Notifications are a great way to notify your audience of flash sales, abandoned carts, back-in-stock alerts, and more.
Omnisends Web Notifications also integrate with the Omnisend Email and SMS platforms to never notify a customer twice.
Migrating to Omnisend
Omnisend is also offering easy migration tools for other platforms like Klaviyo and Mailerlite, and they also have contact importing via CSV files, and app integrations with apps like Mailchimp and ActiveCampaign.
Omnisend also has a Klaviyo migration offer valued at over $1000 for any business switching from Klaviyo to their platform, which will get you 30% off your first 3 months, and much more.
Omnisend Cons
The biggest issue I noticed with Omnisend is that a Google Analytics integration is missing from the platform, which means you cant track your email campaigns in google analytics at all, which is a shame.
Also, while the drag-and-drop builder is amazing for people unfamiliar with email marketing, some tiny customization details are missing and you can't add a custom-coded email design at all.
Omnisend Pricing

Omnisends has 3 plans, and each plan's pricing is dictated by how many subscribers you have, and how many emails you send out per month to those subscribers.
For Example, if you have less than 250 subscribers then the free plan will be available to you, but if you want more than 250 subscribers, then upgrading to the Standard plan will cost $16/month, and the pro plan will be $59/month, but if you have 10,000 subscribers, then the standard plan will cost $115/month and the Pro plan will be $150/month. You can check out the full pricing breakdown for more information.
Omnisend's free plan is enough for any e-commerce brand still starting out, but once you pass 250 subscribers or 500 emails per month, you'll have to upgrade to the standard plan, which has 500 subscribers and 6,000 emails per month, and 60 free SMS credits
If you want more SMS credits, then you can upgrade to the Pro Plan, which comes with free monthly SMS worth the price of the plan (so if you pay $59/month you'll get $59 worth of SMS credits or about 3,900 SMS messages to the US and Canada) The Pro plan also includes advanced reporting features.
Also, all users who spend over $400 per month get a customer success manager that can help you with getting started and helps set up your first automations & campaigns, and provide ongoing support to make sure you're making the most out of Omnisend.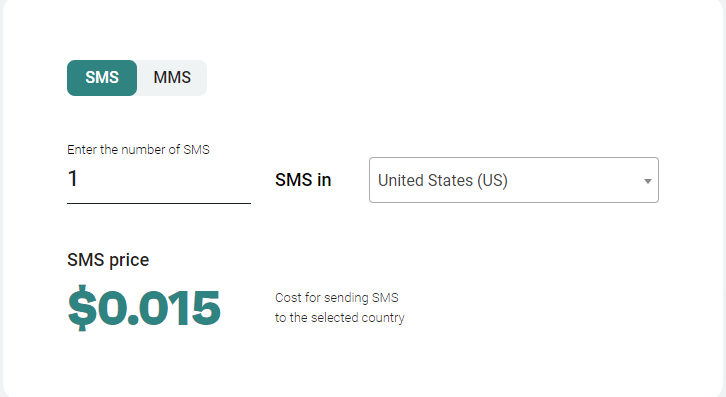 You can also purchase standalone SMS messages, which cost about $0.015 per message to the US and Canada, or about $0.065 to the UK, you can check out the pricing of each country on the pricing page.
Should You Use Omnisend?
Omnisend is a great platform for new e-commerce businesses just getting started with email marketing and looking to get into customer engagement, and while its features are easy to understand and learn, some of the more advanced features are perfectly suitable to serve businesses of any size, so you won't ever feel limited by the platform.
Omnisend is also one of the cheapest platforms for Email and SMS marketing for e-commerce stores, which is a huge upside since you won't be spending as much as you would spend on other platforms.
The Review
Omnisend
Email Marketing can be a brands biggest revenue stream, and Omnisen can help you make more revenue for your brand seven if you are on the free plan, or if you switch to one of the paid plans starting at $16/month
PROS
Drag-and-Drop Email Builder
generous Free Plan
SMS Marketing
Sales Tracking/Analytics
CONS
No Custom Coded Email Templates
No Google Analytics Integration
Review Breakdown
Ease of Use

Integrations

List Management

Pricing

Customer Support