There is no denying that Dell Laptops are a great option for those who are looking for a laptop that can do anything. they have a long line of laptops, ranging from budget ones all the way up to powerful laptops for work and gaming, with great battery life, and good performance. their top laptops also have a sleek design that makes them look amazing.
When Should You Restart Your Dell Laptop?
Before we learn how to restart a Dell Laptop, we need to learn why you might need to restart it. There are many reasons you may need to restart your laptop. This is usually when you install new software, when you want to update your computer, or when a virus has been detected and needs to be removed, since most antiviruses require restarting your laptop right after removing the virus.
How to Restart a Dell Laptop
Now that you know when you should reset your Dell Laptop, let's learn how. There are multiple methods you can use to reset your laptop, with being easier than others, but we'll cover most of them below.
Method #1: Using the Windows Start Menu
This method is the easiest and most used, so you are probably already familiar with it, but if you aren't, then here is a quick explanation:
The First step is to navigate to the Windows Start Menu, you do this by either clicking on the icon on the bottom left of your screen, or by pressing the Windows Key on your keyboard, which might not be there depending on if you have a different keyboard layout like a WKL Keyboard, which doesn't have a Windows key.
once you open the windows start menu, you'll see a Power Button icon right above the Windows Icon in the bottom left corner of your screen, and once you click on that you'll be greeted by 3 options, where you can put your device to sleep, shut it down completely or restart it.
Method #2: Using The Built-in Power Button
Also known as a Hard Restart, this method is commonly used when there is an issue with your laptop that is making it unresponsive, slow, or you can't access the start menu, so you should only use this as a last resort if you find yourself unable to reset your laptop the normal way.
The first step you'll need to take is unplugging everything connected to your computer like your mouse, any external hard drives, external keyboards, and any extra USB devices, not doing so can damage your USB Devices and hard drives.
Next, you'll need to press and hold your laptop's Power Button until your computer completely powers off, you can now press the power button again to power on your computer.
Method #3: Using the Command Prompt
This method should only be used by advanced users, since using the command prompt (commonly shortened to "CMD") can be quite daunting, especially for new users of Windows.
You'll first need to open your command prompt, which can be done by searching cmd in the search bar found in the taskbar at the bottom of your screen. you can then open the first option that shows up and you'll be presented with a black window with white text called the command prompt.
now you'll have to type shutdown -r and press enter to restart your Dell Laptop, you can also type shutdown -s to shut down your computer, instead of restarting it.
Reseting A Dell Laptop
You might run into some irreversible issues where you'll have to reset your Dell Computer completely, and this means you'll completely lose all of your data, and end up with a fresh install of windows, the reasons you might consider a fresh install of windows can be that your computer is slow, and a fresh install will remove all bloatware and make your device faster again.
You might also need to reset your device because it got infected with a virus, and the sooner you do this the better since you will be sure that you got rid of the virus completely.
How to Reset a Dell Laptop
This process will take multiple steps so you can be sure you are doing it correctly, and backing up your data beforehand, so you don't lose your important files.
Step #1: Back Up any Important Files
Since resetting your Dell Laptop will cause you to lose all files stored on your hard drive, it is always advisable to back up any important data onto a USB Stick or External Hard Drive. You can also use a Cloud Storage service like Google Drive.
Step #2: Navigate to the Windows Recovery Menu
The next step is to go to the Windows Recovery Menu, this process will change depending on your version of Windows, so we will show you each method for Windows 10 and Windows 11
If you are using Windows 10, click the windows icon to go to the start menu, and click on the gear icon that appears above the power icon in the start menu, this will open the settings app, you can also open the settings app by searching for it in the search bar found in the taskbar
when you are in the settings app, click Update & Security > Recovery to reach the recovery menu.
If you are using Windows 11, open the Settings app by searching for it in the windows search bar, then navigate to System > Recovery, or Settings > Windows Updates > Advanced options > Recovery.
Step #3: Reset Your PC
The next step is to actually reset your Dell Laptop, by clicking on Get started under Reset this PC in Windows 10, or selecting Reset PC next to the Reset this PC option in Windows 11.
Step #4: Pick What Files you want to Delete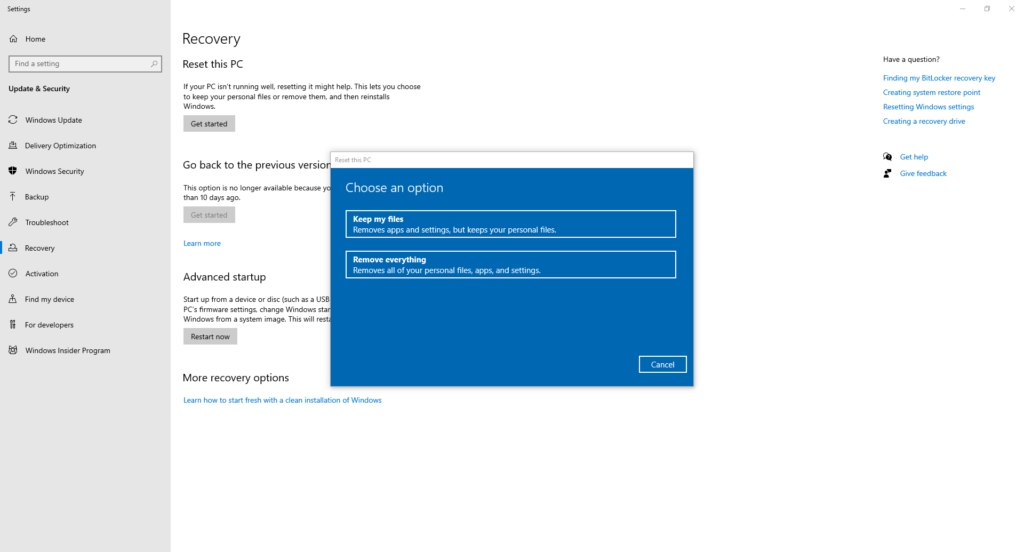 You'll now be presented with a choice of whether you want to reset your computer completely, or just reset the windows installation, depending on why you want to reset Windows in the first place, this choice will be easy, however, it is always recommended to do a complete reset of your computer if you are trying to get rid of Bloatware, or a Virus.
Step #5: Pick your Windows Installation Method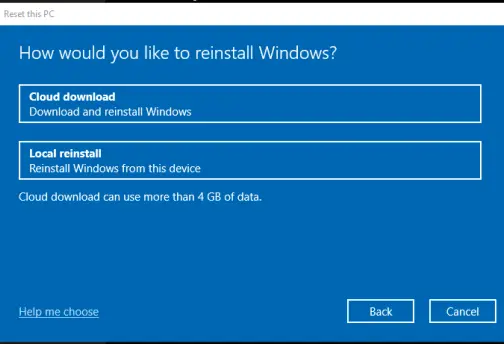 You'll now be prompted to pick how you want to download Windows, either using a Cloud install or a Local Download using a Bootable Windows USB, but for most people, the cloud install option will suffice. You'll now start the Computer Reset.
Conclusion
As you can see, restarting or resetting a Dell Laptop is a very easy process, and this article should've guided you in the right direction regarding the process of restarting your Dell laptop.