Caffeine is Reader Supported, If you do buy through links on our website, we may earn a commission at no extra cost to you. Read the full disclaimer here
In today's world, it seems like there is always more to do and less time to do it. One popular technique that people are using to try to get more done is time blocking. Time blocking is a time management technique that involves creating a schedule for your day and then sticking to it.
The theory is that by blocking off time for specific tasks, you will be more likely to get them done and less likely to be distracted by other things. While it may take some time to get used to, time blocking can be a helpful way to increase your productivity.
If you are interested in trying out time blocking, there are a number of time blocking apps that can help you get started. In this article, we will be discussing the top 12 time blocking apps that can help you get more done.
What Is Time Blocking?
Before getting started, let's cover time bocking in more detail. Time blocking is a time management technique that involves scheduling specific blocks of time for specific activities. The goal of time blocking is to help you make the most of your time by ensuring that you are focusing on the right tasks at the right times.
There are a few different ways to time block your day, but the basic premise is the same: you allocate certain periods of time to certain activities, and then you do your best to stick to that schedule. This can be a helpful technique for both work and personal activities. For example, you might time block your day so that you have an hour for work, an hour for lunch, and an hour for personal errands.
The benefits of time blocking are that it can help you to focus on a task and get it done more quickly. It can also help you to break up a large project into smaller, more manageable pieces.
What Makes a Good Time Blocking App?
In this age where hundreds of productivity apps exist for the same purpose, finding the true best app can be almost impossible, which is why we compiled a list of criteria each app has to match to be placed in this list, and the criteria are:
Multiple Calendar Integrations: This one is a no-brainer, productivity apps should be able to integrate with multiple types of calendars like Google Calendar, Outlook, and more, as well as be able to reflect those changes on your calendar and keep them in sync.
Customizability/Flexibility: Like many other things in the world, there is no one-size-fits-all tool that you can use to improve your productivity, and this is due to everyone's brain being different, so a good tool to me might be a bad one for you, this is why all the tools on this list can be customized as well as adapt your personal style of work, and not try to push you into its way of productivity.
Ease of use: Many Productivity apps are overly complicated for no reason, which will make you actually spend more time getting ready than actually getting stuff done.
Powerful Integrations: Even though integrating your time blocking app with your calendar is a standard feature in almost every app, integrating with other task management tools is often overlooked by apps, which is a big letdown and really makes the app unusable for many users.
Simple User Interface: This goes hand-in-hand with the ease of use criteria since complicated apps are hard to use, and end up wasting your time. Simple UI apps will help you be more productive at the end of the day.
Why You Can Trust Caffeine
All products reviewed and showcased on our website have been thoroughly tested by our team. We spend time testing every product we showcase and using the product in real-world scenarios. We have never been paid for placements in our articles or for favorable treatment.
The Top 7 Best Time Blocking Apps
Sunsama
The Best Time Blocking App for Personal Productivity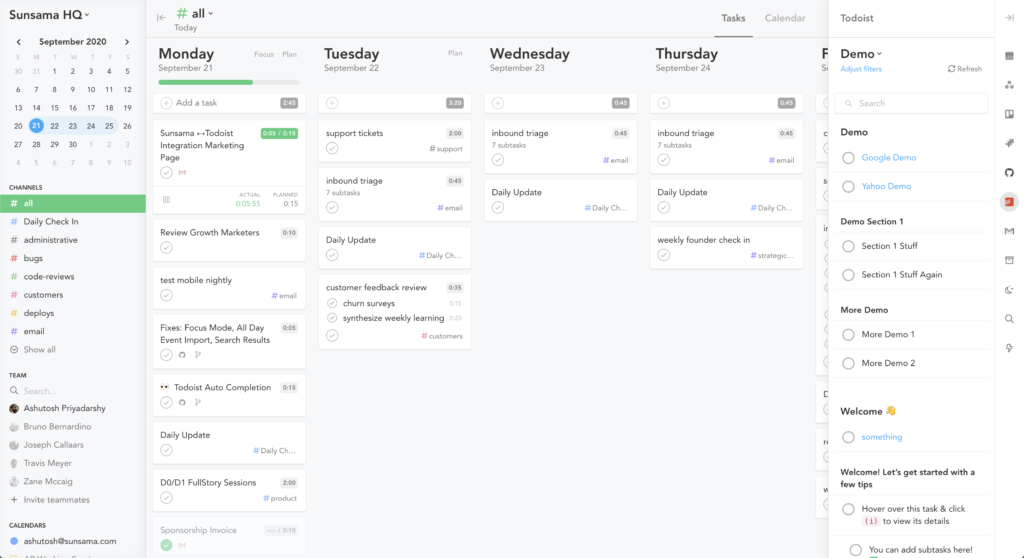 Platforms: Web, macOS, Windows, iOS, Android
Sunsama is one of the only productivity apps I've tried that just works. Upon first impressions, you'll notice that the app has a pretty simple interface that only shows you what you need to currently see, and doesn't overwhelm you with information.
The Sunsama dashboard is split into three panels, a calendar view to the left, a Kanban-style board in the middle where you will be able to block time for each task, as well as further fine-tune each task, and a panel to the right, which has all of your tasks that you've imported from other apps, which you can simply drag and drop into the middle panel to pull the task into Sunsama. You can also switch the middle board to a calendar view, to better see your week ahead.
Sunsama's list of features can go on for a long time, but one that I would like to touch on is Sunsama's "Flows", which are a little like guided task planning, when you login in the morning, you'll be asked to jot down tasks you plan on getting done today, and the time you expect to spend on the task, as well as block time for each task on today's calendar. At the end of the workday, you'll also go through the reflection flow, which will ask you to reflect on what you did today and the tasks you didn't complete, so you can move them to tomorrow's calendar.
Sunsama is also one of the only apps on this list that integrate with Notion to pull tasks from there as well, and changes done in sunsama will also automatically reflect in Notion.
Sunsama also has time tracking built in, as well as different task types, the first of which is the normal daily tasks that you create every day, you will also be able to create Goals for every week, as well as create a backlog of tasks that you plan to get done in the near future.
Sunsama Pricing: Only one plan is available that costs $20/month, however, you can get an exclusive 30-day free trial using the deal below. No credit card required.
Motion
The Best Time Blocking App for Scheduling Meetings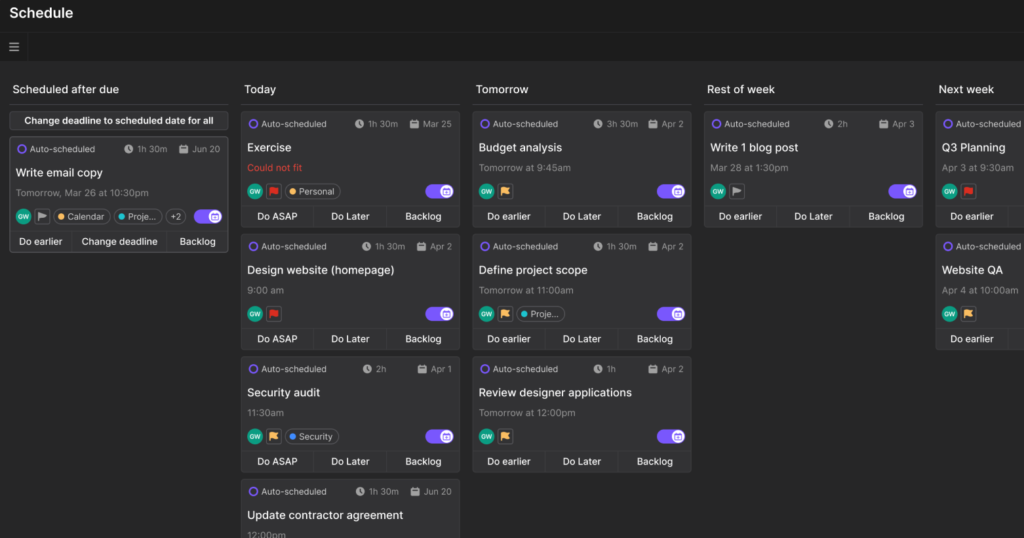 Platforms: Web, iOS, Android, Chrome Extension
Motion is a task management and calendar app that uses AI to schedule and plan your day for you, as well as help you book meetings efficiently. When you first sign up for the app, you will be prompted to connect your Google or Microsoft Calendar, you will also set your work hours that motion will add work-related tasks. You will also add your recurring time blocks and tasks, like lunch, or replying to emails.
Motion's user interface is pretty simple and makes it easy to see a full overview of your upcoming tasks and events. Motion's main feature is the AI scheduler, which is frankly unmatched by any other tool that uses AI. The AI automatically sorts tasks into free slots in your calendar depending on the task's priority, due date, and when you can work on the task.
Motion also has one of the best meeting schedulers built-in in any app, called the Meetings Assistant, you can create booking pages similar to ones created using Calendly, though much more streamlined and with less features. You can also create one-off meeting links using the assistant, you pick times when you are available and ready to host a meeting, and the assistant automatically creates a pre-filled message to send to your attendee as well as a booking link.
The Chrome extension lets you create booking links without having to use the web app, and it also enables some keyboard shortcuts you can use to create and manage tasks, as well as notifications that can tell you when you should move on to the next task.
Overall, you'll feel that the app is pretty customizable to be able to follow your schedule, and the settings can really fine-tune the AI to your liking, as well as allow you to get more done, without having to adapt much to the app.
Motion Pricing: $34/month or $19/month if billed yearly. Motion also has a team plan, which is $20/user/month or $12/user/month. Motion also offers a 7-day free trial
Hourstack
The Best Time Blocking App for Teams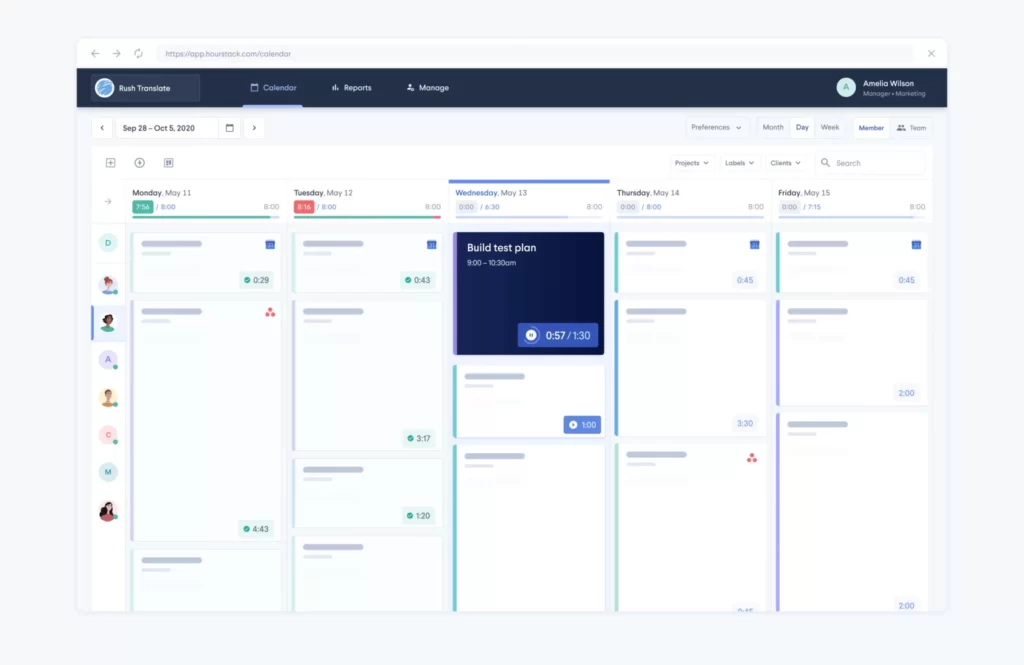 Platforms: Web, macOS, iOS, Android
Houstack is similar to Sunsama, but it caters to remote and productive teams, Houstack is a time tracking, scheduling, and task management app, which makes it one of the best productivity apps for teams, as well as individual users who need the features of the app.
Hourstack functions like any other time-blocking app where you block time for each task in your calendar, but you can also click on each task to turn on a timer that tracks your time for each task, and if you run out of time, you can roll the task over to your time, or to the next day, you can also enter time manually, in case you forgot to track your time.
Hourstack can also pull tasks from your Google Calendar or Outlook Calendar, but the app doesn't place them in your calendar automatically, instead, they show up in the sidebar as an event that you can drag and drop into your Hourstack Calendar. You can also pull tasks from many other tools like Monday.com, Asana, and Trello, and the app even has a Zapier integration.
Hourstack also has one of the best reporting I've ever seen in a productivity app, you can see reports on how your team is utilizing their time, and details of which client or project had the most progress done, you can also export all of the reports to Excel, Google Sheets, or a CSV file.
However, Hourstack's shortcomings start to creep up when you want to manage tasks that aren't exactly events in your calendar, since the app doesn't have any native task management features at all, and instead you'll have to use a different task management tool.
Overall, you'll quickly see the value that Hourstack can bring to your team, especially if you are a mostly or fully remote team that works with multiple clients at once or on multiple projects that can get you off track easily.
Hourstack Pricing: 14-day free trial. $9/month if billed annually or $12/month if billed monthly for the personal plan. The Team plan costs $12/month/user for the annual plan or $15/month/user for the monthly plan.
Fantastical
The Best Time Blocking App for Apple Users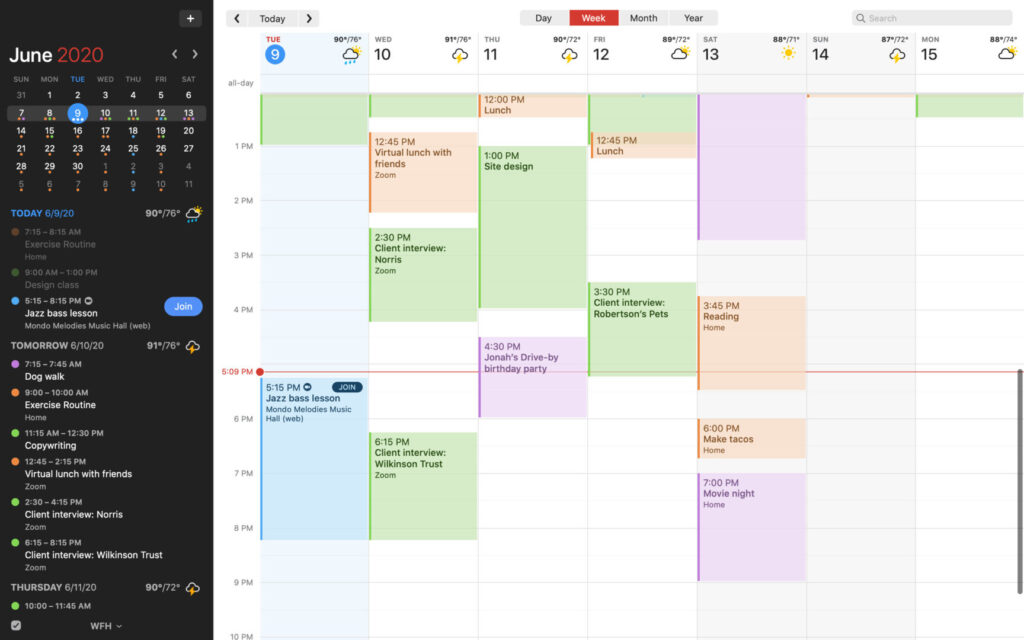 Platforms: macOS, iOS, WatchOS
If you've been looking for a good calendar app for a long time, then your search stops here, because you found Fantastical! Fantastical is arguably the best calendar app on the market today, and it is packed full of features that every calendar app should have, but not many do, but most importantly, it is the best-designed calendar app.
Fantastical has a practical design, where it is not so simple that it is missing something, and not too complicated that it is overwhelming. The app starts at the sidebar, which is often utilized by other apps, instead Fantastical adds a list of reminders, as well as a simplified agenda view for all of today's tasks, as well as a weather widget. Fantastical also has some great quality-of-life features like if an event exists in 2 calendars, Fantastical will only show it once but indicate the duplicate event by creating a striped event in the calendar.
Fantastical can pull events from calendars like iCloud, Google Calendar, Microsoft Exchange, Outlook.com, Office 365, and more! You can also subscribe to calendars from within the app like sports calendars or holidays. Fantastical also integrates with ToDoist as its main task management system.
Fantastical also has a great natural language engine that you can use to create events, if you start typing "Dinner at 8 with Marie" the app automatically understands the event and the relevant information in it, and will create the event.
The app also integrates with the Apple ecosystem really well, there is a companion app for the Apple Watch, which not many productivity apps do, and Widgets for the iPhone, which again, is often not utilized by productivity apps.
Fantastical Pricing: 14-day free trial. Billed monthly at $5/month or $4/momth if billed annually.
TickTick
The Best Time Blocking App for Task Management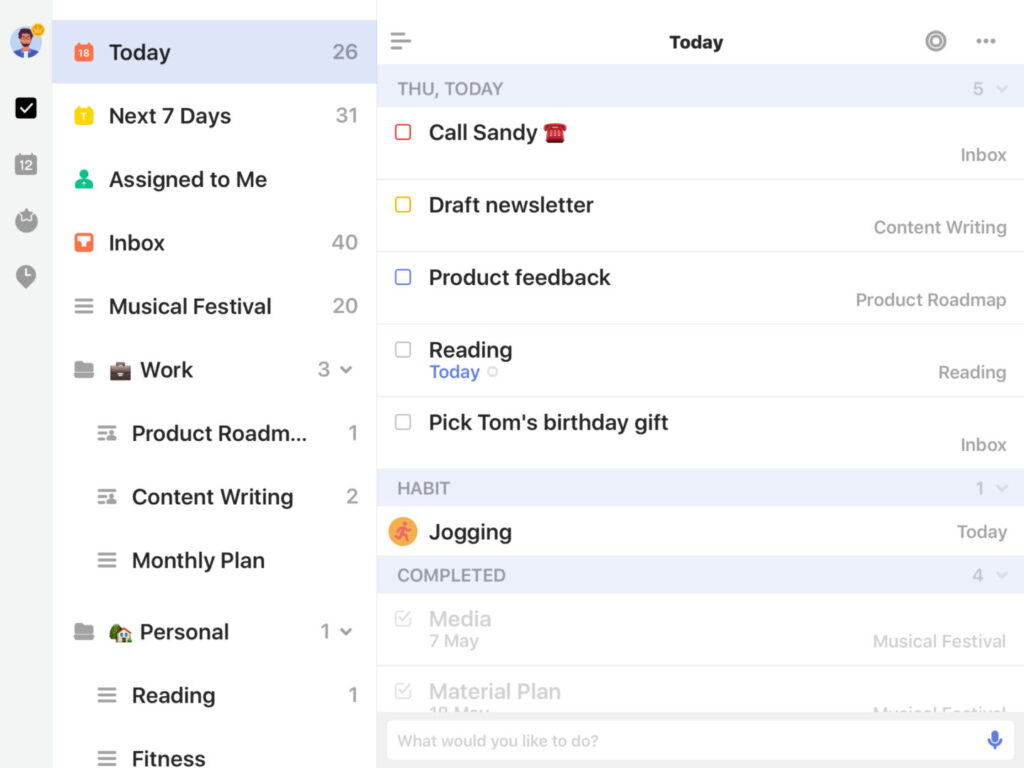 Platforms: Web, Windows, macOS, iOS, Android, WatchOS
TickTick is a task management app first, and a calendar second, which might seem bad at first, but since the task management features were built with the calendar in mind, you'll notice that they are tightly integrated together which lets you plan out your tasks more seamlessly.
TickTick is one of the best personal productivity apps and has some features you won't find anywhere else, like a built-in Pomodoro Timer and white noise machines.
TickTick has many ways you can create tasks, you can add tasks by speaking to the app, and TickTick will parse that information and add tasks to the app. You can also add tasks by forwarding emails to your personal TickTick email address, and the app will understand information like dates and add that information to the task accordingly, there is also a natural language engine similar to Fantastical's.
You can also sort your task by labels, priority, and due date, to better be able to time block each task in your calendar, you can also share your individual task lists with team members, family members, and more. TickTick also integrates with many calendar options, like Google Calendar, Microsoft Exchange, Outlook Calendar, and any other CalDAV calendar, as well as other services like Gmail, Siri Shortcuts, Alexa, Slack, and Google Assistant, TickTick even has a Zapier integration.
TickTick Pricing: Free Plan with an annual plan for $28/year
TimeCamp
The Best Time Blocking App for Time Tracking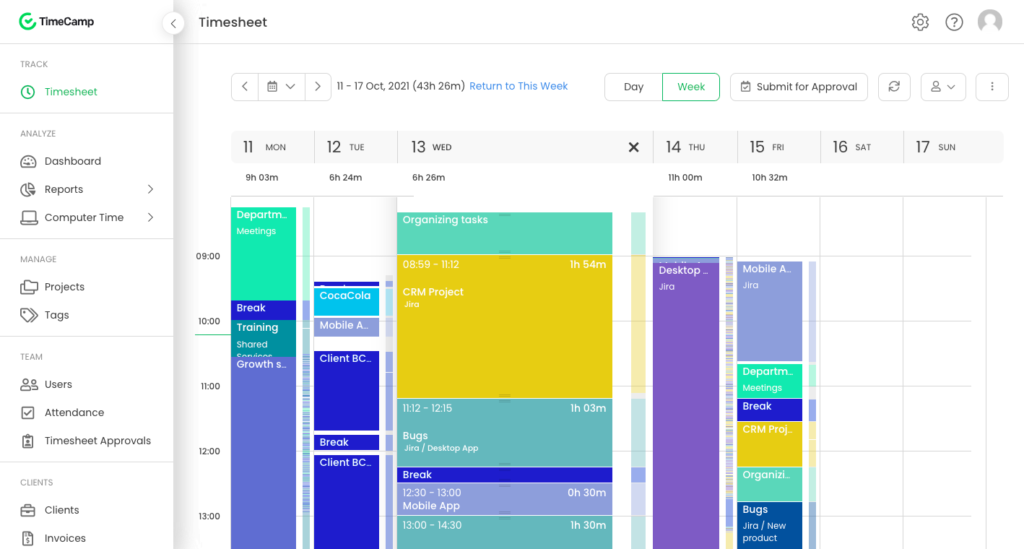 Platforms: Windows, macOS, Linux, iOS, Android, Chrome Extension
If you and your team are usually working on billable projects for multiple clients at once, then you should check out TimeCamp. TimeCamp is an app very focused on time tracking, billing clients, and managing your team, which makes it a good option for keeping track of all of your work for different clients and being able to bill each client accordingly.
TimeCamp is mainly used by teams, but it also functions perfectly fine as a personal tool for freelancers or solo entrepreneurs. TimeCamp's best feature is automatic time tracking, which is a powerful feature that enables you to track time spent on multiple projects with one click. it works by assigning keywords to your clients or projects, and if TimeCamp detects them in window titles or URLs, it will assign this time to the proper client.
TimeCamp also takes care of timesheet invoicing by adding your rates, and adjustable tax rates, as well as adding the ability to pay them by using the PayPal integration, you can Export your invoices to Xero and Quickbooks, and your invoices can be shared via email, pdf or private link. There is also an integrated budgeting system that can take care of the budget of clients' budgets for their projects by helping you set up cost and timeline budgets for each project or account, as well as notify you if your project overruns its budget.
Timesheets are also made simple using TimeCamp where you can approve, reject, or modify each team member's timesheet, you can also give them feedback on issues or wrong entries, and you could also automate timesheet approval to make it easier on team managers. After timesheets get approved, they will automatically be locked, and can only be modified by team managers.
Timecamp also has an attendance tracking tool that lets your whole team easily clock in and out of work, as well as request time off and calculate overtime and automate payroll.
TimeCamp Pricing: Free Plan with a basic plan for $7/user/month and a pro plan $10/user/month
Clockwise
The Best Time Blocking App for Freeing Up Time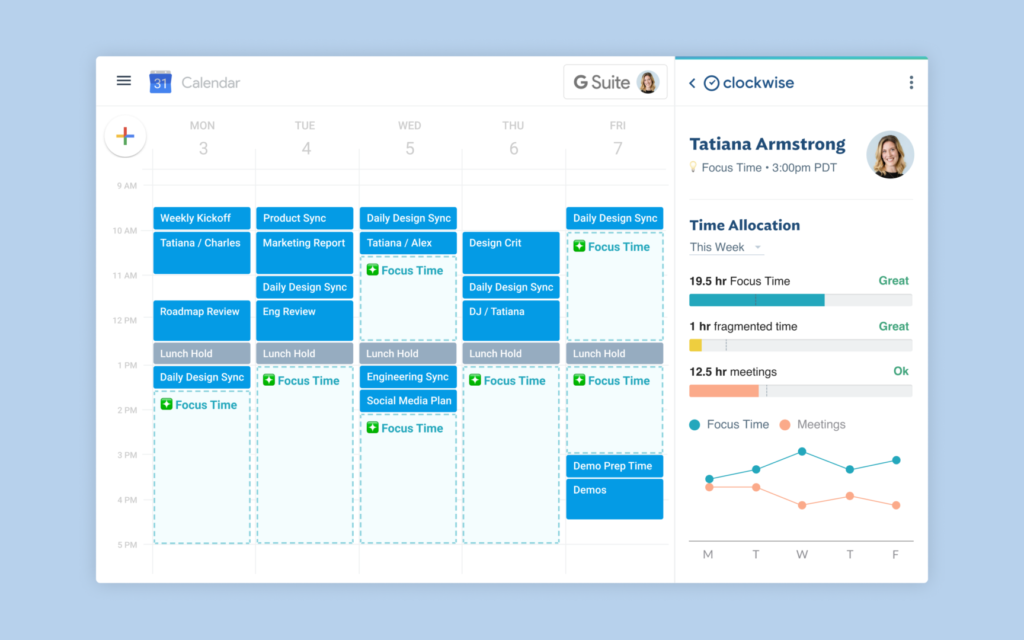 Platforms: Web, Chrome Extension
Downtime between meetings can be the difference between having a productive day and wasting half your day waiting to start your next meeting, Clockwise promises to make your day as productive as possible by rescheduling your meetings to better times, so you don't end up wasting time by waiting for meetings.
Clockwise will reschedule meetings that the app deems flexible as well as meetings labeled as flexible by you so you can have less downtime between meetings as well as more "Focus Time" which is a block of time of 2 or more hours with no distractions or tasks to be able to work on larger projects. Clockwise reschedules your meetings based on how much Focus Time you want per week, and it will try to reschedule your meetings to the least disruptive time available.
Clockwise also has a meeting booking feature, which lets you customize a link based on factors like the length of the meeting, where you are holding the meeting, when you can hold the meeting, and whether you want to maximize Focus Time, free time, or balance of both, Clockwise will then let the attendee pick their time or your best time based on your preferences.
Clockwise has an integration with Slack, which automatically syncs your calendar with Slack, and will automatically notify other users when they are trying to speak with you, the app can also turn on Do not Disturb automatically if needed and will send you any updates regarding your calendar as well as a daily forecast of your upcoming meetings. There is also an Asana integration which will reflect any changes done in Clockwise in Asana, as well as rescheduling meetings if conflicts arise.
Clockwise Pricing: Free Plan with a basic plan for $6.75/user/month and a pro plan for $11.50/user/month. Plans all billed annually
Conclusion
at the end of the day, Time blocking can be a good productivity method if done right, and while it might seem overwhelming starting with time blocking, using an app is always a good idea. I would suggest trying out the app that seems like it would align best with what you do and how you spend your workday.