Caffeine is Reader Supported, If you do buy through links on our website, we may earn a commission at no extra cost to you. Read the full disclaimer here
Calendar and task management apps are a must for this day and age, especially if you have a lot going on. It can be almost impossible to keep track of your meetings and tasks, so you'll almost always have to rely on an app to help you be productive.
And while many productivity apps do exist, Motion and Sunsama were some of the best I've ever reviewed, and they are very comparable, but which app will be better for you?
TL;DR
In Short, Sunsama and Motion are great Task Managers, they both use the Timeblocking method when it comes to time management, and while Sunsama might seem simple on the outside, you can fine-tune every feature to get exactly what you want, which might be overwhelming especially if you aren't sure what you should do.
Motion is much simpler, though it might not always suit your style of work, and its AI features are practically unmatched by any other productivity app.
Motion puts a huge emphasis on booking meetings, and planning your tasks around them, unlike sunsama which doesn't really take into account booking meetings, and only focuses on helping you get more done.
What is Motion?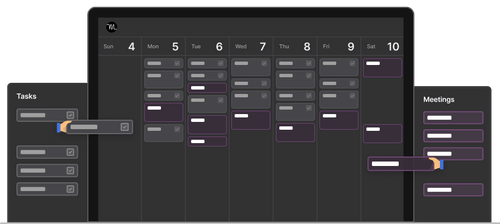 Motion is a smart calendar app that uses artificial intelligence to help you make the most of your time, cut down on downtime between meetings, and schedule your tasks around them. Motion's AI will also dynamically change your schedule depending on the severity and deadline of the tasks.
The AI will also adapt to its user, by seeing how you regularly want your tasks to be scheduled and the AI will do it automatically, it'll also automatically schedule your recurring tasks, so you'll never forget them.
What is Sunsama?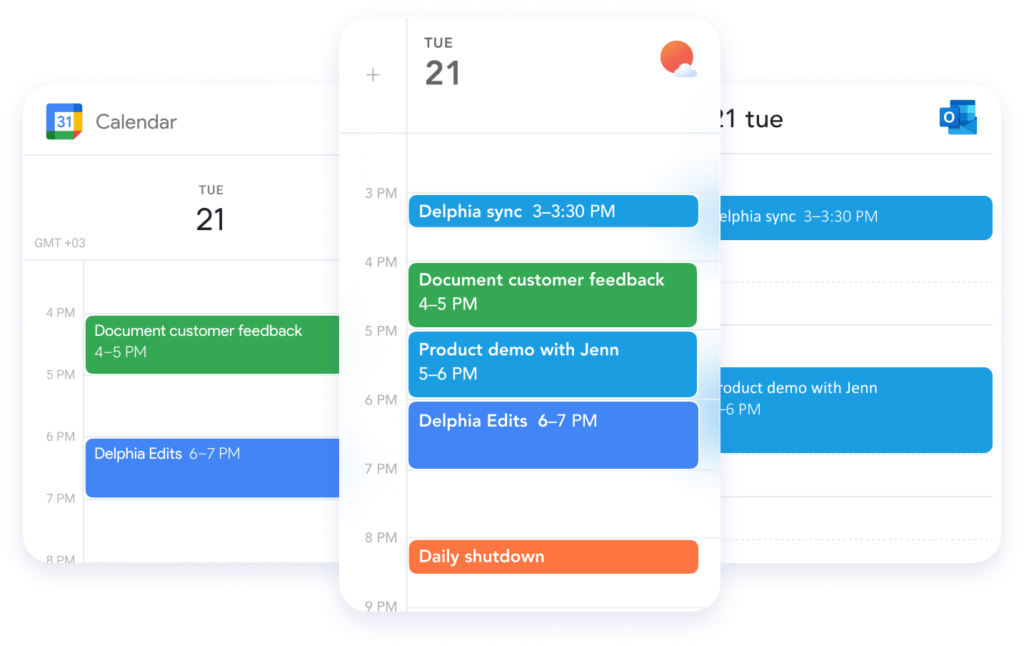 Sunsama provides users with a simple dashboard for managing tasks, tracking progress, and managing their calendars. The platform also helps users stay on top of their projects and deadlines by providing features such as reminders, and daily check-ins. Finally, Sunsama also provides powerful reporting capabilities, enabling team leaders to identify areas of improvement and track project performance quickly.
Sunsama might seem like a regular task management app on the surface, but the all-in-one tool is actually one of the best options for you if you use multiple productivity apps together like Jira, Todoist, Slack, and more, so its possible to use as a standalone app, or with others.
Sunsama vs Motion: Feature Comparison
Now that we understand how both apps function, let's look at a detailed feature comparison to find out which tool comes out on top.
1) User Interface
The UI is probably the most important part of an app since it is what you will be interacting with the whole time you use the app. The practicality of the user interface is also important since if it takes a long time to add your tasks, you won't be saving time, you'll instead be wasting it.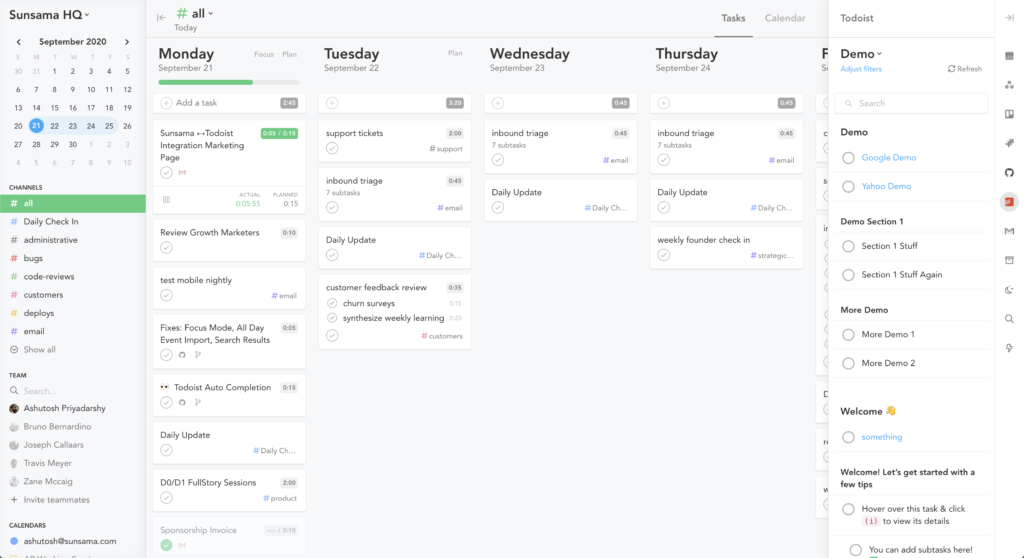 Sunsama's UI is one of the best I've seen yet, it provides you will all the information you need to get a glance over your workday, while not being overwhelming and instead lays it out all coherently.
The dashboard is split into three panels, the left panel which has your calendar as well as the categories of your tasks, the middle panel which has all of your tasks in a kanban board, and the right panel which controls all of the third-party integrations.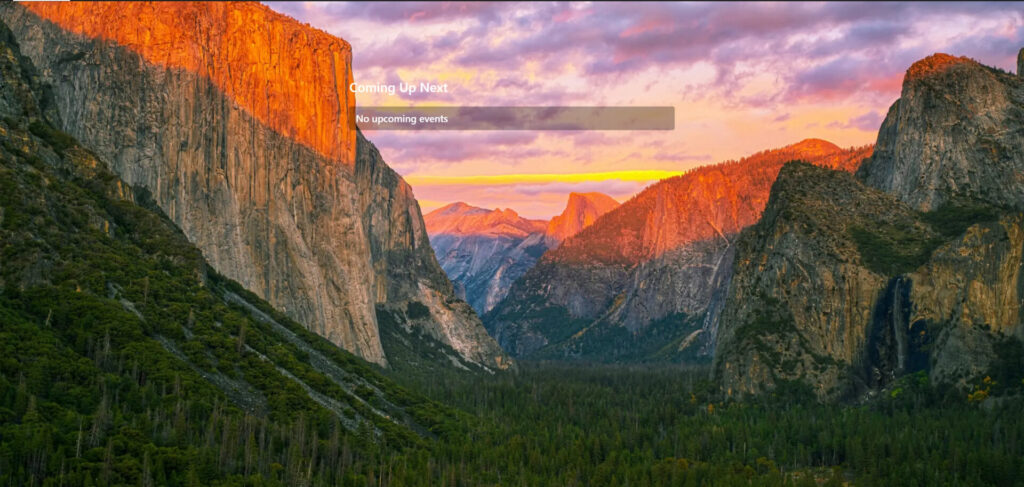 However, Motion's UI takes an entirely different approach, since instead of getting everything on one page, Motion splits every section into its own page, and adds a very minimal home page that shows all of your upcoming tasks and events.
Overall, both apps are very user-friendly and don't take much time to get used to, but I personally prefer Sunsama's interface, since you don't have to switch between pages to get all of your workday's information, so you'll see everything at a glance.
2) Task Management
Task Management is undoubtedly one of the most important parts of a productivity app, and unsurprisingly, both apps excel in the field.
Adding tasks to sunsama is very easy and fast, by pressing the plus icon under the day you want to get started with your task, you then be able to add the task name, start date, due date, and any more information like notes or comments regarding the project.
Sunsama's Task manager also has a built-in Pomodoro timer, which can help you stay productive by making you take intermittent breaks so you can always be productive while working. You can also add subtasks to your tasks to be better organized.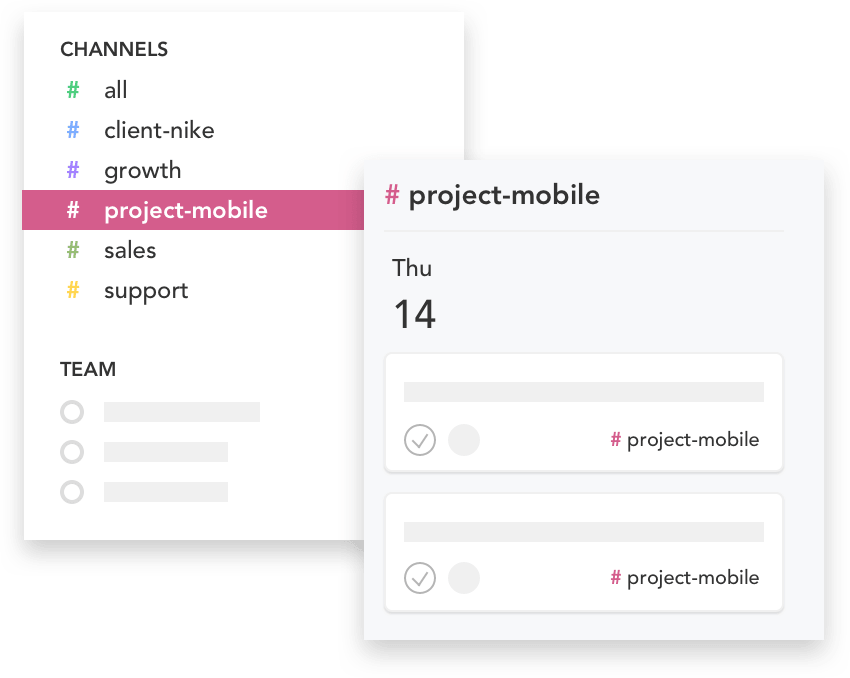 You'll also be able to add them to a Channel or a Context. Contexts are categories where you can add tasks, and Channels are sub-categories within Contexts. Channels are also color-coded, so you'll be able to see what project each task belongs to at a glance.
Motion's Task management is more complicated than sunsama, and it offers more features. Motion will automatically slot your tasks in your calendar depending on variables like:
Priority (ASAP, Hard Deadline, Soft Deadline)
Deadline Date
Start Date
When you can work on the task (Work Hours, Whole Day, Nights, Mornings, and any other schedule you create)
the app can help you prioritize tasks, and make sure everything is done before their respective deadlines. You can also create recurring tasks and add notes as well as other team members to the task.
Motion's AI will then be able to understand how important the task is and sort it efficiently in your calendar.
3) Calendar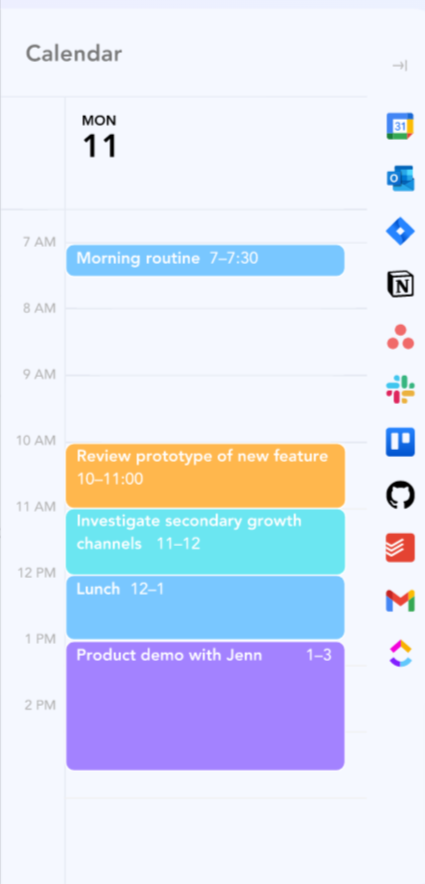 Sunsama's Calendar is different from other calendars since it is completely split from your regular task management at the beginning, but it also integrates with your outlook and Google calendars and lets you drag tasks into your calendar to fill out your calendar.
However, Motion's calendar is completely different, since their calendar is on a different page than the homepage and is more fleshed out for holding meetings and planning your tasks around your meetings.
Motion will automatically color-code your new tasks. Gray blocks are tasks created within the app, and there are two types of tasks, which are differentiated by their borders. Dotted borders indicate a "free" task, which means that there are other timeframes where the task can be completed before reaching the deadline.
If a task has a full border, that means that it's a locked task that should be completed at the specified time to be ahead of the deadline. Different colored tasks are tasks that have been imported from your integrated calendars. Motion won't disclose the name of a task on your personal calendar to other team members unless you change it in the settings.
4) Meeting Scheduling
In terms of scheduling meetings, Motion excels in that field, and Sunsama lacks. Motions meeting assistant lets you create booking pages like Calendly, but with fewer features and the time booked will automatically be added to your Motion calendar.
You can also use motion to create free time blocks by clicking and dragging on your calendar to create time blocks that you want to keep free for meetings.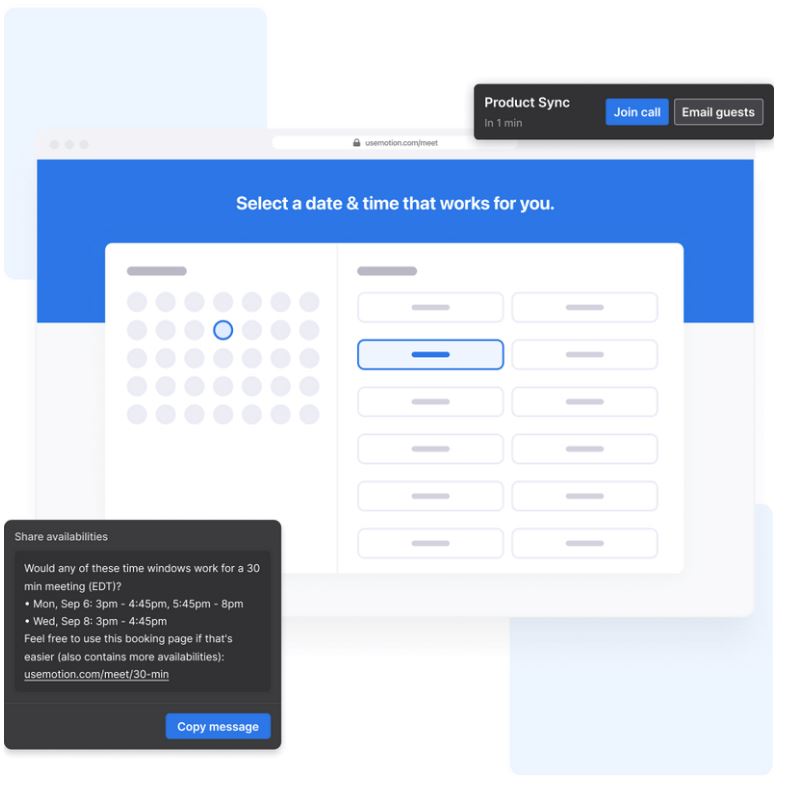 Motion's Meeting Assistant also lets you create messages to book meetings with others without hassle. The Meeting Assistant lets you pick times when you are available and ready to host a meeting, and using the Alt (Option) + A command, you can create a message pre-filled with the available timeframe that you can send to a client and the booking page link.
Unfortunately, Sunsama doesn't have any dedicated features for booking meetings built into the app.
5) Team Collaboration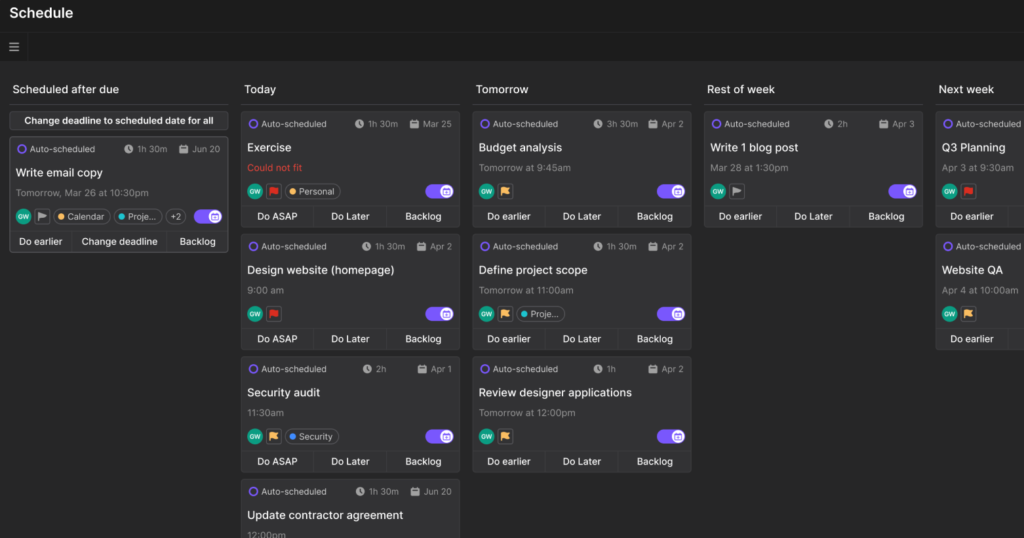 Motion for Teams is a Project Management system that uses Motions AI and has all the features of the personal Motion app. The project manager has a Kanban board where you can create all of your tasks and change their priorities as well as assign team members to each task. You can also create tasks in specific projects and add multiple team members to each task, so the AI can assign the task to a timeframe when both team members aren't busy.
Team Managers can also create full task lists for each team member, so that your whole team can get started right away, without wasting time planning out their day. They can also see everything your team members have done, how much time they spent working on each task, and their meeting hours.
Sunsama's Team Management integrates with Google Contacts to add your team members to your workspace quickly, and you can also contribute to meetings with your team using the built-in digital meeting rooms within the app.
6) Reporting
Sunsama's reporting offers a detailed view of how many tasks you completed, and how much time you spent on them, as well as the category of the tasks. There is also something called the shutdown flow, which is a guided routine that helps you reflect on your completed tasks as well as plan for the next workday.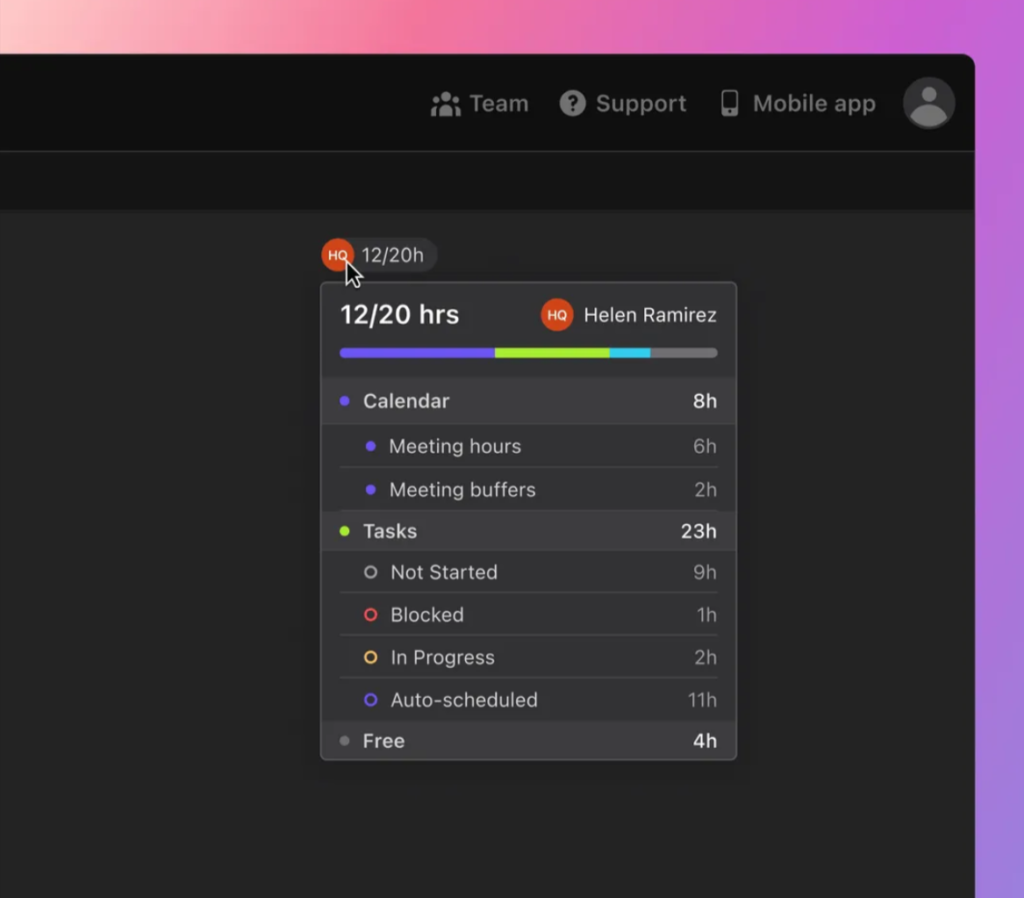 Motion's reporting lets you see how much of your time was spent waiting for meetings to start, and how much of it was actually spent doing something productive.
7) Integrations
Motion's list of integrations is very small, as it only connects with calendar apps like Google Calendar, and Outlook. Sunsama's integrations list is large, and some of the best integrations are:
Todoist
ClickUp
Gmail
Outlook
Asana
Trello
Gira
Github
Google Calendar
Slack
Notion
Gitlab
Shift
Jira
Sunsama also connects with Zapier, which connects with over 5000 apps and platforms so that you can integrate your favorite project managers and CRMS with Sunsama.
You can also use Slack's integration to notify all team members of your current task so that everyone can stay informed of your availability.
Drawbacks of Motion and Sunsama
Now that we've covered the features of each app, let's cover some of the downfalls of Sunsama and Motion.
Motion's feature list is amazing, however, some small things are missing, like color-coding tasks imported from specific apps is not possible. Some vital integrations are also missing, like Clickup and Todoist.
Sunsama is also not perfect, as I would've liked a Chrome extension that lets you quickly add pull info from the web to the app, and the app is missing some meeting booking capabilities.
Both apps are still being developed by an amazing team, which adds new features with every update.
Pricing
Lastly, let's cover the pricing of both apps.
The price for Motion is $19/month if billed annually, which isn't that expensive, however, the price goes up to $34/month if you decide to go with the monthly billing plan. The team plan costs $12/month per user, or $20/month per user if billed monthly.
Sunsama is cheaper than Motion at $16/month if billed annually, and costs $20/month for the monthly plan. the team plan is the same for each user.
Conclusion
So which app is better? As you expected, it depends.
Both apps have features that the other does not, and both apps excel in fields that the other does not. If you attend a lot of meetings, then Motion is the obvious choice, however, if your team already uses a Project Management tool like Monday.com, then Sunsama is better, send it would let you pull in your tasks from other platforms.
If you are looking for a Kanban-style app, then Sunsama is for you, however, if you are looking for a better way to manage your calendar, then Motion is best.
After testing both tools, I ultimately went with Sunsama, since I was looking for a task management tool, not a calendar tool. If you'd like to learn more about either app, then you can read our Motion Review and Sunsama Review
I would suggest testing both apps to find the best one for you, and luckily, both apps offer great free trials. Motion has a 7-day free trial so you can test it out. Sunsama has a 30-day free trial, instead of the regular 14-day free trial, which they kindly provided for our readers, no credit card required.