Caffeine is Reader Supported, If you do buy through links on our website, we may earn a commission at no extra cost to you. Read the full disclaimer here
When it comes to transforming your living space into a captivating environment, lighting plays a key role. If you're in search of a versatile and mesmerizing lighting solution, look no further than Govee Curtain Lights. These innovative LED lights have gained immense popularity due to their ability to create a dazzling light display that adds a touch of magic to any room.
Govee Curtain Lights are designed to provide a unique and immersive lighting experience. With their flexible and customizable design, you have the freedom to unleash your creativity and bring your vision to life. These DIY lights can effortlessly fit different spaces and cater to your specific needs.
You might be familiar with Govee due to their large list of lighting products made to sync with Music, like the Govee Glide Music Wall Lights, or the lights that sync with your TV and Monitor, like their Dreamview Lineup
As one of Govee's most innovative products, the Glide Curtain Lights feature highly customizable mesmerizing light shows that can be synced to audio. However, with many alternatives on the market, are the Govee Curtain Lights your best bet?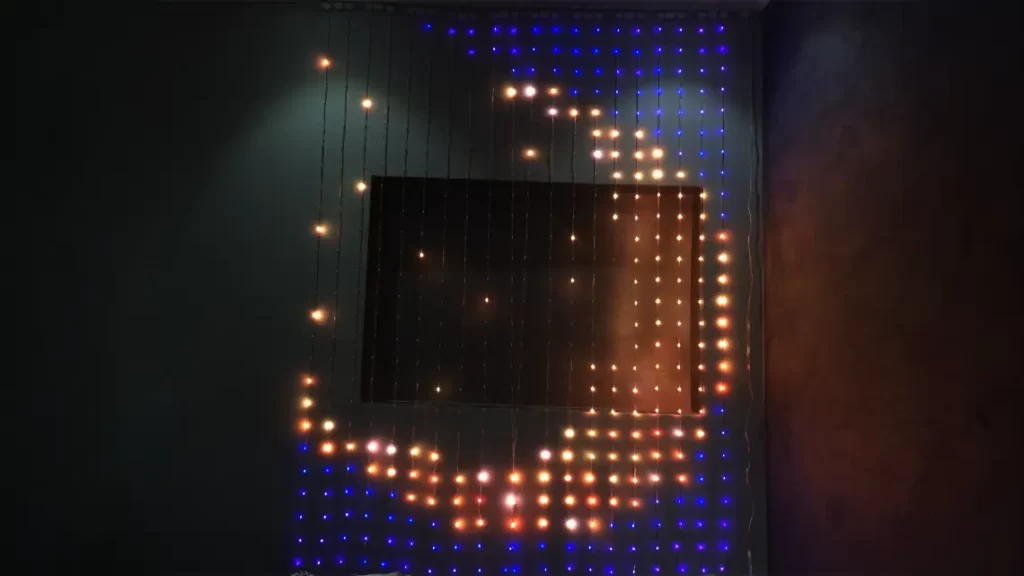 Govee Curtain Lights
What's Included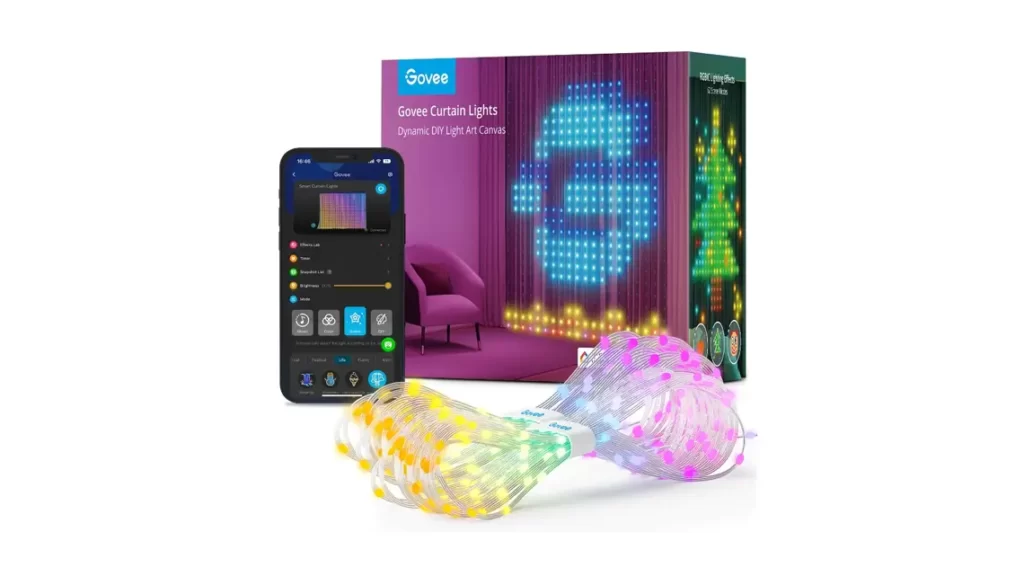 The Govee Curtain Lights Box comes split into 3 small compartments. The big compartment comes with the actual curtain lights, The second box includes the power brick, and the third compartment comes with the mounting accessories, which are Curtain hooks, seamless drywall nails, and VHB pads, as well as a screwdriver and some small screws, these give you 3 different mounting options depending on where, and how you want to put them up.
Overview and Setup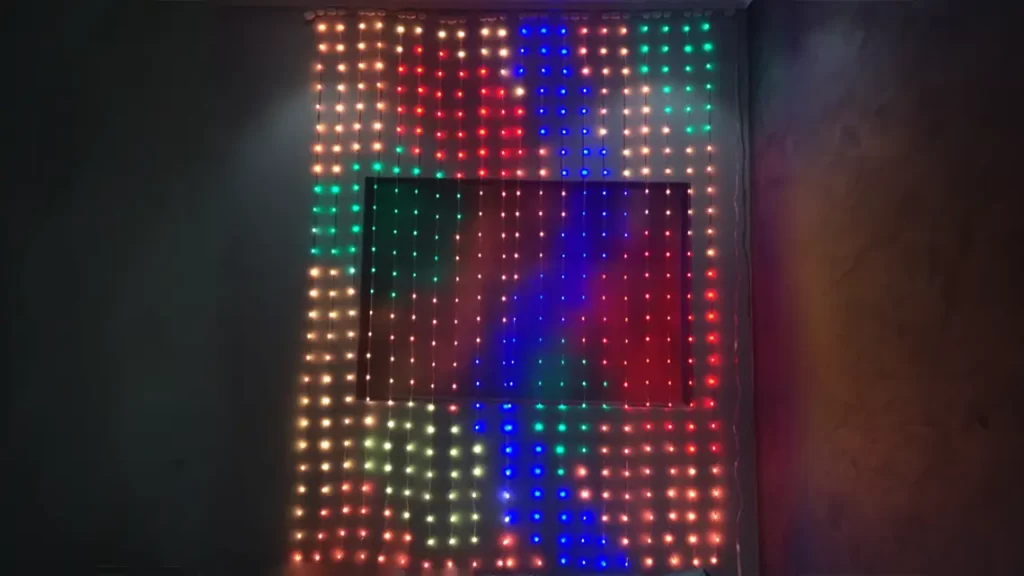 The Govee Curtain Lights already come pre-assembled, with 20 light strands coming down with 26 pixels each about 7.5 cm spacing between each light strand, and a distance of about 5 cm or 2 inches between each LED. The light strands flow down nicely for the curtain effect, even though they are PVC Plastic wires, they aren't stiff.
The Govee Curtain Lights are rated at an IP65 resistance while the actual power plug is rated at IP44, which means that these lights can be used outdoors, and
As mentioned above The Govee Curtain Lights include 3 mounting options, which are sure to cover all use cases you might have for mounting, the mounting options are:
Using Seamless Nails: The lights come with a mounting option called "Seamless Nails" which are a set of four white hooks with 4 small drywall nails in each hook pre-installed. To mount the hooks, you simply space them out, strike the nails of each hook with a hammer, and hand up your lights on them.
Using the G4 Hooks: The next method is using the G4 Hooks, which are made to be hooked onto your existing curtain rails, so they can be moved with your curtains. This method is by far the easiest since it's just like hanging a normal curtain.
Using The VHB Strips: Using The included sticky VHB Strips is the final method, which is similar to attaching any other wall-mounted lights, by using 3M strips to stick the curtain on the wall. I ended up using this solution since I wanted to mount the lights on a blank wall, not on top of an existing curtain.
Mounting the lights is as you would expect, however, it would be easier if you had someone to help you, but it can certainly be done with a single person.
The Curtain makes a grid of 520 Addressable LEDs, in a 20×26 resolution, so don't expect them to display highly detailed images well, especially given the large spacing between each light strand, though Logos and simple images do look nice displayed on the large grid.
The Curtain Lights come in at 1.5m wide by 2m in length, they might not actually cover your window if you wanted to do that, especially if you have a large window or door you want to cover, however, Govee had this in mind, which is why you can link multiple curtain lights together using a feature called Device Splicing, which lets you connect 2 curtains for a larger canvas that can cover larger windows, however it seems that not all animations work with 2 curtains, and some of them just repeat on both curtains.
I'll also recommend mounting the lights on a blank wall, instead of a window, or at least have it in front of an opaque curtain so that the lights have something to reflect off of since that will make the lights look many times better.
Setting up the lights is as simple as clicking the + Icon in the Govee Home App, and picking your light, though they can pop up to the top automatically, then you'll enter your Wi-Fi information if it isn't already saved from previous Govee lights.
You'll also have the option to flip the curtain to have the power source on the right or the left, so the text and other animations won't appear flipped.
Also like other Govee Lights, these lights come with a built-in physical switch that can toggle the lights on and off, which is a nice addition, since you don't have to pull out the app for every action.
First Impressions
After Setting up the lights and connecting them to your Wi-Fi network, I suggest looking around the Govee App, to learn more about how you can control the lights.
Each LED is bright, and unlike other light strips, Govee Uses RGBIC LEDs in most of their products, which means each LED can produce over 16 million colors, which allows the lights to create vibrant, saturated colors, as well as reproduce colors from your own images.
The Govee Home App
The Govee Home App is the brains of the operation, which is available to download on both the iOS store and Google Play. The Setup Process is easy, you just signup using your email, and go through the process of adding your lights. The Govee Home App is the app that you use for all Govee Lights.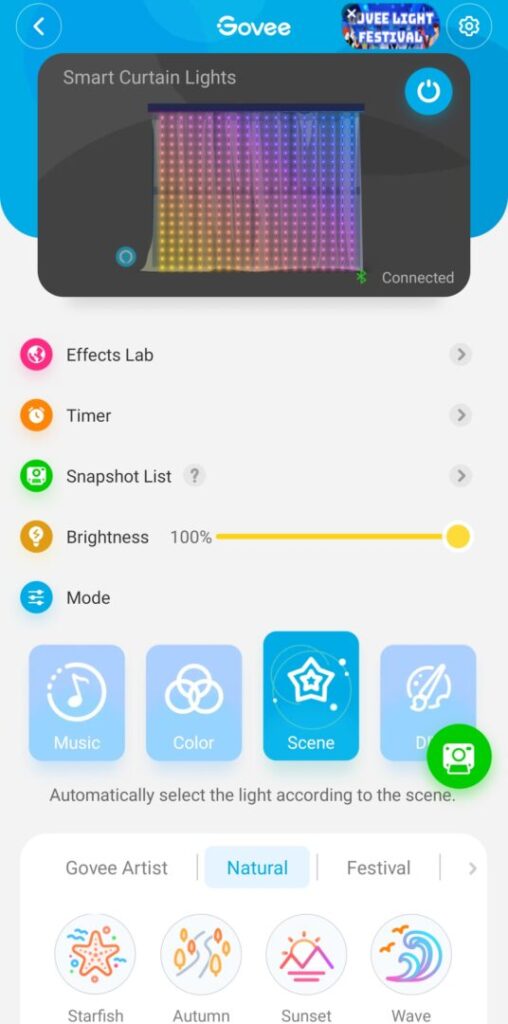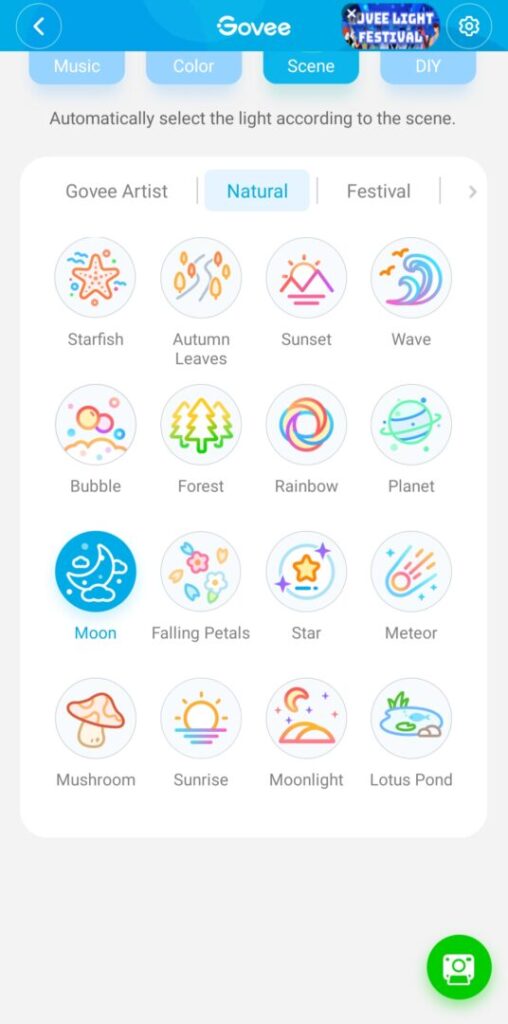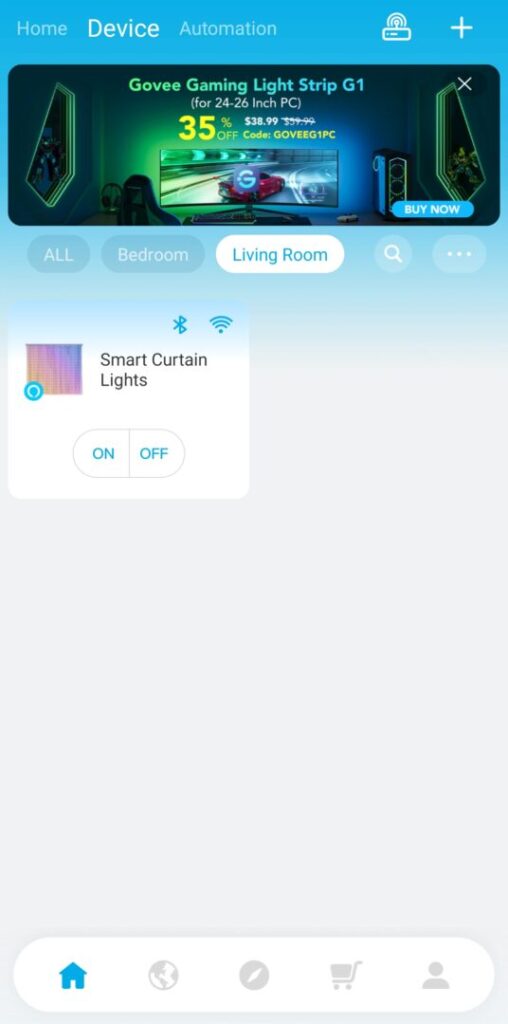 To connect your lights, you'll first connect using Bluetooth, which only takes a couple of seconds, you can then add your Wi-Fi info, and then you can connect Google Assistant and Alexa. Some Govee Lights also offer LAN Control, which makes controlling the lights faster and disconnected from the cloud.
Integrating with Voice Assistants will let you toggle your lights, change their brightness, as well as change their color, but you only have access to basic colors, for more granular controls like changing the scene or switching to the music modes, you'll have to use the govee app.
Performance and Modes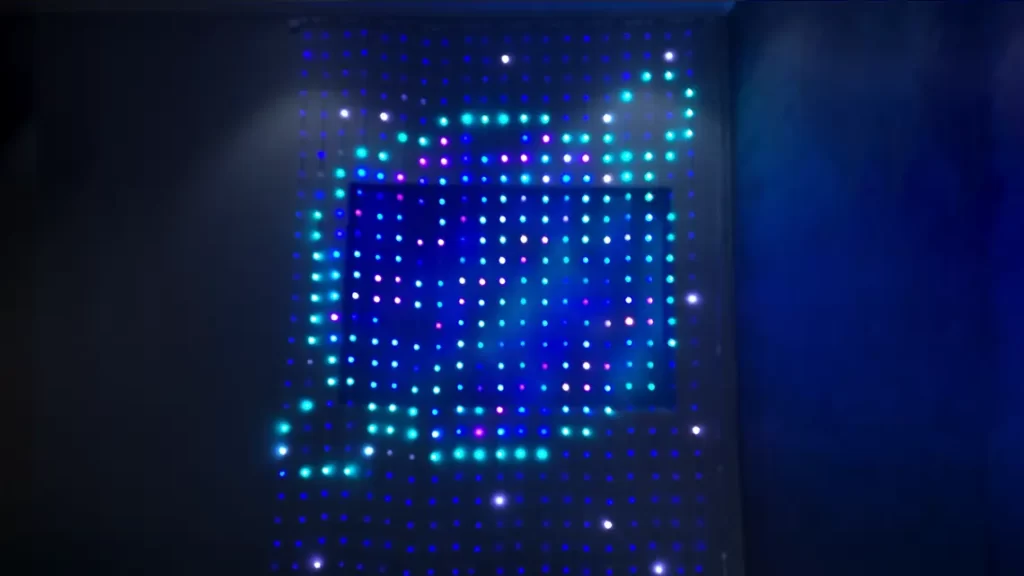 As mentioned above, the Curtain Lights are bright, and vibrant, and can produce over 16 million colors, and the color reproduction is as close as can be. The App also has a large number of modes and scenes to choose from, my personal favorite was the Planet and Moon pictured above.
Animated Themes are by far better than static ones, and they're really where the curtain lights shine. The lights can also be useful if you're throwing a party since you can activate Music Mode, which syncs the lights to your music using the onboard microphone.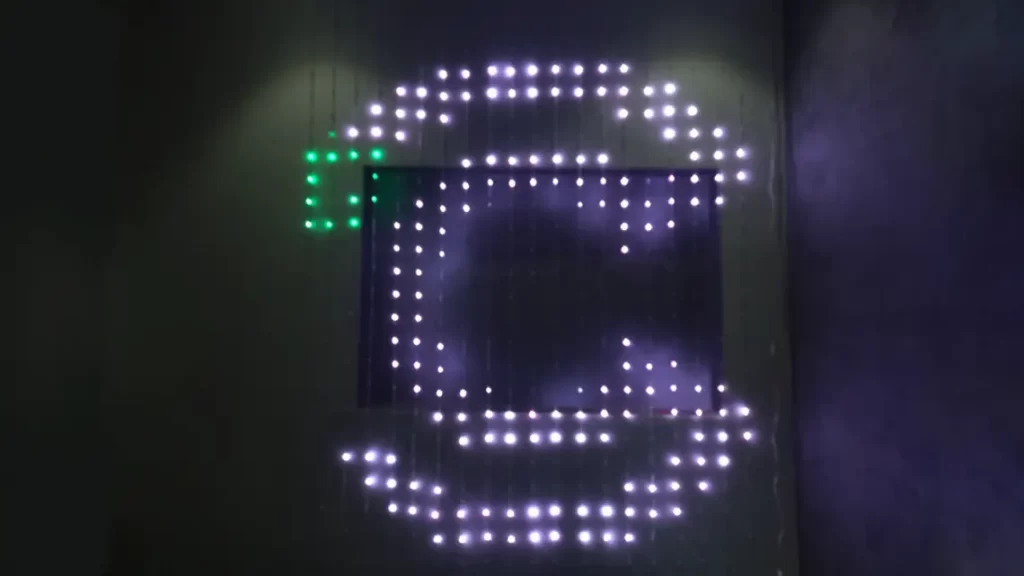 I also wanted to touch on the DIY mode, which lets you create your own simple effects, however, it's not really that intuitive on how it works, you can use it to create simple moving effects, and upload images like the one above, which will then be displayed on the grid.
Using The Govee App, you can also search for user-created DIY templates, and save them to your app, as well as upload GIFs to your lights, which will display the animation, however, I didn't really find it useful since the low resolution doesn't really work with animations, unless they're simple GIFs. Finally, you can also use the DIY Mode to add scrollable text.
Conclusion
Govee Curtain Lights offer a captivating and immersive lighting experience that can transform any space into a magical oasis. With their versatile and customizable design, these LED lights allow you to unleash your creativity and bring your vision to life. While there may be some limitations in terms of pixel resolution and size coverage, the vibrant colors, accurate Music Mode, and a plethora of customizable animations and effects make them a worthy choice for adding a touch of enchantment to your surroundings.
These lights are particularly useful if you have a blank curtain that you want to spice up or a blank wall with nothing to put on it. it's also very useful in a room where you might want an accent wall light that covers a large section of the wall. Also make sure to check out some other alternatives by Govee, such as their Glide Music Wall Lights
If Govee does come out with a new version, I'd like the pixels to be closer together, even if the light strands do get a little shorter, this will let your animations and pictures be higher resolution, and result in a better image. In terms of alternatives, I didn't find anything with this much control and color reproduction, there are some cheaper ones on amazon, but they're much lower quality, and I wouldn't recommend them at all.
The Review
Govee Curtain Lights
The Govee Curtain Light is a good accent wall light, or a way to spice up your curtains while still having the option of turning off the lights and controlling them.
PROS
Accurate Music Mode
Vibrant Colors
Custom Animations
Premade Effects
Picture Mode
CONS
Low Pixel resolution
Size limitations
Not suited to all spaces
Might Need Multiple to Cover a Large Window
Review Breakdown
Installation

0

Brightness and Color

0

App

0

Effects

0

Integrations

0